Rent Instead of Buy: Pay-Per-Part Models in Industrial Service
February 2022 -

Industrial IoT

|

Digital Production

|

Service-Meister
Rent Instead of Buy: Pay-Per-Part Models in Industrial Service
Nils Klute from EuroCloud Deutschland on how usage-based business models are helping airplanes, industrial services, and the circular economy take off.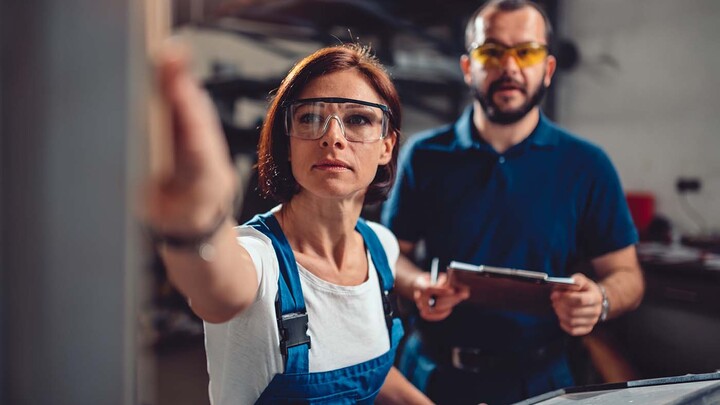 Whether jet engines or helicopter blades – as early as 1962, Rolls-Royce was shaking up the aviation industry with a new business model. Instead of selling engines and marketing maintenance contracts, the manufacturer offered aircraft engines and services on a subscription basis for the first time. The after-market service Total Care has since been servicing, repairing and exchanging on the basis of fixed prices per flight hour. Sixty years later, the company still provides the service – with the difference that algorithms and Big Data have replaced the analog counters for operating hours.
Extend service life, reduce spare parts costs
"Data from Internet-of-Things (IoT) sensors gives Rolls-Royce extensive and deep insights into the performance of its own products," writes the online specialist portal BigData-Insider. Data via which the company continuously monitors around 4,500 engines. And data that helps customers use their equipment more effectively. "Through their collaboration, Rolls-Royce and its customers have the opportunity to extend aircraft life, achieve less downtime and repairs, and reduce spare parts costs," writes software vendor SAP on its website: "Kerosene savings of just one percent per year can add up to $250,000 per aircraft here."
Rent at a fixed price or subscribe on an as-needed basis
From jet engines to current blockbusters and music albums to high-tech air conditioners and print cartridges – almost everything can be rented today at a transparent fixed price or subscribed to on an as-needed basis. One example is luxury sports cars: "For very little money, ordinary mortals can enjoy the pleasure of getting behind the wheel of a luxury car and attracting envious glances," the Swiss trade magazine for business IT Netzwoche online writes. "The example makes clear what utilization models can achieve: They allow us to appear 'bigger' than we may actually be." What driving pleasure is to some, capital is to industry. Such subscription and rental models tie up less money and reduce risks at the same time. Companies gain leeway and security for investments.
Service-Meister and TRUMPF: Don't buy machines, just use them
TRUMPF has also recognized this for its customers. As one of the Service-Meister speedboat projects, the machine tool specialist is working with implementation partner USU Software to automatically plan service calls and support them with artificial intelligence (AI). "Wherever in the world we have to maintain or repair our high-tech equipment, that requires expert know-how," said Martin Lukas of TRUMPF at the first consortium meeting of the AI project. "Know-how that is not available in the same quality among service teams everywhere." AI tools, data analytics, and smart algorithms make service knowledge globally scalable.
Pay per sheet metal part produced
What helps keep equipment available also lowers operating and maintenance costs. Factors that TRUMPF has made the basis of new business models around its laser cutting systems. The manufacturer announced a partnership with reinsurer Munich Re in October 2020. The goal: A co-developed pay-per-part model that allows users to use fully automated laser systems without having to buy or lease them. "Instead, customers pay a previously agreed price for each cut sheet metal part," TRUMPF notes in a press release: "This allows customers to make their production processes more flexible and react faster to market changes." These features are not only interesting for companies during the Covid-19 pandemic.
Usage-based business models pave the way for the circular economy
Business models like these have another advantage. At the same time, they make the products of the manufacturers their fixed assets. This means: Rolls-Royce and TRUMPF are motivated by self-interest to constantly search for new solutions to maximize availabilities and reduce costs. How to do so: On the one hand, through artificially intelligent industrial services and smart tools, such as those developed by the Service-Meister project (for example, Rolls Royce shows how it is already transforming its own maintenance via virtual reality in a corporate film on YouTube). And secondly, according to the principles of the circular economy.
Anyone looking for ways to extend the life of their own products will find the answer in recycling principles. When companies focus on recyclable products, it reduces the likelihood that machinery, equipment, and devices will break before their useful life ends. The recycling of engines is no different: "Around half of the materials recovered are of such high quality they can be safely remanufactured for use as new aerospace components, reducing our need to procure raw materials," writes rolls-royce.com: "Up to 95% of a used aero engine can be recovered and recycled."
Nils Klute is Project and Communication Manager at EuroCloud Germany. He is responsible for content marketing activities on topics such as Gaia-X and AI, supports initiatives such as Service-Meister, EuroCloud Native, or systems integrators on their cloud journey. Prior to his start at eco in 2018, Nils worked as a corporate journalist for IT corporations (like SAP, T-Systems, and QSC at Cologne-based communication agency Palmer Hargreaves) and previously held public relations positions at market and economic research institutions.