Smart Neighborhoods – Essential Building Blocks on the Way to a Smart City
September 2021 -

Smart City

|

IoT

|

Sustainability
Smart Neighborhoods – Essential Building Blocks on the Way to a Smart City
Smart Neighborhoods offer a stepping stone on the path towards transformation of cities, explains Tatjana Hein from the eco Association.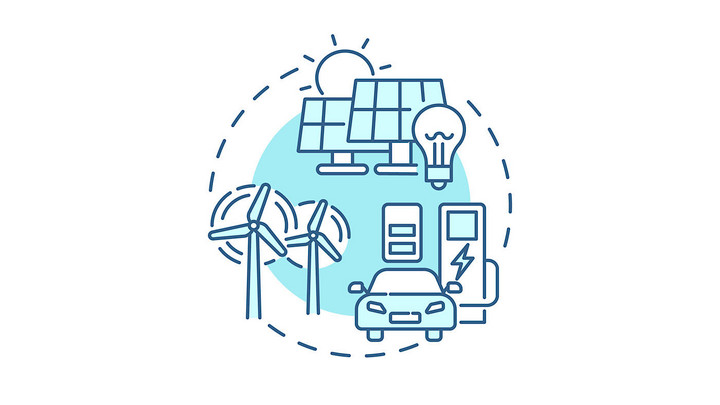 The requirements of residents of urban living spaces are constantly changing. To meet the new needs, the development of Smart Neighborhoods is a crucial factor.
In Smart Neighborhoods, for example, decentralized energy generation systems and storage facilities, electric vehicles and charging stations, as well as public services are digitally linked to create a sustainable improvement in the quality of life for the people living in such neighborhoods. This challenging task can only be mastered together, in a lively exchange between society, science, and business.
Which aspects are crucial for Smart Neighborhoods? What specific challenges must be addressed in such projects? What does a Smart Neighborhood project look like?
More quality of life in urban areas
The creation of new living spaces, especially in metropolitan areas, poses enormous challenges for municipalities and regions. At this point, digital transformation offers opportunities and new possibilities for neighborhood development.
The focus is on sustainable, resource-saving, and needs-based solutions. In addition to new mobility concepts and a focus on the electrification of road traffic, Smart Neighborhoods are sometimes characterized by the implementation of climate protection, reduction of CO2 emissions, improvement of air quality, and enhanced safety. In addition, such districts could score points with many digital offerings (e.g. administration, health, or supply of essentials, etc.). Furthermore, Smart Home concepts can be integrated into neighborhood planning from the very beginning. These approaches and implementations in Smart Neighborhoods can improve the quality of life in urban areas in the long term.
In order to achieve these and other goals in Smart Neighborhoods and, in the next step, on a larger scale in Smart Cities, new technologies, sensor technology and, above all, data and the interconnection of data are of crucial importance. A data platform, which acts as the basis for services, offers, and further developments, must be established at the center of Smart Neighborhood development. The emergence of such a neighborhood can currently be observed in the Tegel project in Berlin.
Social responsibility in the Smart Neighborhood
In the Smart Neighborhood, the topic of health in particular can be re-conceived digitally in a cross-generational and targeted manner. Smart Health is a topic that is gaining relevance not only in neighborhood development, but throughout society. Not least the pandemic has shown how important and useful digital health services and digital assistance systems are. In the development of Smart Neighborhoods as building blocks for the Smart City, Smart Health can be incorporated from the beginning and gradually expanded. This primarily involves the points of precaution, examination, diagnosis, and care. These areas can be supported by modern technologies to enable efficient and needs-oriented care of patients.
Specifically, Smart Neighborhoods offer space for telemedicine, service platforms for health and care applications, and digital assistance systems. In these areas, the first approaches are already being implemented, for example, through health insurance apps, online pharmacies, and electronic patient files. However, there is much more potential to be exploited. Smart Neighborhoods can make a major contribution here and at the same time drive innovative healthcare solutions.
Intelligent digital energy management
Smart Grid solutions are already known and in use. These Smart Grids combine generation, storage, and consumption. A central control system optimally coordinates them with each other and thus balances out power fluctuations in the grid. Networking is achieved through the use of information and communication technologies (ICT).
However, intelligent digital energy management in the Smart Neighborhood goes even further, because all aspects of the handling of energy are considered. This is characterized by automation, a holistic approach, and transparency. To do justice to this, we need to think about the supply of electricity, heat, and electromobility in an integrated way. It is therefore far from sufficient to consider power consumption in isolation, because the self-generated electricity, e.g. through photovoltaics (PV), will not be completely consumed in this way. Rather, for intelligent energy management, the demand for heat and electromobility, for example, must also be included. In this way, the PV electricity can be used directly in the building of a Smart Neighborhood. With appropriate software solutions and the collection of relevant data, municipal utilities can implement such energy management in the Smart Neighborhood.
Smarter mobility – Charging infrastructure for neighborhoods of the future
With new mobility concepts becoming increasingly important, especially in the area of electromobility, the prerequisites must be created in metropolitan areas to make this more attractive. From Smart Neighborhoods to Smart Cities, a functioning and well-developed charging infrastructure and grid connection is the basis for the electrification of road transport.
The focus is not only on the privately-owned electric vehicle or on being charged in the private garage, the apartment block, public parking facilities of the Smart Neighborhood, or the office building. It should also include, for example, municipal cleaning fleets, delivery services, and public transport. At its core is an infrastructure that meets the requirements of the next generation of intelligent transportation solutions in different areas and applications. When expanding the charging infrastructure for the neighborhoods of the future, care must be taken to ensure that appropriate interfaces are also considered for communicating with the grid for load management with backend systems, in the area of billing, reservation, and also remote monitoring.
Together with our speakers of this year's IoT Business Trends Dr. Bettina Horster (Board of Directors, VIVAI Software AG and KG Head IoT, eco Association), Prof. Dr. e.h. Lutz Heuser (CEO, CTO & Co-Founder at Urban Software Institute GmbH), Dr. Stefan Höffken (Head of Urban Data & Platform, Tegel Project), Dr. Michael Rath (Head of IT Applications Business Unit GK/EDL of GASAG Group), and Thomas Hering (Head of Sales Germany, ABB AG), we highlighted and discussed various aspects and areas in the Smart Neighborhood. The individual German-language presentations of our speakers with further information and examples of Smart Neighborhoods are available for download in our members+ area. We also recommend our current study "The Smart City Market in Germany: 2021-2026" to delve deeper into the topic and other segments of the Smart City.
Tatjana Hein is Project Manager IoT and AI at eco – Association of the Internet Industry. She is responsible for topics related to Internet of things like Smart Factory, Smart City, and Smart Home, as well as mobility issues. Before joining eco in 2020, she was content manager and creator at a European analytics provider and was also a guest author for several magazines (such as Big Data Insider, Website Boosting, UPLOAD magazine, marconomy, Contentbird). Before that she worked in an agency as public relations manager for several start-ups.