Power to Data – Data to Heat: New Business Opportunities for Energy Suppliers
September 2021 -

Energy Recovery

|

Data Center

|

Green IT
Power to Data – Data to Heat: New Business Opportunities for Energy Suppliers
Dr. Jens Struckmeier from Cloud&Heat Technologies offers insight into how data centers can overcome the energy transition, saving CO2 & operating costs.
Digital infrastructures require lots of resources while operating, which is why it is so important to operate these on a sustainable infrastructure. With a high annual growth rate of 17.5% worldwide, the cloud market is one of the most promising industries for many companies. Especially because of computationally intense applications like simulations and artificial intelligence (AI) or machine learning, the demands of data processing and storage are growing. Digital infrastructures are predicted to account for 4 to 6% of the total global electricity consumption by 2030.
Complying with the European Green Deal goals and coping with the increased demand for computational resources is a conflict that needs to be resolved. Here, we show what an approach to resolve this conflict could look like. Using a holistic approach offers the potential for developing a new business model that is especially attractive for energy suppliers.
Power to Data – Data to Heat
Our mission at Cloud&Heat is to use a holistic approach to serve the increased demand on data center and computing resources while simultaneously helping to reduce the fossil fuel consumption for domestic and industrial heating demand. This creates a new principle that we call "Power to Data – Data to Heat".
Cloud&Heat started operating its own data centers with the Power to Data – Data to Heat principle in 2010. Therefore, we have a deep understanding of the opportunities and challenges of this future-oriented approach. We have learned that the demands of data center operation will often contradict the requirements of a heat supplier. Therefore, sophisticated design, monitoring, and operations control are essential to fulfill both needs simultaneously. With the emerging cooling and heat capture technology in conjunction with optimized control and monitoring functionality, we can support energy suppliers in entering the market of data center and heat from renewable sources, while contributing towards carbon neutrality. With the direct hot water-cooling, the waste heat of data centers can be used in local and district heating networks and for an enterprise's own needs. In contrast to other approaches, the heat of the servers is directly channeled into water at a high temperature level of 60°C or more. This makes it much easier for an energy provider to utilize the energy, minimizing or omitting the need for additional heat pumps, and drastically reducing the investment costs. In summary, heat recovery from data centers not only reduces operating costs but can also provide CO2-neutral heat for subsequent use.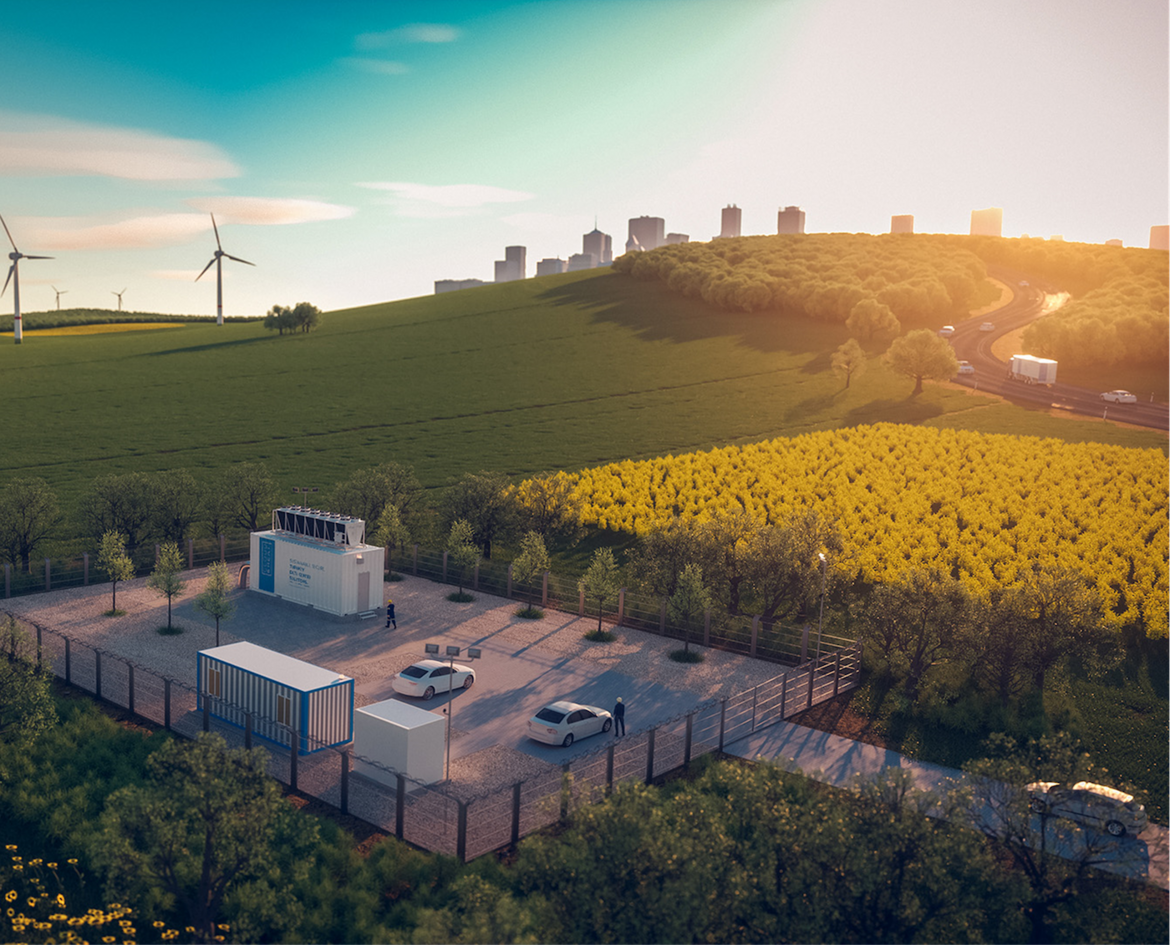 Renewable energy sources for more sustainability in data centers
With climate goals being developed and intensified in many regions around the globe, concepts of energy supply and use are needing to be re-thought. With its current energy transition away from coal and nuclear power, one example is Germany, where such a process of change is already underway. Fundamental components for a fully sustainable future are renewable energy sources (e.g., wind and solar and energy storage), low-loss heating networks (e.g., low-temperature heating networks, local heating networks and district solutions) in combination with alternative hot water generators (heat recovery, biomass, and hydrogen), and simultaneously a decreasing specific heat demand of residential buildings (low energy houses or passive houses). In short, renewable electricity drives the server workloads and generates heat. This heat gets utilized and substitutes fossil fuels. This is more than simply a CO2 neutral data center, as some people argue that such data centers are even CO2 negative.
CO2 and cost-saving potentials of data centers
With the help of model calculations, the potential of data centers that are coupled with district heating networks can be evaluated even in an early stage of planning. We have developed simulation models for such calculations in various climate zones and for various heat re-usage scenarios, also depending on the compute workload. The success of energy suppliers in the energy-intensive cloud market depends on how strongly they can set themselves apart from existing suppliers in the areas of technical innovation, operating costs, and sustainability. Energy suppliers can exploit existing synergies and thus make a significant contribution to carbon neutrality. An example for this is utilizing the waste heat from data centers for existing heating networks, or even better, in conjunction with the planning of newly-built smart housing communities.
How heat recovery can be a business model for energy providers
An example of how heat recovery can be a business model for energy providers is outlined as follows: A data center (rated power: 550 kW, utilization: 50%) is equipped with direct hot water-cooling technology. The hot water-cooling loop is coupled to the district heating network (the conventional heat source for this district heating network is a natural gas-based hot water generator with a peak heat output of 1 MW). Utilizing the waste heat of the servers can reduce the annual operating energy costs by 9.8% to €544 K p.a. The calculated results achieve savings of €59.1 K and 254 t of carbon dioxide per year. To compensate for the same amount of CO2, more than 20,000 deciduous trees would have to be planted, which corresponds to an area of 23 hectares or 32 soccer fields of forest. The coupling of hot water generator and data center is illustrated in figure 1.

Dr. Jens Struckmeier founded Cloud&Heat as a physicist to build and operate energy-efficient, green, and secure data centers. Cloud&Heat's mission is to provide the "future-of-compute" by building and operating hard- and software for sustainable computing, utilizing heat recovery. Rising demand for data and compute-intense workloads from artificial intelligence to virtual reality and blockchain are the basis for Cloud&Heat's holistic and green solutions.
Please note: The opinions expressed in Industry Insights published by dotmagazine are the author's own and do not reflect the view of the publisher, eco – Association of the Internet Industry.