Digital Waste Heat – Overcoming Mismatches in Creation and Consumption
September 2021 -

Data Center

|

Sustainability

|

Energy Recovery
Digital Waste Heat – Overcoming Mismatches in Creation and Consumption
Dr. Béla Waldhauser, CEO of Telehouse Deutschland & Spokesperson for the eco Alliance for Digital Infrastructures, on cooling data centers & heating homes.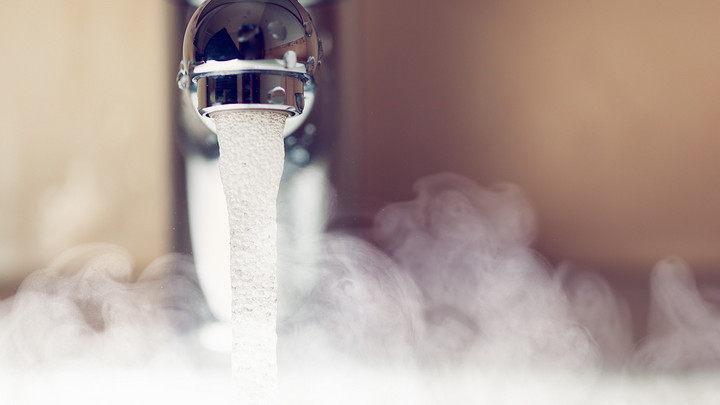 dotmagazine: Data centers generally measure their energy efficiency in terms of their Power Usage Effectiveness (PUE). In your opinion, is this a sensible indicator for measuring the sustainability of a data center?
Dr. Béla Waldhauser: The PUE is one possible indicator, but it is not enough by far. For example, while it does measure power consumption, it does not measure consumption of water or other valuable resources. In addition, it describes only the ratio between total power consumption and IT power consumption. That means it is not meaningful at all for the efficiency of IT hardware and software. A very important point is also what is known as the "Circular Economy". This includes the reuse of servers, especially the rare earth metals. Last, but not least, the PUE does not include the usage of waste heat, as we are, for example, doing in Frankfurt for the residential project Wohnquartier Westville.
dot: In what ways are data center operators in Europe contributing to meeting the EU climate goals?
Waldhauser: Earlier this year, the EUDCA and CISPE signed a self-commitment agreement with the EU Commission. The commitment is that all DCs which are part of these two organizations will be carbon-neutral by 2030, which is only nine years from now.
Furthermore, within the Policy Group of the EUDCA we have discussed what else we can do in order to contribute to the EU climate goals. Topics we have touched upon include water usage and the circular economy, among others.
dot: Tell us about the heat recovery project you are involved in for Frankfurt. What makes this project special, in your opinion?
Waldhauser: On the other side of the street from the Telehouse data center in Frankfurt, there is a huge ongoing development called Wohnquartier Westville. In the next four years, several buildings will be completed, coming to a total of 1,300 apartments, three kindergartens, and shops. It is expected that more than 3,000 people will soon live in Westville. Phase 1 will be finished in 2023 and Phase 2 in 2025. Together with the incumbent energy provider Mainova, Telehouse will provide part of its waste heat for Westville. All contracts are signed and now we are waiting for the completion of both phases. The total amount of heat estimated for Westville is 4,000 MWh annually. The provision of the digital waste heat will save approximately 400 tons of CO2 per year, compared to the traditional production of heat.
dot: Can this project be replicated in other urban spaces? What are the challenges that cities face in implementing heat recovery projects?
Waldhauser: This project is definitely replicable for other urban areas. Wherever you have heat consumers next to a data center, you can do exactly the same thing. However, there are two main challenges to making it a success. First of all, the waste heat temperature provided is at 30°C – max 35°C, which is too low for district heating. That means you do need a heat consumer that is nearby. In addition, for warm water supply, you have to bring the heat up to a temperature of at least 60°C – 70°C.
On the other hand, modern data centers usually use the cold outside air for cooling during the winter. That means we don't produce so much waste heat in winter – when you usually need more heat – compared to summer. This mismatch is part of the efforts of colocation providers to reduce their PUE and be more efficient.
For district heating systems, where the heat consumer is not right next door to the data center, we would need temperatures above 100°C, which is not doable in today's data centers.
My ultimate goal is to have liquid-cooled servers – where the CPU is directly cooled with liquid (e.g. water) – in our data centers. This has three major advantages:
The heat will be extracted directly where it is produced.
Liquid has a much higher heat capacity than air and is therefore a much better medium for transporting heat.
The waste heat temperatures are at 60°C – 70°C, which is double the temperature level we have at the moment. In addition, this is exactly the temperature level of modern (4th generation) district heating systems and can therefore be used without using heat pumps in between.
dot: What support do data center operators need to further reduce their carbon footprint?
Waldhauser: As Spokesperson for the eco Alliance for Digital Infrastructures, I can say that there are a range of areas – in Germany and at the European level – where we need support.
First of all, we need 100% renewable power from the grid that is available 24x7. I firmly believe that we need to invest much more into the development of efficient energy storage systems, so that we do not depend solely on the sun and/or wind at any time.
Furthermore, we would expect more support from the authorities to utilize our waste heat. At the moment, the conditions in Germany are that all parties need to unanimously agree to the use of it, which is not always easy to achieve. As a result, the utilization of waste heat in Germany (not only from data centers) is completely underdeveloped.
Last but not least, hardware producers should invest more in less power-consuming servers, routers, switches, storage, especially in idle mode. As colocation providers, we are only responsible for 20%-25% of the power consumption, while 75%-80% is under the control of our customers, and is dependent on their choices when it comes to hardware and software.
Theoretical physicist Dr. Béla Waldhauser is Chief Executive Officer of Telehouse Deutschland GmbH and KDDI Deutschland GmbH. Previously he was responsible for the German operations of Global Switch, and prior to that TeleCity. Before this, he was Managing Director for Germany and Austria for Teleglobe. For several years, he has been the Leader of the eco Competence Group "Data Center Infrastructure" and, since 2011, a Member of the Jury for the "German Data Center Prize" in conjunction with the annual "Future Thinking" congress. In 2014, he was invited by the German Federal Ministry of Education and Research, as an expert and as a member of the eco Association, to actively participate in establishing the new strategy platform for "ITC in Horizon 2020". Dr. Waldhauser is also Spokesperson for the Alliance for the Strengthening of Digital Infrastructures in Germany, set up in early 2018 under the umbrella of eco to support Germany's development as a digital location.
The Alliance is a partner of the (German-language) CDR Summit Digital, 21-22 October 2021, a conference focused on sustainability in IT. Topics include sustainable data centers and infrastructure, Green IT consulting, CO2-neutral workplaces and climate and resource protection in companies and organizations.