Five Tips: How to Launch a Women´s Network in Your Company
April 2023 -

Women in Tech

|

Diversity

|

New Work
Five Tips: How to Launch a Women´s Network in Your Company
Hanna von der Au, eco Association, outlines how women's networks can empower and support female professionals in the tech industry.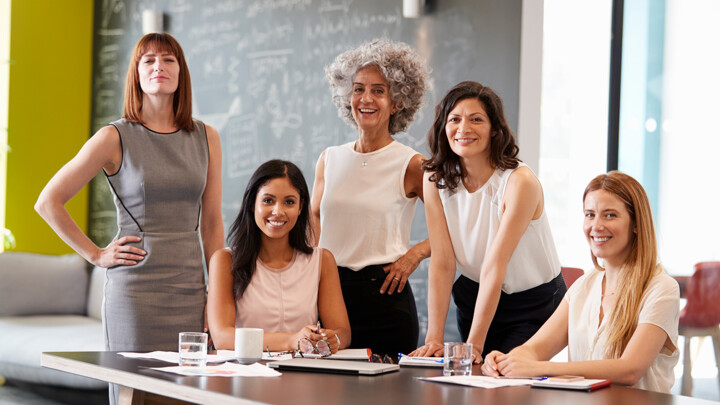 Digitalization is decisively shaping the future of all people in all areas of life and the economy and is acting as a job engine, even in challenging times. In order to develop innovative solutions and remain internationally competitive, companies must make the advancement of women a top priority, because gender equality is in their deepest economic interest.
The shortage of skilled workers is striking. In the 2021 Digital Economy and Society Index (DESI), 55 percent of EU companies stated that they have difficulties recruiting ICT specialists. There are far fewer women than men employed as specialists in the Internet industry. In the US, just 26 percent of all tech professionals are women, while in the EU, the figures hover just above 19 percent. In Europe, for example, at the age of 30, only 20 percent of women in the EU are still working in the IT profession they trained in; by the age of 45, the figure is as low as 9 percent.
Imagine creating a space at your company, where women express their ideas, ambitions, and challenges. A safe space, occupied by women or led by women and open for everybody. A place where women support each other, share advice, learn from each other, and explore personal growth and self-esteem. If you think that is great, and you are wondering how you can make it happen, then perhaps it is the right time to launch a women's network in your company. eco – Association of the Internet Industry shares five tips on how to start a women's network in your workplace.
"Ten years ago, our company launched the Equinix Women Leadership Network – a platform for women to share experiences, build leadership skills, and apply new techniques for addressing bias. In the network, we regularly talk about what framework conditions companies need to create in order to attract women as employees and bring them into leadership positions. Such networks are a MUST for companies today and should be on everyone's agenda across all industries", states Sabine Schaar, Regional Vice President Sales Germany und Member of the Executive Board Germany, Equinix.
Give it a try – it is okay to start small
First of all, companies of all sizes can build a women's network. Not only large networks with a plenty of activities are desirable. It is not the size that matters; what is much more significant is the added value that the network offers to the participants. By the way, many networks – even in big tech companies – started as small regulars' tables in a core team and have grown over time.
Even if you only have a very small number of female employees, or you are the only woman in your company, or you already have a female network in your company, please: don't hold back. Joining external women´s networks such as #LiT - Ladies in Tech from the eco Association, DNS Women, the Global Digital Women Network, or the Zonta Clubs is always a plus. DNS Women, for example, was founded in Mexico in 2009 and is dedicated to promoting and empowering women in the DNS industry worldwide. To boost the numbers of women in tech and to give these women the visibility they deserve, in spring 2019, the eco Association launched the German-based #LiT – Ladies in Tech initiative. #LiT – Ladies in Tech was founded by Lucia Falkenberg, Chief People Officer at the eco Association and DE-CIX.
As emphasized by Falkenberg, Kurt Tucholsky said almost 100 years ago: 'There is no success without women.' Falkenberg goes on to say that to ensure that even more successful women get off the ground in the tech industry in the future, we need role models, mutual empowerment, and networking among women in tech – both within and across companies: "It is important that we start early to accompany new female IT talents and career changers in the role of the big sister, and enable them to take shortcuts, by sharing experiences that we ourselves would have liked to have known at the beginning of our own careers."
Get your top management on board
One thing is for certain: A successful internal women's network can only be established with a strong support of top management and the HR department. A clear commitment is needed so that the women's network is integrated into the overall diversity strategy: In addition, resources and, if necessary, a budget must be made available for the establishment and expansion of the network. The (visible) commitment of top management to the initiative underlines the importance of the network. It is also essential to involve female executives. At the kick-off event, it is advisable to invite a representative of top management to emphasize how welcome the network activities are on the part of the C-level.
"Building a women's network absolutely requires real support from top management, and dedicated women and men who put their hearts and minds into forwarding the issue within the company, setting goals, and implementing them together," says Melanie Buck, Head of Corporate Development, ANEXIA. Buck has a lot of experience in building up women's networks, for example, she rolled out and led the internal women's network #GDWiT in EMEA at her former employer GoDaddy.
Let's start over
Just like a product launch or marketing campaign, your internal women's network needs an internal kick-off event. Form a core team of people, who have a strong passion and desire for the topic of women in tech and equality. Develop a name for your network, in addition, think about branding or a strong key visual, if necessary. This will help you to raise awareness for your network, will promote identification with the network, and will strengthen the community spirit. Formulate a mission statement and a clear answer to the following questions: What does the network stand for and what should it achieve?
Get your female employees involved: For example, by conducting a small survey in advance, using an online tool to explore desired goals of women, their current challenges in the workplace, and the topics they want to address. Invite interested people to brainstorm together. Provide an online whiteboard where ideas and wishes of your employees can be noted. Let the results flow into the implementation and your further activities. Always keep in mind: It is easier to attract employees to the network if they feel involved and that they are heard right from the start.
"We as women feel that we are aware of each other and know each other, but an exchange about topics that tend to bug us can tend to take place on rare occasions. Being able to create a safe environment where everyone can trust each other and develop the awareness that we are not as alone with our problems and interests as we sometimes think is a great first step. With that feeling of being surrounded by like-minded people, it's easier to develop a group dynamic for the constructive search for solutions to things that you may have previously just complained about. And who can have a better sense of what else could be done in your own company to retain women and possibly attract new ones than the women in your own company," says Anja Gruss, Senior Consultant at kreuzwerker, who is building up a women's network at her company.
Clarify structures and responsibilities
For the start, a clear mission statement and a structure for the network are recommended. What should be the focus, what should be achieved? How often do network meet-ups take place? Do you meet online or offline? Take into consideration that the meet-ups are held at times that allow part-time employees and working parents to attend.
Who is responsible for the network? Is there a permanent team to oversee the network, or are there rotating roles to share tasks and resources across multiple shoulders? Keep in mind that often, especially at the beginning, the networks are overseen by volunteers, who have a particular passion for diversity and inclusion, but who also have a regular full-time job. It may be easier for them if several employees are responsible and it may also make sense convince team leaders to allow their reports a small amount of time for preparation, in case one of their team members wants to host a networking meeting.
How is communication organized within the network? Is there a Slack channel, a Teams chat or a LinkedIn Group? Should male allies or the LGBTQI+ community be involved to live diversity and give men more insight into female perspectives? Or does a safe space for women only seem more appropriate? Maybe, choose the middle way, and open up some activities for all, and others for women only.
Don't completely dictate all the parameters of the network, but start with the plan and collect questions which need to be answered. Let the community participate in the decision-making process to some extent. Participation, engagement, and involvement can only come about through opportunities for participation.
Bang the drums – make some noise
Promote your internal network on every channel you own. Present the idea, the mission statement, possible components, and further activities on all available communication channels: For example, in your internal staff meeting, in your internal newsletter, on the intranet, use every opportunity for word-of-mouth, whether at the coffee machine, in one-to-one conversations with interested employees or during an after-work beer. Show your employees that you appreciate their engagement in the network.
As you are aware, diversity and equality are not just nice to have; they play an important role in your employer branding. Remember that its importance is rising and is key to attracting new employees – especially the younger generations. For example, this is emphasized in a survey by Stepstone , one of the leading online job platforms in Germany: 77 percent say they would rather apply to a company that lives precisely with this diversity. 78 percent explicitly say that they would like to work in a diverse environment.
That is why making some noise and banging the drums for your women's network even in external communications is a pretty good idea. Make your female network visible on your career website. Use symbolic days like International Women's Day, Equal Pay Day or Diversity Day to promote and show activities of your women's network and share their activities or statements in external communication: for example, on LinkedIn.
A good plan and evaluation are helpful to stay on track
If you have ever run a marathon, or successfully lost a few pounds, in achieving success you know how essential it is to first determine how fast your current pace is, to set milestones for when you want to increase your current pace by how many miles per hour, and to know how much you need to continuously increase your fitness and runnable distance. If you don't do that, there will be a pretty good chance that you won't make it to cross the finish line on marathon day.
Mastering to increase the commitment can be quite challenging. What does happen sometimes is that companies set up internal women's networks and then they fizzle out. You have to stick to your aims; you have to keep at it. Building up a community and network takes time and continuity.
What helps to avoid fizzling out: Evaluate the activities and their success rate, set up surveys among the participants, what is going well, what is missing? Note the number of participants at the meet ups. Get feedback: Do the topics cover the interests and pain points of your community? Should you rework the time of the meet ups, the didactic formats, or the meeting culture? Create opportunities for contact and participation between meet-ups: for example, through a list of strengths of your female employees and where they are willing to support others. Try different things like mentoring, lunch, and learning formats, e.g. a book club. Create connections and points of connection among participants. Encourage others to talk about their positive experiences and positive changes through the network. Make it clear to others through success stories what great opportunities they are missing out on by not participating in the network. Create interesting encounters and opportunities to grow with each other and push each other forward.
Become a part of the #LiT Roadshow: We are happy to help you with the first steps
Are you located in Germany and want to build up a women's network in your company? Then feel free to get in touch with our #LiT – Ladies in Tech initiative. We are looking forward to visiting you at your location during our LiT Roadshow and sharing ideas and tips on how to build up your women's network.
Hanna von der Au is PR Manager at eco – Association of the Internet Industry. She is responsible for the development of communication strategies and concepts, content marketing activities, social media channels, and press releases. The topics closest to Hanna's heart are diversity and Women in Tech. She leads the activities around eco's German #LiT – Ladies in Tech initiative and loves getting in touch with more women in the industry. Her aim is to make the Internet industry more colorful and diverse. Before joining eco in 2019, Hanna worked as a digital campaign consultant with a focus on content generation at a digital consultation agency (for customers like NRW.INVEST, GS1 Germany, Peek & Cloppenburg, Coop, Lufthansa).