Organizational Trust Goes Both Ways
April 2023 -

New Work
Organizational Trust Goes Both Ways
Tucows' Head of Compliance, Reg Levy, argues that allowing employees to work from home can increase productivity and improve recruitment. Trust is crucial in this model, as is leveraging technology to foster cultural togetherness.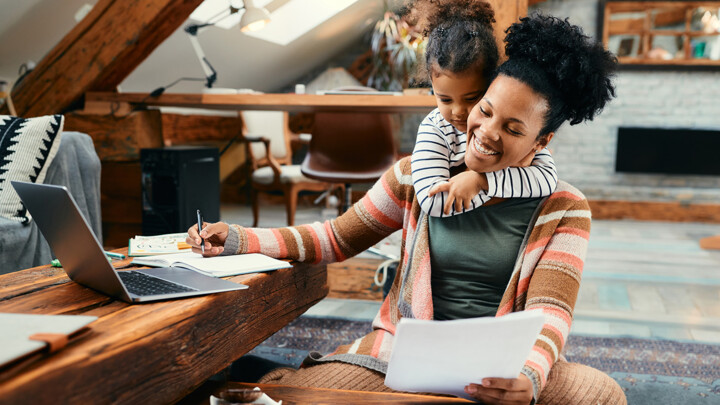 As someone who'd been working remotely already for five years, my major work disruption in 2020 was the slowing of my favorite online services as they buckled under the weight of widespread usage. It's been fascinating to watch companies make the decision now, three years later, about whether or not this is something they want to make permanent. Sure, the last few years have proven that work-from-home is an option for many – but is it right for you and your team?
Multiple studies show that when allowed to work from home, employees are more productive – although they differ on how much more productive, the increase in productivity is unanimous. The performance improvement may be at least partially attributable to the increase in morale that allowing employees to work from home provides. Removing commute time allows people to spend more time with their families, to make themselves healthy food, and to focus on non-work-related habits that improve their mind and body. Rather than spending time on public transit or waiting in traffic, one can sleep in, go for a run, break their fast with their family, or spend some time reading the news.
Nevertheless, habits are hard to break and many companies have called their employees back into the office. Office space is notoriously expensive, especially in city centers, where they are often located for optimal convenience of getting a team together. Companies also often offer commute-related benefits like parking, public transit subsidies, or incentives for biking. One would think that not having to worry about finding office space large enough to accommodate the full team, with all the right amenities, sufficient parking, and well-located takes a significant amount of pressure off a company.
Because work from home allows companies to direct their energy and resources to the tasks that fundamentally impact an organization at every level – recruitment. Hiring exactly the right person for the job, not just finding the best person who's close. Diversifying your hiring pool by searching across markets, not just close to home, also allows candidates who might otherwise not thrive in an office environment to apply and be considered – a blind worker may thrive in a work-from-home setting where she may never have to face the complications of having to navigate getting to and working in an office designed for the sighted. And a diverse hiring pool increases the diversity of the workplace, adding those benefits to your organization, teams, and overall employee experience.
Of course, it's not all just sun and rainbows. Moving to an all-remote or even a remote-first office can bring with it some woes as well. It can be difficult to vet potential new hires remotely. Personality can be difficult to gauge over email and video conference, especially when we're used to meeting people in-person. Making sure someone's a good fit for the office culture can be even more difficult. Everyone's always on their best behavior during an interview anyway, but it's far easier to curate a vibrant culture when people are on site and interacting regularly.
Maintaining an "office" culture virtually can also be difficult. Fortunately, there are connectivity applications that allow geographically separated colleagues to stay connected. At Tucows, we use an integration that matches willing participants randomly with each other – this lets us meet people around the company at different offices. It's not just a great way to meet people; it's a great way to learn about your company. It gives me the opportunity to interact with people from departments I'd never have had a reason to interact with if we were all at the office.
Employee resource and hobby groups can also help colleagues from different offices find their people – make sure that your parents, LGBT employees, dog lovers, and car fiends have a place to share their interests and meet each other. Online social events can be useful – and they can be in-person if people live close enough – a happy hour in the evening or a scheduled coffee break during the day can go a long way toward giving people a way to meet each other, blow off steam, and connect outside of work.
Some companies have found success in a hybrid model. Rather than having everyone work from home or work from the office all the time, there are some days or weeks when all or some of the team are expected to work from the office. This can blend the best – or worst! – of both worlds.
Ultimately, it comes down to trust – treating your employees like adults who can handle the responsibility of getting their work done in an atmosphere that includes both the distraction and soothing presence of family, pets, and one's own kitchen will allow your employees to rise to the challenge. Organizational trust is the confidence of your workforce in the actions of your company, but organizations also need to reciprocate that trust. People act how you treat them, after all, and trust begets trust: "trust the people and they become trustworthy." I believe leveraging technology to bring your team culturally together even if they can't be physically together will go a long way toward increased happiness and productivity.
Reg Levy is Head of Compliance at TCX, a Canadian domain name registrar and registry services provider (Tucows), fiber Internet provider (Ting), and wireless mobile service enabler (Wavelo). She manages compliance across the group's various businesses, from ICANN compliance to compliance with various relevant rules and regulations that impact the business. Reg has been in the domain industry since 2011, when she started at a new generic top-level domain registry applicant and became active in the ICANN policy space. Reg is also the Working Group Chair of the i2Coalition Diversity & Inclusion Initiative. In addition, Reg serves on the Names & Numbers Steering Committee for eco – Association of the Internet Industry and is active in her local bar associations.
Please note: The opinions expressed in Industry Insights published by dotmagazine are the author's or interview partner's own and do not necessarily reflect the view of the publisher, eco – Association of the Internet Industry.