Move With the Times, or the Times Will Move Without You
April 2023 -

New Work
Move With the Times, or the Times Will Move Without You
Why it pays to focus on corporate culture in the struggle for skilled workers, explains Andrea Trapp, Vice President of Business International from Dropbox.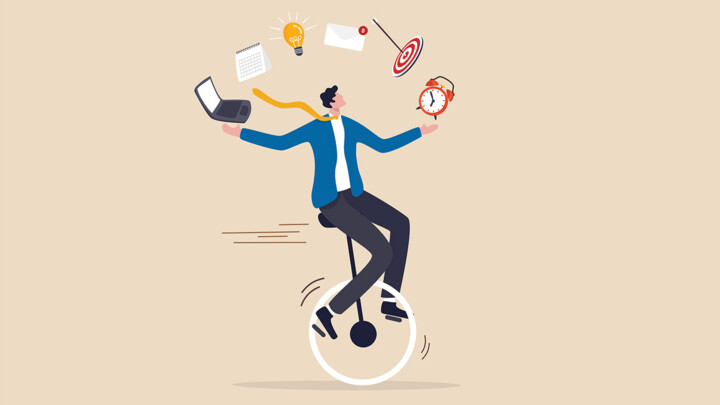 Action, not reaction
In the coming years, the baby boomer generation will be heading into retirement. Staff and skills shortages will reach an unprecedented peak. But generational change presents us with far more than just a numeric problem. Four generations – with different values and expectations – are currently working side by side, but not necessarily together. The older generations have established themselves in working life over the past decades. And the younger generations could add new perspectives to decades of experience, if the corporate culture would allow it. Young people have a strong desire to play a part in shaping the company, but the opportunity for them to become actively involved in the company requires a leap of faith, a lot of patience and openness from the older generation.
On new responsibilities and agile teams
Today, working from home is the norm in many professions, which also demands a new mindset and sense of responsibility. However, outdated processes and media disruptions from analogue to digital and vice versa often hinder remote work. Since it is not possible to have a quick glance over the shoulder or socialize during a coffee break, new employees often need longer to get used to work processes without face-to-face contact. Employees' sense of attachment to the company can be weakened due to remote work, and this can only be partially compensated for by regular team events.
The situation is different when it comes to coordinating tasks: If a worker does not feel appreciated while working from home, it's quite easy to see a dip in work motivation. Collaboration in working from home therefore requires regular and open exchange so that the entire team pulls together, and a comfortable and welcoming corporate culture is created.
Besides remote work, another development that is emerging is that of agile working. When introducing agile teams, management sets overarching goals. Agile, often interdisciplinary teams then work independently on defined, joint results according to clear metrics, which increases motivation, breaks down silos in the company, and promotes flat hierarchies. Such a modern corporate culture magnetically attracts young, motivated junior talent.
Media change: Goodbye PowerPoint and PDF, welcome YouTube, Gif and Meme
While 81% of baby boomers use social media and communication tools, it's 91 to 97% for younger people. Why read long texts when you can watch short videos on YouTube or TikTok? And while previous generations still relied on pen, paper, text or telephone, the new generation are familiar with neither telephone booths nor landlines – they communicate almost exclusively via chat tools or memes. Differences can also be found in the use of cloud platforms: here, there's a separation of 29% between the younger and the older generations. This is no surprise: while cloud platforms such as Dropbox unite teams of all ages 24/7 with their tools and content, it is undisputed that digital natives are much more tech-savvy and call on the use of new technologies and forms of communication in their working lives.
A new digital culture
To remain attractive as a company in the competitive labor market, digital culture needs to be improved! Many companies tried to do this by expanding collaboration via video conferencing, which has grown exponentially in recent years to over 500 million video calls per day.
But synchronous collaboration via online meetings with screen sharing is often not as effective as asynchronous collaboration. New feedback tools, such as Dropbox Capture, allow audio visual communication via screen recording so that information or reactions can be shared with the team, regardless of time and availability of team members.
Synchronous action in the team merges with asynchronous communication – a gain in effectiveness and flexibility in everyday work, and not only for the younger generations. Overall, a good 80% would like to see complete flexibility in their working hours and, in the future, would also like to engage at least in partial working from home. This has implications for the corporate culture, which must no longer be reserved for those present in the company building.
Move with the times, or the times will move without you!
The ways of working are changing: everything is moving towards goal-oriented structures, more self-motivated focus work, new and increasingly audio visual communication media, and a rethinking at management level. The problems concerning the shortage of skilled workers cannot be solved within national borders alone: Companies need to expand their geographical radius to draw from a larger pool of creative talent and expand into new markets.
A change of perspective could also help significantly: remote work, working from home, and globally distributed work should no longer be seen as a bonus or luxury for (young) employees, but as a major and perhaps only opportunity for survival and growth for forward-looking companies. Let's stand ready for change, because change has only just begun.
Andrea Trapp is Vice President of Business International at Dropbox and leads their international teams from Munich. The economics graduate and change management expert has worked for 22 years – at times abroad – in pan-European management or board positions at international tech and PropTech companies. Her focus has always been on digital leadership and the optimization of transformation processes. More about Dropbox at www.dropbox.com.
Please note: The opinions expressed in Industry Insights published by dotmagazine are the author's or interview partner's own and do not necessarily reflect the view of the publisher, eco – Association of the Internet Industry.