How the Video Medium can be Efficiently Integrated into Existing IT
November 2017 -

Video Streaming

|

Networks

|

Connectivity
How the Video Medium can be Efficiently Integrated into Existing IT
Today, employees want to use videos for communication at their workplaces just as much as they do in their private lives. This means IT departments must face the challenge of how to integrate the video medium into existing IT infrastructures. The best way for them to master this task is with an Enterprise Video Platform.
Videos have long been a common part of private life; now they are taking over the business world. More and more businesses are using videos for an increasingly wide range of purposes. This is not only limited to external marketing and corporate communications efforts – the lion's share of internal videos are used by employees at the departmental level for internal communication, whether for e-learning, knowledge sharing, digitizing processes, or viewing management speeches. Experience shows that, generally, about 80 percent of a company's video content is intended for internal use.
The increasing use of internal videos presents IT departments with considerable challenges. IT must provide an infrastructure that enables company employees to implement videos in the manner they prefer. The IT department is thus confronted with two central problems. On the one hand, existing networks are usually not designed for videos – they were created for a smaller data flow, with which employees exchange e-mails and carry out transactions using business applications. On the other hand, videos cannot simply be used in technical systems for content management, e-commerce, e-learning or in social media tools, since none of these have mastery over video technologies.
Transcoding and streaming minimize stress on the network
A remedy for these IT management challenges posed by the increasing use of video is the use of an Enterprise Video Platform (EVP) such as the movingimage Secure EVP. 
An EVP provides the processes and technologies needed in order to integrate the video medium into existing network and system landscapes. In order to reduce the load on the network, an EVP is applied at several points. Immediately after a video is uploaded, it is transformed via transcoding into various formats and quality levels. When it is opened, the EVP automatically supplies the end device with the most suitable video file. This not only ensures that every smart phone, tablet, and PC receives the optimal version of the video for seamless viewing; it also guarantees that no unnecessarily large data quantities flow through the network.
Since video files are still relatively large even after transcoding, delivery is made by the EVP in the form of actual streaming. This means the videos begin playing while the device is still downloading the data, and in the process – with a small advance of a few seconds at most – only what is required for playback is downloaded. Since this allows only smaller amounts of data to pass through the network at a given time, other traffic, e.g. from essential business applications, is not impaired. In this way, videos can also be implemented in environments with small bandwidths.

Internal CDN relieves critical bottlenecks
Despite transcoding and streaming, the opening of a video by many employees at the same time remains a challenge. If, for example, a new address by the CEO to employees is made available on the start page of the intranet, one can assume that it will be viewed simultaneously by many people in the company. This is especially problematic when the company has several large facilities with many employees at each. The network conditions between these locations usually feature critical bottlenecks; if many people open the video from a central location, they are quickly overloaded, resulting in considerable delays in the delivery of the video or even a standstill.

This problem can be solved by an EVP with the help of an enterprise Content Delivery Network (eCDN). The basic principle of such an eCDN is to bypass the bottlenecks in the network. Two approaches are normally used to accomplish this. First, there are appliances which function as caching servers for streams. Secondly, a software program can pass on the streams of individual clients to other clients. In both cases, a client only has to open a stream from a device in the direct vicinity, thus enormously reducing the demand for bandwidth in the company network.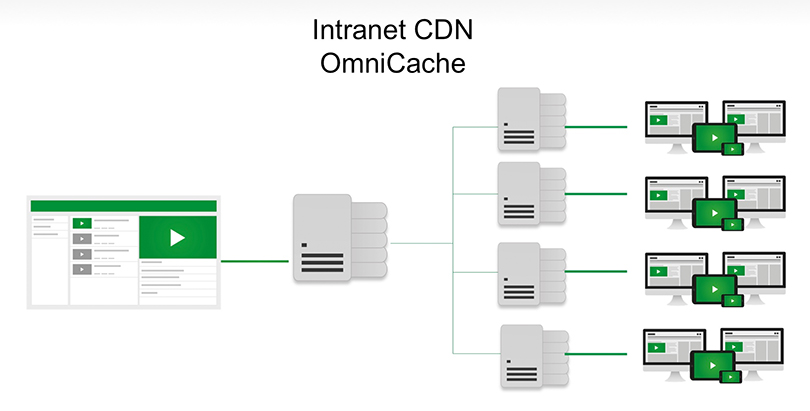 Player software serves a diverse client landscape
These technologies and methods ensure a more efficient and high-performance transport of videos by company networks. But one essential component is still missing for the complete delivery chain up to video playback on end devices: player software which provides functions such as chapter subdivisions, display of subtitles, volume control, and interactive interfaces. The big challenge here is that this software usually encounters a diverse client landscape, consisting of various end devices on different platforms such as Windows, iOS or Android, as well as current and older browser versions.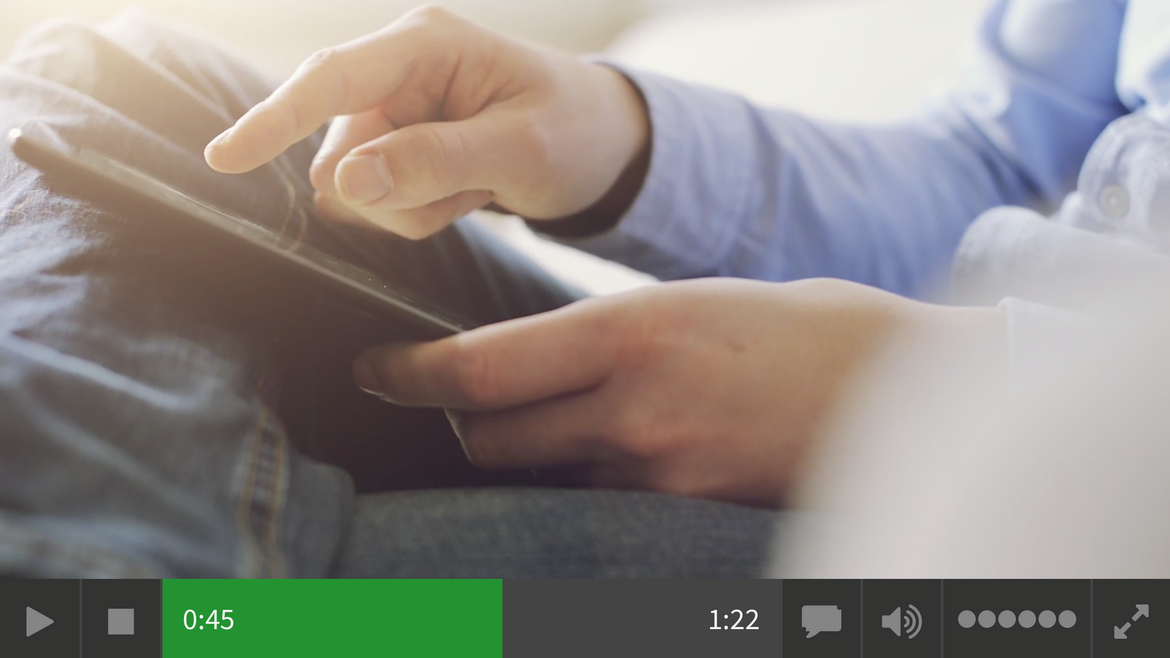 An EVP makes it possible to centrally support all of these different technologies. The intelligence possessed by such a platform allows it to detect from which end device a video is opened and what its environment is like. Using this information, it can detect, for example, whether the end device already supports HTML5 videos or is still dependent on Flash, and then automatically embed a suitable player in its browser. In this way, the EVP ensures that videos can be displayed and played on every end device in the company.
Out-of-the-box connection to standard applications
In order for employees to be able to use videos in the easiest, most versatile manner possible, the supply chain must be made available directly in their technical systems. Therefore, an EVP should ideally have integrations, on the basis of a REST-API, with out-of-the-box connections to the most common applications – whether they are content or digital asset management systems, portal solutions, enterprise social media tools, or office applications such as e-mail and presentation programs. The REST-API can be used to connect all other applications for which there is not yet a prefabricated integration. In these two ways, continuous end-to-end solutions can be implemented. Employees upload videos in their applications directly to the EVP, where they are automatically transcoded and then embedded in the applications so that they can be played on any end device.
The integration of the video medium into the existing IT landscape of a company is the central strength of an Enterprise Video Platform. It provides all the necessary technologies and processes in such a way that videos can be used directly in technical systems. The only alternative would be to set up an individual caching server infrastructure and transcoding functions for every program employees would use for videos, which would be very complicated and extremely expensive. In addition, an EVP provides for future sustainability. New video technologies are adopted by providers in their platform and are immediately made available to the company, without the need for changing anything about the existing integration.
With almost 20 years of international management experience in software and IT, Oliver Jaeger is not only a highly regarded expert in the field of digitalization, marketing technology, and customer experience management, but also a sought-after keynote speaker. Jaeger's knowledge of global markets, analyst relations management and his experience in building brands worldwide speaks for itself. Integral elements of his management approach are developing strong teams, implementing automated, end-to-end integrated sales and marketing processes, as well as marketing controlling to optimize ROI.

Please note: The opinions expressed in Industry Insights published by dotmagazine are the author's own and do not reflect the view of the publisher, eco – Association of the Internet Industry.