European Companies Risk Success in China Through Slow Websites
May 2017 -

Economic Impact of Connectivity

|

Latency

|

Networks
European Companies Risk Success in China Through Slow Websites
Alex Nam explains the findings of a survey by CDNetworks showing the enormous potential and brand image that European organizations are losing due to bad loading times in China, and offers advice for getting the company website functioning behind the Great Firewall of China.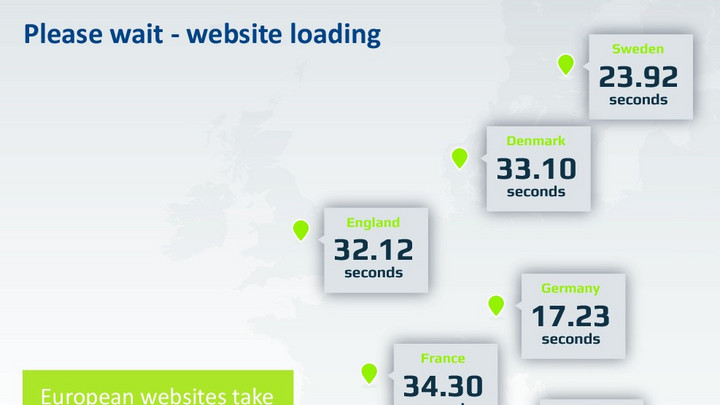 Already the world's highest, the number of Internet users in China reached 731 million in December 2016 – a figure that nearly equals the population of Europe and is more than double the US population. The Internet Network Information Center (CNNIC) named e-commerce as the main driver for the growing user numbers. Therefore, it is no surprise that an online presence is incredibly important for both B2B and B2C businesses looking to expand into China. Many businesses, however, do not see the expected results. A recent survey shows that the majority of European companies cannot take advantage of the enormous business potential in the Chinese market, since the load times of their online presences are simply too slow and therefore never reach the target audience.
In order to discover how well European brands were doing in making their websites accessible, we took a large sample of European brands with international appeal, and looked at how long a user in China would have to wait for a website to load. We also asked Chinese users how long they would expect to wait for a website to load, how often they were let down by website load times – and how this affected their perception of the brand.
How patient is the average web user?
Non-Chinese companies face a number of technical and regulatory difficulties when launching a website in China. This includes the geographical distance as well as the Golden Shield – more commonly known as the Great Firewall. Our main finding is, however, that Chinese web users are not forgiving of the unique connectivity issues that websites face in China. Nearly half of the Internet users (46%) are not even aware of the challenges.
Overall, Chinese Internet users are no more patient than users from anywhere else in the world. After 4.8 seconds, the average user will be frustrated by the website load time, and after an average of just 24 seconds, they will give in and look elsewhere. A third won't return to a site that has let them down. Unfortunately, 85% of European websites operating in China fail this test, as the average actual load time of European brands' Chinese websites is 33.1 seconds – almost seven times longer. So 85% of these website owners are not reaching their target audience. 

A further problem is that this is not an occasional frustration. Almost half of users have been noticeably frustrated by a non-Chinese brand's website in the last 48 hours, and more than three quarters within the last week.
The consequences: Poor performance affects brand reputation
Disappointed by their experience, the largest proportion of respondents (44%) believe that non-Chinese brands' websites perform consistently worse than their native equivalents. What's worse, the perceived problems and fears run far deeper than the frustration over slow load speeds. For the vast majority (85%), a poorly performing website translates to other negative impacts on the brand's reputation. Poor websites can quickly engender views of reduced trustworthiness (19%) and reliability (15%); concerns over the company's longevity (17%); or even indignation over insufficient value being placed on Chinese custom (17%). 

Worse still, a brand's website security can be completely undermined by a slow website, giving the perception it is insecure and therefore discouraging visitors. Rightly or wrongly, 57% of users make a link between poor website performance and likely substandard security.

Losing a third of a site's potential web traffic will be a crippling loss for many brands and can easily represent the difference between trading in China being successful and disastrous.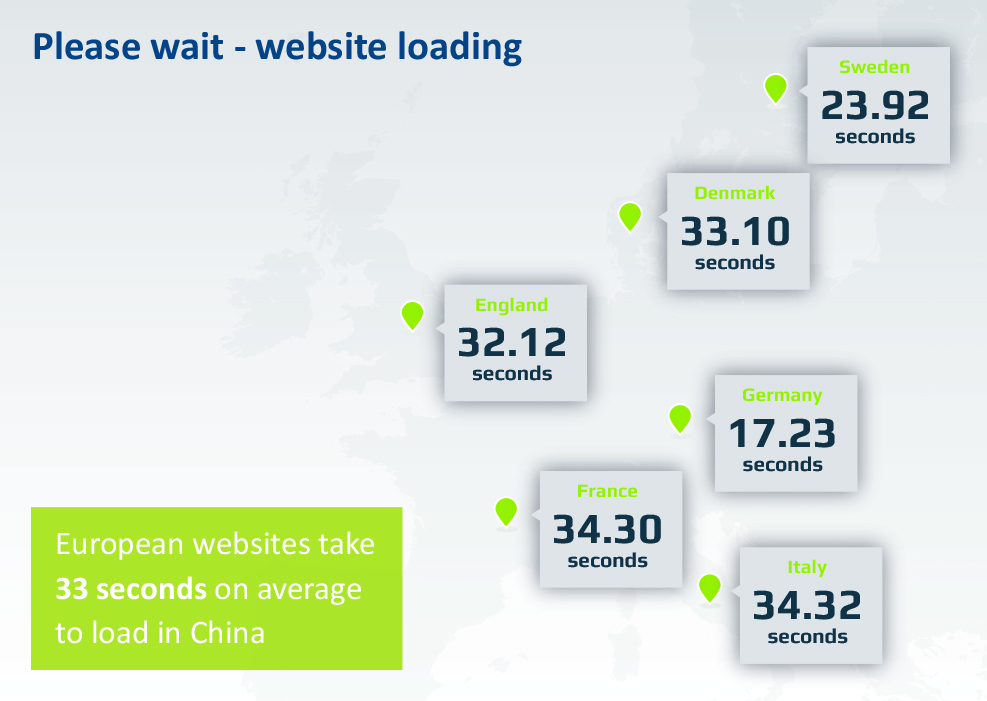 The solution to long website loading times in China
Delivering a website from outside China and expecting it to load quickly without additional help from within the Great Firewall is a fool's errand. Some of the effects of the Great Firewall are well understood. A web search within mainland China can give quite different results to a search made elsewhere – especially searches relating to controversial topics. What is less well understood is how the Great Firewall blocks certain types of content completely and makes some domains inaccessible altogether. And even if the content is accessible, the Firewall can contribute to the unacceptably long load times mentioned above.
Three important steps to take for company websites in China:

1. Test your website
First of all, it's important to understand what your website looks like from within China – the loading speed, the time until it's possible to interact with the site, and what content, if any, is blocked.

2. Understand the issues
It is important to understand why content might cause problems. Certain sites, such as Facebook and Twitter, are blocked in China. If your website incorporates a sidebar or widget with embedded content from a banned website, this will cause issues. Other content, including images, may be considered risqué enough to be blocked in China, or may be erroneously picked up by automatic algorithms. The right licenses are also vital – get this wrong and the website can end up blacklisted in China with no way to appeal the decision.

3. Optimize your content delivery
The next step is to focus on optimizing delivery of content. There are two issues that cause websites to take longer to load:  the distance from Europe to China, and the latency caused by China's infrastructure – both the Great Firewall and limitations of the Internet in China. A specialist Content Delivery Network (CDN) can reduce the latency caused by both issues. 

The CDN provider you choose should have a physical presence within China, including staff and network nodes. It should also have relationships with China's key networks, and support for delivery and acceleration of both static and dynamic content and protect against breaches and DDoS attacks. It should also be able to offer the necessary support to navigate Chinese regulation and have in-depth knowledge of the market. In other words, it must not just be a technical mechanism to deliver content, but a partner in building an online presence in China.
Detail on research and respondents:

1,780 websites' load speeds in China were examined – companies from Germany (746), Italy (126), UK (195), France (325), Sweden (77), and Denmark (311). 484 Chinese web users were surveyed on their views and attitudes towards Chinese and European websites.

Alex Nam joined CDNetworks in 2013 and was tapped to run the EMEA operations in 2014. Alex leads a growing team based in London including sales, marketing, and customer support. Alex began his career as a consultant for Accenture, then moved into leading global business teams at SK Communications and Neowiz.  Alex graduated with a BA in Business Administration from Korea University.


Please note: The opinions expressed in Industry Insights published by dotmagazine are the author's own and do not reflect the view of the publisher, eco – Association of the Internet Industry.