Multi Cloud Management – Trends and Challenges for Enterprises
October 2017 -

Multi Cloud

|

Data Protection & Privacy

|

Doing Business in Germany
Multi Cloud Management – Trends and Challenges for Enterprises
Today, the question is not so much about whether companies are using cloud computing, but about how they are using it. A survey by Crisp Research and QSC on "Hybrid- and multi-cloud services among mid-sized companies in Germany" offers a key insight: Businesses are increasingly implementing multi-cloud structures, as Marc Sundermann from QSC shows.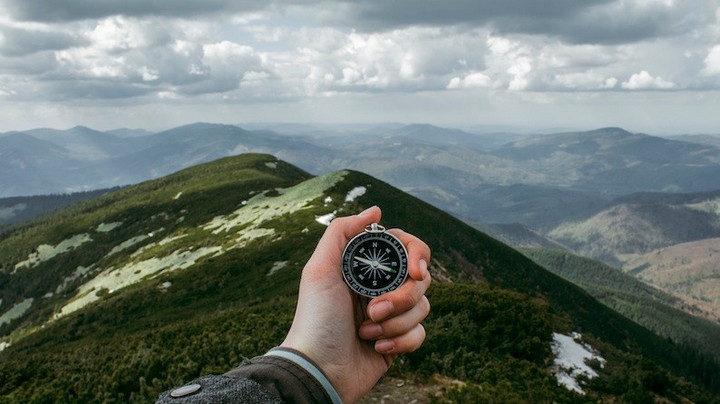 The days of skepticism seem to be over: According to a study conducted by Crisp Research and initiated by QSC AG, more and more companies are using cloud computing. Businesses are becoming more willing to shift infrastructures and tasks to external data centers. 80 percent of the companies surveyed say that they already use cloud computing or are getting ready to implement it. Almost 62 percent of them are focusing on a combination of public and private clouds from different providers – a so-called multi-cloud environment.
"Almost every second Euro is currently being invested in implementing and operating the architecture and the services for cloud computing," says Andreas Weiss, Director of EuroCloud Deutschland. "This shows that the majority of companies have come to understand that cloud computing is the necessary foundation for digital transformation." For more than 80 percent of the decision makers who participated in the study, cloud computing will become an essential pillar of their IT strategy. According to the survey, 41 percent of today's IT budgets flow into the building of a modern and cost-flexible cloud infrastructure – especially one for multi-clouds. By 2020, the use of exclusively public clouds will decrease by 50 percent.

Decision-makers are demanding a higher IT budget 

As companies create a process- and value-oriented digital culture, 84 percent of them expect a sharp increase in the operation of applications. In the light of the increasing complexity in the connected enterprise, decision-makers are actively demanding a big increase in the IT budget – often up to as much as 80 percent. Because of its flexibility in cost and operation, cloud computing is becoming more relevant. It is striking that different divisions or departments of the companies surveyed have especially high expectations for digital transformation. In contrast to management boards and IT managers, they feel very affected by digital change and are unsatisfied with the existing IT landscape in their organization.

The high inner-organizational pressure and a competitive market – driven by digital projects – has led many medium-sized companies to rethink digital transformation and cloud computing. "The decision-makers are very focused on establishing their own story of digitalization," says Steve Janata, Chief Operating Officer (COO) of Crisp Research and director of this study. "What's new is that most of the companies finally have a clear goal in mind. It's the first real milestone on the path to digital transformation of their organization."

What partner for the multi cloud?
For the companies surveyed, a managed service provider (MSP) is the most important contact for planning and evaluating the multi-cloud strategy. Companies generally do not see themselves in a position where they can steer multi-cloud operations by themselves. Service providers will be taking over a part of the responsibility for operating, orchestrating, and optimizing the company's infrastructure.
Companies have a lot of reconstruction work ahead of them in the coming years. They are building the technical foundation for digital transformation within their organization. This is an important first step to competitiveness in the approaching digital age.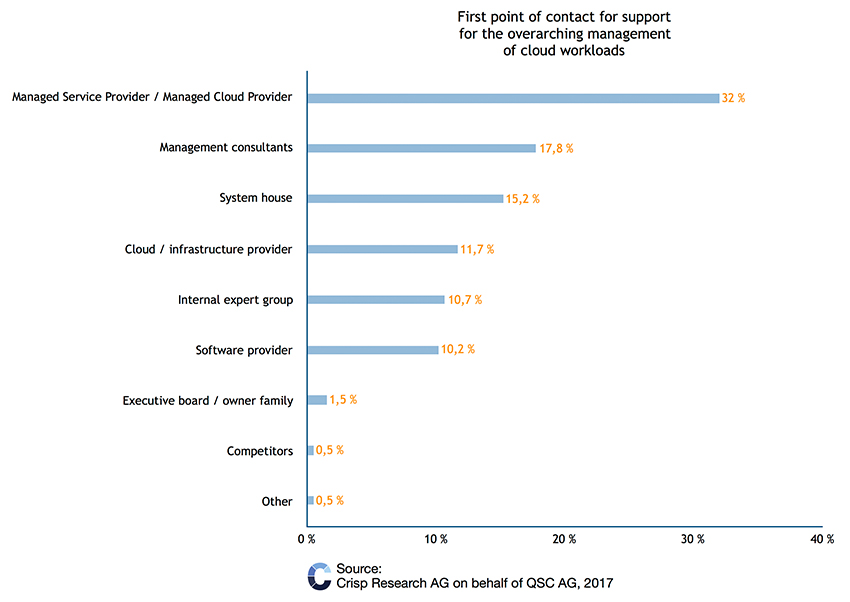 The study reveals that – on their path to the digital future – companies see themselves confronted with three main challenges: economic, organizational, and technical. 43 percent of the respondents say their greatest economic challenges are low transparency regarding costs, and unclear cloud licensing models – the main reason for this lies in the different types of licenses. These vary significantly depending on the use, provider, and cloud model. "Many companies get lost in the jungle of different licenses. They are simply overwhelmed by the complexity," says Janata. "The ball is in the court of the consultants and service providers who have all the knowledge about different contract models and service-level-agreements (SLAs). They can ensure that no mistakes are made."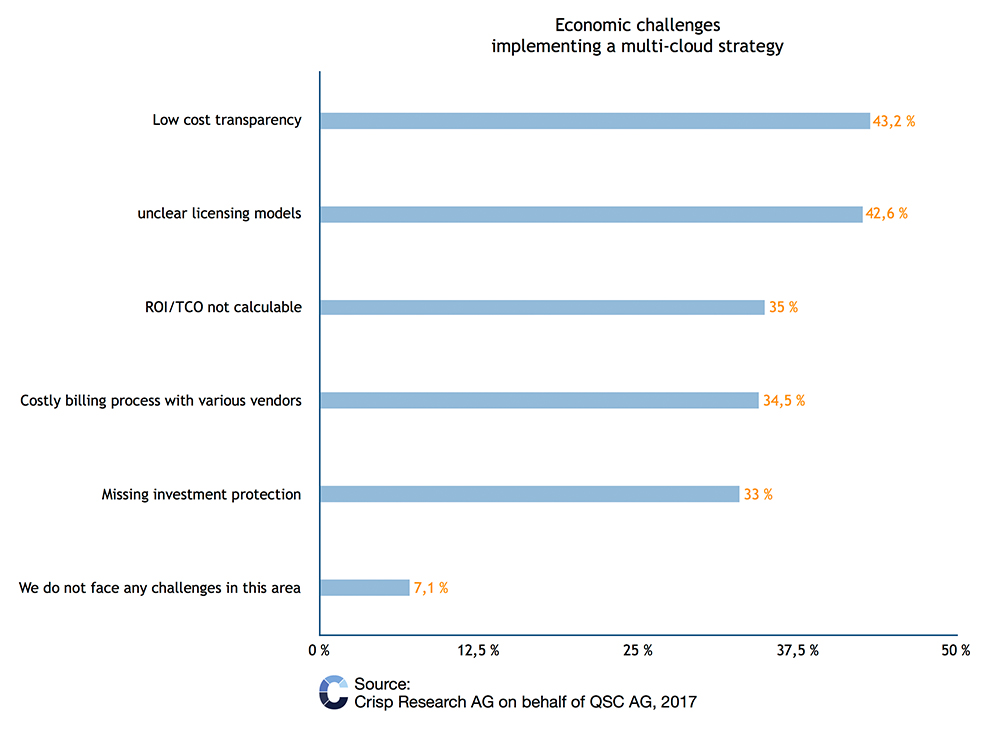 When implementing the multi-cloud strategy, one third of all respondents see the biggest economic challenges as being calculating the return on investment (ROI), and the low investment security. Another challenge is a time-consuming billing process that comes with having different providers. "This is why, when it comes to exchanging knowledge, companies and the responsible people increasingly look for the help of external consultants or colleagues," says Janata. For one third of the respondents, the first point of contact is a managed service provider.
What to tackle, when and how? Organizational challenges
The future EU General Data Protection Regulation (GDPR) is already taking a toll on many companies. In May 2018, stricter data protection regulations will come into effect. The new laws are backed up by high monetary penalties for those companies that do not adhere to them. Companies have to fear paying fines of up to 4% of their annual global turnover or 20 million Euro for violations of the GDPR. It is no wonder that for almost half (47 percent) of the decision-makers in mid-sized companies, data security, compliance, and identity and access management (IAM) are the biggest organizational challenges when it comes to executing a multi-cloud-strategy. "Even if the great majority of services follow high data security standards and are delivered from German data centers, one single weak point can serve as a gateway for the entire connected system," conclude the analysts of the Crisp Research study.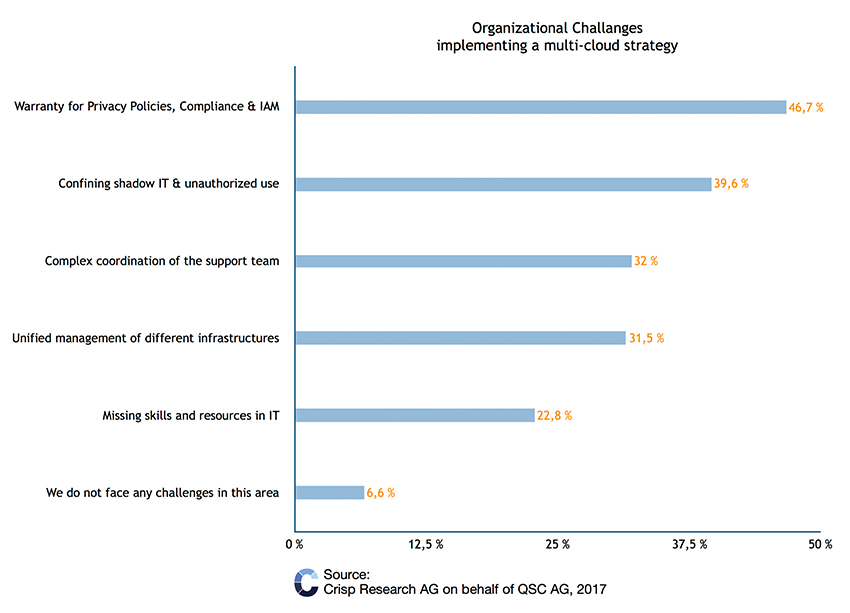 Almost 40 percent of the respondents see one of the greatest obstacles as being to stop shadow IT and unauthorized use. And almost one third of all decision-makers see a rising need for the IT support team to keep the system up and running around the clock. In times of the cloud, companies see themselves facing multiple challenges. A multi-cloud strategy makes medium-sized companies more agile and fit for the future. Those companies that try to meet the challenges without the professional help of managed service providers will soon reach their limits. 
Bad debts become technical challenges
From running on-premise structures in the company basement to hosting environments at external service providers: In the digital age, traditional companies often struggle with historically developed IT-environments. These environments are often hard to combine with the cloud. For companies with very traditional structures, transformation is much more difficult. For this reason, 42 percent of the decision-makers identify the migration of the existing systems as the biggest technical challenge when implementing the multi-cloud strategy.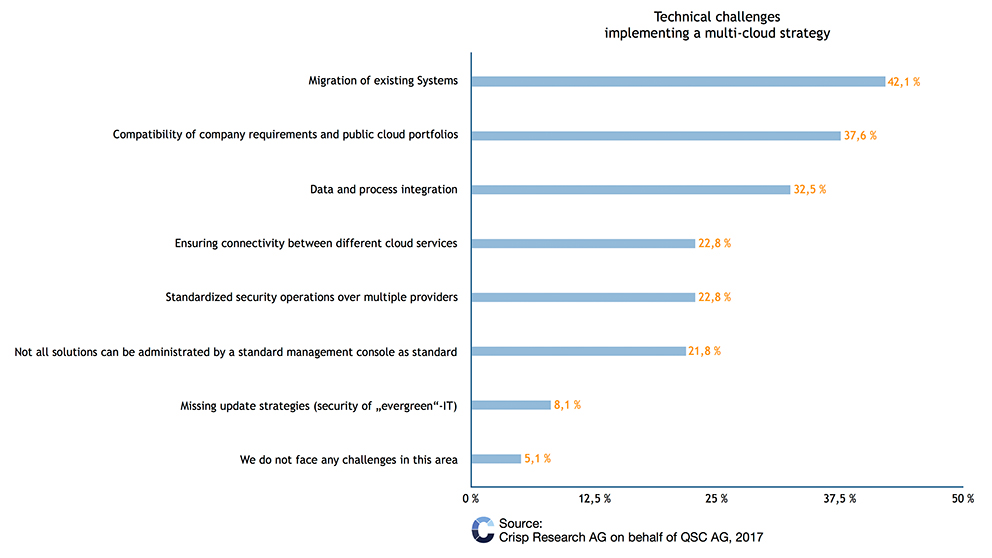 For more than 38 percent of the businesses surveyed, the task of integrating company needs into public cloud portfolios is ranked second on the list of technical challenges. As the results of the survey demonstrate, it is not possible to put every workload into the public cloud. But there is good news: In an intelligently managed multi-cloud environment, this will not be necessary.

Marc Sundermann is an expert on the subject of multi cloud and cloud strategies. As an IT architect, he has many years of experience in the planning and implementation of complex cloud architectures. At QSC AG, he is responsible for the strategic direction of the new multi cloud department in his position as head of business development. Marc Sundermann lives and works in Hamburg.

Please note: The opinions expressed in Industry Insights published by dotmagazine are the author's own and do not reflect the view of the publisher, eco – Association of the Internet Industry.