Technologies and Business Models Posing Industry Challenges for System Integrators
November 2021 -

Digital Ecosystem

|

Multi Cloud
Technologies and Business Models Posing Industry Challenges for System Integrators
Tailoring IT architectures to business models, having customers benefit from ecosystems, and opening up additional revenues with as-a-service offers – these types of market trends were the focus of the German IDG "Systemhauskongress", which took place virtually this year.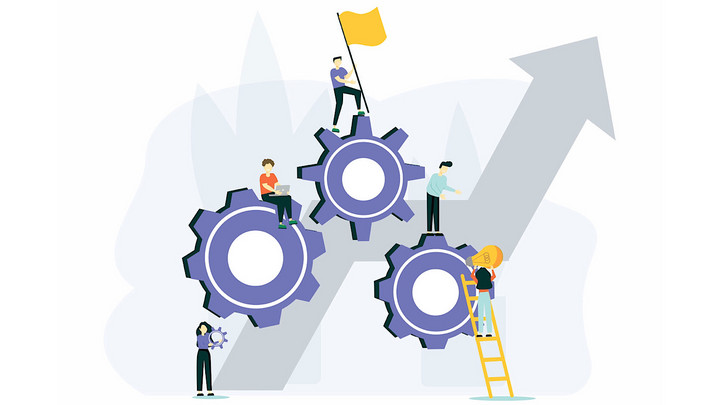 Germany's IT service providers are viewing the future with optimism. According to the latest German IDG study, in the past 12 months, business has being developing well for 58 percent of system integrators. For most customers (74 percent), the pandemic has accelerated the transformation. Companies are investing primarily in security (52 percent), networks (46 percent), and modern work solutions (26 percent). Topics such as automation via software robots (12 percent), artificial intelligence (8 percent), or blockchain (3 percent) are not yet at the top of the shopping list.
What the results show: "Companies are initially strengthening their IT foundation." This point was made by Bernd Krakau, Group COO & Executive Board Member of the netgo group. "AI, blockchain and the like will become relevant later on down the line," Stephan Teinert, Head of Cloud Sales at Wortmann, went on to state. Because, as Managing Director at Innovations ON Tom Simon said, "Modern work solutions, for example, are a right step to take, but are also only the first of many others". On 9 September 2021, these three experts engaged in a discussion at the IDG "Systemhauskongress" (the German System Integrators Congress) concerning what steps are possible for IT service providers themselves.
System integrators bringing IT resources and users together
Converting requirements into IT solutions, flexibly orchestrating services, and coding business goals into agile software – IT service providers face challenges like these every day. What matters: "We have to see ourselves as translators," said Simon: "That's the only way to bring IT resources and users together." What can lead to success? "System integrators have to break down the complexity of the technology," said Krakau. "Customers want to see their individual benefits." As Teinert noted, what helps is "to be clearly focused in order to show opportunities and potential in a transparent, verifiable, and understandable way."
Simply obtaining everything as a service
To take SMEs as an example: "Companies are not yet showing interest in Managed Kubernetes," said Simon: "Here, lift-and-shift migrations remain much more relevant." What remains relevant beyond that? "Individual consulting," said Krakau: "Together, we develop roadmaps that convert business challenges into individual IT solutions." According to Simon, the challenge that everyone will have to face in the future relates to the fact that "users want to obtain everything as a service". For example, Wortmann already offers prefabricated services that are particularly effortless and simple to use. Teinert: "Regardless of whether private, public, or hybrid – our customers simply consume the services and consign the operational aspects to us."
Ecosystems replacing individual relationships
An increasing consumption of IT services as self-service while still availing of individual consultancy – what sounds paradoxical is becoming a reality. And this is one task among many that can be delivered by an average of three service providers per company, as IDG has learned. What this means for system integrators: "Ecosystems are supplanting individual customer relationships," said Krakau. To take the example of Innovations ON: As a cloud native provider, Simon's company specializes in Amazon Web Services. When it comes to other public cloud services, other providers are more familiar with them. The solution: a lively exchange of experience between the providers, as facilitated by EuroCloud Native, for example. Together with more than 20 other cloud native providers, Innovations ON is involved in the "EuroCloud Deutschland" initiative.
Technologies and business models posing a challenge for system integrators
System integrators are addressing similar challenges. They, in particular, are putting the new world of managed services to the test. According to IDG, only 59 percent of these offer cloud products or services. And most of them do not do so on an automated basis, but manually (62 percent). "This shows the need for information and, at the same time, business potential," said Krakow. In Krakow's role as a Board Member of EuroCloud Deutschland, he is involved in an initiative currently being formed to support the industry: Channel2Cloud, which is modelled on EuroCloud Native, is now there to help system integrators transform their business. Because: "It's not only technology that challenges IT service providers internally," said Krakow: "As-a-service offers require new sales strategies and business models in the system integrator market." Regardless of whether it comes down to software, platform, infrastructure, or device-as-a-service offers – all system integrators fear losses for their traditional business. However, as the IDG experts state: "The majority of the IT service providers surveyed generate additional revenues through their as-a-service offerings."
Nils Klute is Project and Communication Manager at EuroCloud Germany. He is responsible for content marketing activities on topics such as GAIA-X and AI, supports initiatives such as Service-Meister, EuroCloud Native or systems integrators on their cloud journey. Prior to his start at eco in 2018, Nils worked as a corporate journalist for IT corporations (like SAP, T-Systems, and QSC at Cologne-based communication agency Palmer Hargreaves) and previously held public relations positions at market and economic research institutions.

Please note: The opinions expressed in Industry Insights published by dotmagazine are the author's own and do not reflect the view of the publisher, eco – Association of the Internet Industry.