How SMEs Succeed with AI & Standards – Not Only in Service
March 2022 -

Service-Meister

|

Industrial IoT
How SMEs Succeed with AI & Standards – Not Only in Service
Hauke Timmermann from eco shows how AI and the Service-Meister project are revolutionizing industrial service for SMEs.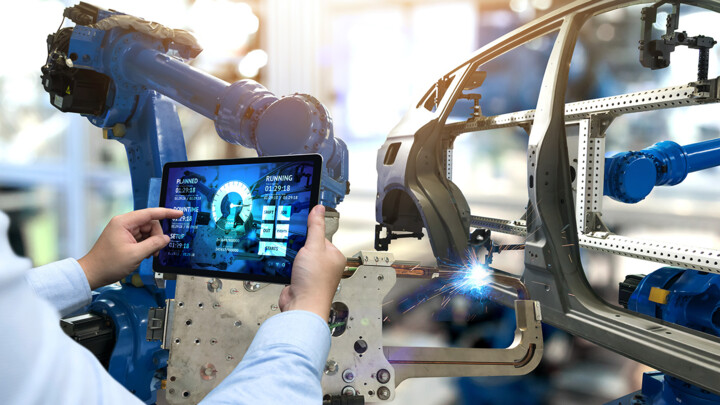 Controlling machines via app, online remote maintenance and benefiting from new data-based services – the Service-Meister project solves individual challenges in industrial service with artificial intelligence (AI). The article shows what it takes to move small, medium and medium-sized enterprises (SMEs) forward with AI in service. And what role consortia, standards, and platforms play in European competitiveness.
Identifying service cases at an early stage and implementing digital value-added services – Würth has been producing its own power tools for around two years. What belongs to the portfolio is the appropriate machine service. Würth uses data analyses to gain insights that can be used, for example, to recommend users a more suitable device from the range for their work. Or, in the future, individual configurations can be loaded onto the devices via an app in order to shorten setup times. Trumpf is no different: the machine manufacturer is delivering smart service at the center of a new business model. Customers will no longer have to invest in high-tech laser cutting systems, but will only pay a previously agreed price per part produced. Pay-per-part business models like this are the future.
The Service-Meister project: AI ecosystem and service platform
Controlling machines via app, maintaining them remotely online, and benefiting from new services – companies like Würth and Trumpf are showing how it can be done. In the Service-Meister project, they are working with KEB, Atlas Copco, Krohne, Open Grid Europe, USU Software, Inovex, and Grandcentrix to solve individual challenges in industrial service with artificial intelligence (AI). Service-Meister's goal: By the end of 2022, project teams will develop an AI ecosystem for technical service in the age of Industrie 4.0. A cross-plant, cross-department, and cross-company platform is to make specialist knowledge scalable, digital products possible, and SMEs more competitive with AI. Because what is becoming normal elsewhere is making only slow progress in Germany.
Opportunities for intelligent value-added services and platforms remain untapped to date
According to a 2020 McKinsey study, the share of revenue generated by digital platforms and value-added services across Europe is only around 0.7 percent, or just 6 billion Euro – although around 40 billion Euro in revenue would be possible. The prerequisite: SMEs recognize the potential of platforms and value-added services and exploit them by using AI. According to a study by the eco Association, more than 13 percent growth in gross domestic product is realistic by 2025 if the German economy is using the technology across the board by then.
Europe's B2B industries still within reach for platform markets
Amazon, Facebook, and Apple are showing how it can be done. The big platforms are dividing up the B2C market among themselves with AI applications, digital products, and intelligent services. Service-Meister shows where the opportunities lie for Europe: B2B industries such as mechanical engineering, logistics, and chemicals are still accessible to platform markets.
Plant manufacturers, for example, have seen digital technologies as a starting point for smart manufacturing solutions. To be successful, however, services and platforms must focus on the benefits of machine operators. The AI-based ecosystem of Service-Meister is therefore not only intended to be the basis for technical industrial service 4.0, but also a platform for new customer-centric business models.
Platform economy needs business models and standards
Develop smart services and offer digital services via platforms: According to an online survey conducted by the Technical University of Central Hesse (THM) in 2020, there is potential for this, particularly in the service sector. But McKinsey found out what is slowing down development: A lack of business models (61 percent) and standards (59 percent). While companies are primarily concerned about available, high-performance, and secure systems, users and customers primarily want highly compatible and interoperable services. Defined interfaces and seams are needed to implement digital services in such a comprehensive manner.
Standards are a component of value creation in Service 4.0
Standards are an essential component for value creation in Service 4.0. Anyone who wants to integrate the technological components of different manufacturers via standards in order to monitor their lifecycle holistically is dependent on systems speaking with one voice.
Only if data, formats, and documentation are based on standards can the information be processed automatically in the service. Industry 4.0 is creating new data-based business models by connecting physical assets via open and standardized formats. If information can be exchanged along the entire life cycle of machines, services, and products, there are benefits from development to production to service. Manufacturing processes can be optimized, plants better utilized, costs reduced, products improved, and quality maximized.
Capturing, documenting, exchanging and processing information in a standardized manner
In order to realize such an interoperable data flow, the asset administration shell (AAS) is available as a reference. The asset administration shell is a technologically neutral information model with semantic features. It can be sued to describe all Industry 4.0 assets in a standardized way. Whether manuals, individual sensor values, or real-time data streams – the asset administration shell provides a binding and neutral model for capturing, documenting, exchanging, and also processing information with AI. Depending on the use case, it delivers data in partial models for machine design or maintenance, for example. And depending on the application, users only exchange the data they specifically want to share.
Standardized interfaces for service
The Service-Meister AI project is no different: In order to help SMEs make progress with AI in service, standardized interfaces are needed for the exchange of information. Only in this way can the data from the machines be used for intelligent maintenance. And only in this way can digital business models be realized and digital services scaled via platforms, such as those currently being created at Würth and Trumpf. The project tandems from SMEs and IT implementation partners at Service-Meister initially solve the individual challenges of the companies. But later, all the results will be abstracted and made openly available so that any interested user can implement and use the AI components. In this way, digital advisors, chatbots, augmented reality applications, and apps will make specialist knowledge scalable and new business models possible.
Digital business success with consortia
McKinsey's experts are also convinced that European industry is in an excellent starting position. Deep machine understanding, process proximity and a low investment risk meet a potentially large market. What can lead companies to success: Vendor consortia are the way to build digital platforms for 77 percent of companies. Consortia like the one Service-Meister is assembling to make the AI-based service ecosystem real. After all, McKinsey is certain, high-quality analog products of today will remain the basis of digital business success of tomorrow in this country.
Hauke Timmermann is Consultant for Digital Business Models and is the Project Lead for the Service-Meister project at the eco Association.