Paradigm Shift: Ecosystems and How to Rock them!
March 2022 -

Digital Ecosystem
Paradigm Shift: Ecosystems and How to Rock them!
Luisa Kruse from TechQuartier offers insights on choreographing ecosystems from an ecosystem orchestrator.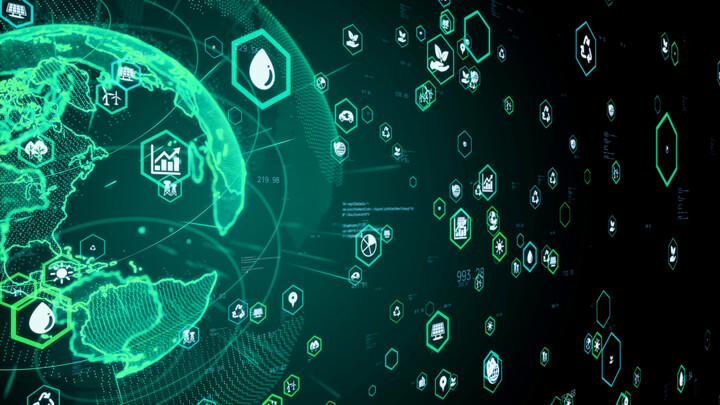 When hearing of ecosystems, one might think of the grade six biology book, showing a picturesque pond surrounded by trees, which is the home to swans, fish, insects, frogs – an ecosystem of life. This article, however, is not about coral reefs or rainforests, but about man-made, organized ecosystems in a business context that connect diverse firms, startups, institutions, and other actors who produce innovative solutions. As a definition, a business ecosystem is a network of firms with differing interests bound together as a collective whose fate is bound to the structure of that network and the roles played by its actors. In today's business world, the occurrence of ecosystems is a paradigm shift towards more agile, less hierarchic, and cross-functional teams and operation practices.
Collaborate, cooperate, coopete
An important underlying idea of innovation is its reliance on competition and the intertwined nature of both innovative and competitive behavior. While this idea has prevailed for a long time, the predominance of strict competition has been slowly losing ground to the idea of partial cooperation. The strategic behavior which combines both approaches, labelled coopetition, occurs when firms from the same market cooperate in the exploration of knowledge and research, while competing in its resulting exploitation. In that light, the concept of business ecosystems gains in prominence in both research and its application in business.
The most innovative organizations will address today's complex challenges in science and business by creating or participating in digital business ecosystems. The framework of an ecosystem consists of a role for every participant – like in the pond mentioned above. From predators to microorganisms, there is a standardized approach to a common objective. Firms mutually grant access to assets and resources to create more value for their customers by reducing costs or improving business processes. While established strategy would recommend delineating competitive advantages, nowadays, competitors are more often starting to collaborate. A prominent example of such a fast-growing digital business ecosystem in Europe is Gaia-X, which aims to develop common requirements for a European data infrastructure as a response to the increasing pressure on European business models on a global scale. Young companies and startups tend to become part of ecosystems more easily, whereas in established enterprises and institutions a mindset shift has to be triggered. In the long run, ecosystems help to foster innovation, create synergies, and set standards.
The orchestrator and its role
There are different ways to organize an ecosystem, such as standardization alliance networks, meta-organizations, accelerator networks, and entrepreneurial ecosystems. We will look more closely into ecosystems that have a central actor that generates gains for all members, the orchestrator. We define orchestration activities as the actions taken by an ecosystem actor to choreograph the activities of the digital business ecosystem's stakeholders. These, conclusively, determine the mode of orchestration by which an ecosystem is governed. In their role, the orchestrator connects, facilitates, mobilizes, and governs the ecosystem and thus contributes to successful inter-organizational value creation. This can present a challenge – depending on the size of the ecosystem – for the decision of the form of leadership, and for orchestrators in their internal and external roles.
At TechQuartier, we started in 2016 with the mission to develop the startup scene in Frankfurt and the German State of Hesse. Since then, we have established an active community and connected with partners worldwide. A special focus is placed on the establishment of data-driven ecosystems in Germany, but also with a European outlook.
When thinking of building an ecosystem or extending an existing one, we always look out for emerging trends. We translate these trends into trainings, talent-focused and commercial programs, and we reach out to relevant companies, startups, and institutions to connect them and start a dialogue on possible synergies. Following up, we facilitate an alignment of vision and resources, introduce funding options, and finally set up the collaborative structures in multi-stakeholder projects that lead to the creation of innovative outputs.
One example of an emerging ecosystem initiated and driven by TechQuartier – in collaboration with the Hessian Ministry of Economics – is the safeFBDC. safeFBDC and associated initiatives represent the idea of a data ecosystem "made in Europe", which is to provide business, academic, and regulatory stakeholders with a secure, data sovereignty-preserving infrastructure for sharing and AI-powered analysis of financial data. This ecosystem is bound by its set of goals and the project's mission. The distinctive partners range from public and private partners in the financial sector to banks, universities, research institutions, small and medium-sized enterprises (SMEs), and startups.
The tasks involved in building and orchestrating this emerging ecosystem vary from determining the ecosystem's vision and mission to defining interim results, setting milestones, and following up on their achievement. TechQuartier's public governance structure allows us to successfully manage conflicting interests and the associated ecosystem risks, which is an important task for the orchestrating actor. Furthermore, it is our task to identify and evaluate growth potentials when it comes to expanding the ecosystem or to specifically scout for partners who can fulfill certain roles in the ecosystem. This is always linked to the associated management of contracts, rules, and regulations that have been jointly adopted by the ecosystem participants.
The future viability and growth of the ecosystem is driven by external impulse, in particular from TQ's broad startup community. A variety of formats have been established for this purpose; brown bags for all partners on relevant subjects – from university research to product developments, to the procedures of similar projects, like Catena-X. This is in addition to the virtual show safeFBDC Live and hopefully some face-to-face events soon. The responsibilities of an ecosystem orchestrator also involve recognizing developments and occurrences beyond one's own boundaries and, for example, collaborating with other ecosystems to realize synergy effects. As a result, we are also partaking in the foundation of the EuroDaT consortium, which will become a neutral, not-for-profit data trustee as defined by the European Data Governance Act DGA.
Example 2: Ecosystem mandate Hessen
In April 2021, TechQuartier was awarded a mandate by the State of Hesse to manage the startup ecosystem of the Frankfurt Rhine-Main region for the next three years, with a focus on the areas of networking, visibility, and ecosystem growth. As the greater Frankfurt area is a diverse metropolitan region with many important players located in different cities, representing various industries and diverse perspectives, it is very important to establish a transparent dialogue between all stakeholders. By building on common interests, i.e. growing the number and size of local startups, all players should be enabled to take full advantage of existing synergies and to create new collaborative projects.
To improve the development of the regional startup ecosystem, we run different formats and events that accelerate networking, promote collaboration, and facilitate information exchange between the different ecosystem stakeholders.
Through regular Town Hall Events, we provide the opportunity for networking within the startup ecosystem by focusing on knowledge exchange with public stakeholders on current topics.
The Founders Forum for Sustainability is a bi-monthly format initiated by TechQuartier and StartHub Hessen, Ecosystem Manager for the State of Hessen, which offers a platform for founders of green and sustainable startups in Hessen and the Rhine-Main region to exchange ideas with other startups from the sustainable sector.
Our monthly virtual startup presentation showcases startups from TQ's community and the regional ecosystem. Co-organizers include innovation organizations and stakeholders from the Frankfurt Rhine-Main region (All recordings can be found here.)
The aim of our Innovation Roundtable format is to give promising startups access to experts from business, science, and politics and to promote the content-related and overarching exchange among stakeholder groups. In exclusive events, selected experts exchange their experience, discuss current trends and identify possible fields of action for joint initiatives.
Conclusion
The prominence of digital business ecosystems in today's economy raises questions about how to support collaboration between multiple, diverse stakeholders and, in the narrower sense, emphasizes the importance of ecosystem orchestration to make the digital business ecosystem flourish. Not every company is in a position or has the capabilities to be an orchestrator. You cannot unilaterally choose to be the orchestrator, but rather you need to be accepted by the other players in the ecosystem. The orchestrator should occupy a central position in the ecosystem network and have the ability to coordinate effectively. As stated earlier in this article, the orchestrator should be perceived as a fair choice by the other members, not as a competitive threat. Ecosystem orchestrators, such as TechQuartier, build ecosystems, encourage others to join, define standards and rules, and act as a mediator in cases of conflict.
Finally, it is important to mention that a successful ecosystem not only needs orchestrators, but also contributors to create something new and valuable. At best, these should be innovative and have the capability to lead the ecosystem to new perspectives and products.
Luisa Kruse is a Senior Manager at the Frankfurt Innovation Hub TechQuartier. She currently leads the research and development project Financial Big Data Cluster, with the goal of developing, prototyping and validating infrastructures for data exchange and AI-supported processing. She holds a master's degree in economics and business informatics and worked as a student for three years in the technology consulting department of Pricewaterhouse Coopers in Frankfurt am Main and Berlin.
Please note: The opinions expressed in Industry Insights published by dotmagazine are the author's own and do not reflect the view of the publisher, eco – Association of the Internet Industry.