Balancing Digital Ecosystems
March 2022 -

Digital Ecosystem
Balancing Digital Ecosystems
What makes a healthy digital ecosystem? Balance and a diversity of stakeholders, answers Maria Barros-Weiss from IONOS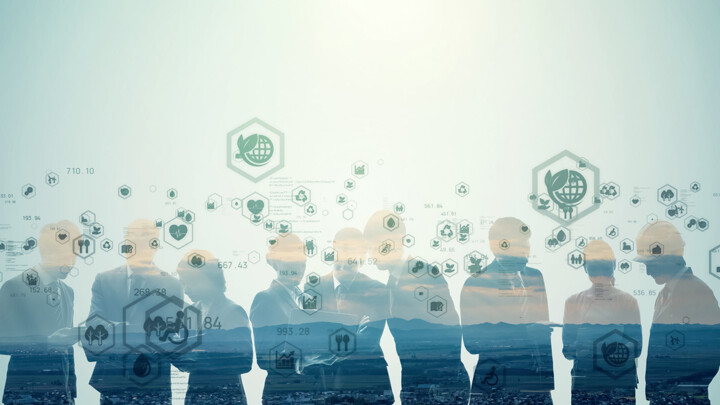 dotmagazine: Maria, you are VP of Digital Ecosystems Solutions at IONOS. This is a job title I haven't come across before – can you explain what your work entails?
Maria Barros-Weiss: As Head of Digital Ecosystems Solutions, my responsibilities include R&D project collaborations on cloud-edge continuum digital ecosystems, building an IoT cloud stack, and participating in European and national funding programs, as well as associations.
dot: Why have digital ecosystems become so important in recent years?
Barros-Weiss: Digital ecosystems and new digital services will change most of the vertical industries as we know them and disrupt most of the societal sectors. ICT technologies, like cloud, artificial intelligence, IoT and 5G mobile communications are recognized as enablers of these future services, contributing to a more sustainable society, circular economy, and a smarter use of resources.
These enabling technologies will affect not only our way of work and doing business, but our daily life as well, bringing a whole new range of innovative services into our lives, and contributing to the sustainable development goals defined by the United Nations.
dot: What ingredients are needed to create a healthy digital ecosystem, and what conditions do they need to thrive?
Barros-Weiss: A healthy digital ecosystem needs balance between the digital assets and the users' needs, no matter whether by users we mean business sectors, societal domains, or individuals. To find this balance, a healthy digital ecosystem needs to involve different stakeholders and meet not only their technical but also their functional requirements, thriving on quality of service as much as on quality of experience.
dot: How can a company build a digital ecosystem that reflects their needs?
Barros-Weiss: Digital ecosystems and digital tools affect not only our way of work and doing business, but our daily life as well, bringing a whole new range of innovative services into our lives. Industry and governmental authorities worldwide are already giving priorities and funding to agilize digital transformation in the whole society and economy, and are recognizing its impact on a more sustainable economic recovery.
A company is not alone when building a digital ecosystem that reflects their needs. Take IONOS as an example: We are recognized as the web hosting and cloud partner for small and medium-sized businesses, as we help entrepreneurs with their digital transformation journey and businesses scaling. Besides this, we are part of the United Internet group, which puts us in a strong position to explore new digital solutions and ecosystems through the cloud continuum and towards the edge to help other industry sectors as well.
dot: Is it the case, in the digital infrastructure industry, that more can be achieved together than each party working in isolation?
Barros-Weiss: Yes, it is. And this is also my strong belief. IONOS not only partners and collaborates at the business level, but also supports in building new digital ecosystems by engaging in innovation programs and research and development projects, both at national and international levels. For instance, we are part of the 27 leading European companies who submitted the European industrial technology roadmap for the next generation cloud-edge to the European Commission, and are now cooperating on elaborating a strategic technology roadmap in the framework of the European Alliance for Industrial Data, Edge and Cloud.
With more than 20 years of work experience, Maria Barros Weiss has been involved in several ICT areas, such as Data Ecosystems, Cloud, 5G, IoT, Artificial Intelligence and Natural Language Processing. After finishing a master's degree in Computers and Electrical Engineering she gained a Ph.D. in Communications and Language technologies, starting her career as a Lecturer in Engineering in Portugal, on the topics programming languages, digital electronics and embedded systems. Before she joined IONOS, she was Program Coordinator of the international funding program Eureka Celtic-Next and was in charge of international project coordination and management roles.
Please note: The opinions expressed in Industry Insights published by dotmagazine are the author's own and do not reflect the view of the publisher, eco – Association of the Internet Industry.