Vigilance of Society Against Illegal Content
May 2022 -

Self-regulation
Vigilance of Society Against Illegal Content
Alexandra Koch-Skiba from the eco Complaints Office on the attentive reporting and take-down of illegal content on the Internet.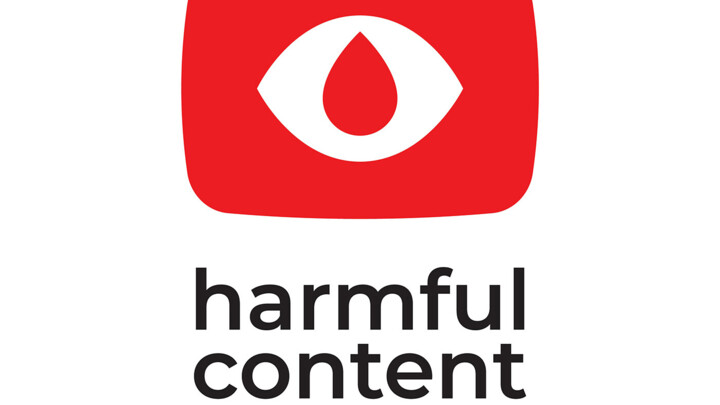 For the eco Complaints Office, 2021 was a milestone year, marking 25 years dedicated to combatting illegal content on the Internet. We accompanied this landmark year with a campaign under the motto of "Together for the Good of the Internet."
Together with our supporters Google, Facebook, Microsoft, and other network partners, we publicly spread the message that each and every individual can make their own contribution to responsible Internet use. We also highlighted the future challenges in the fight against illegal Internet content.
In April of this year, we presented our 2021 eco Complaints Office annual report. With 8,613 actionable cases, we recorded a new high of notified legal violations on the Internet. This constitutes a rise of approximately 50 percent compared to the previous year.
Depictions of abuse of children making up the majority of actionable complaints
In 2021, depictions of sexual violence against children and young people continued to account for the largest share of these complaints (6,851 cases). Accordingly, the number of actionable reports on depictions of sexual abuse and sexual exploitation of minors also increased by about 47 percent in 2021.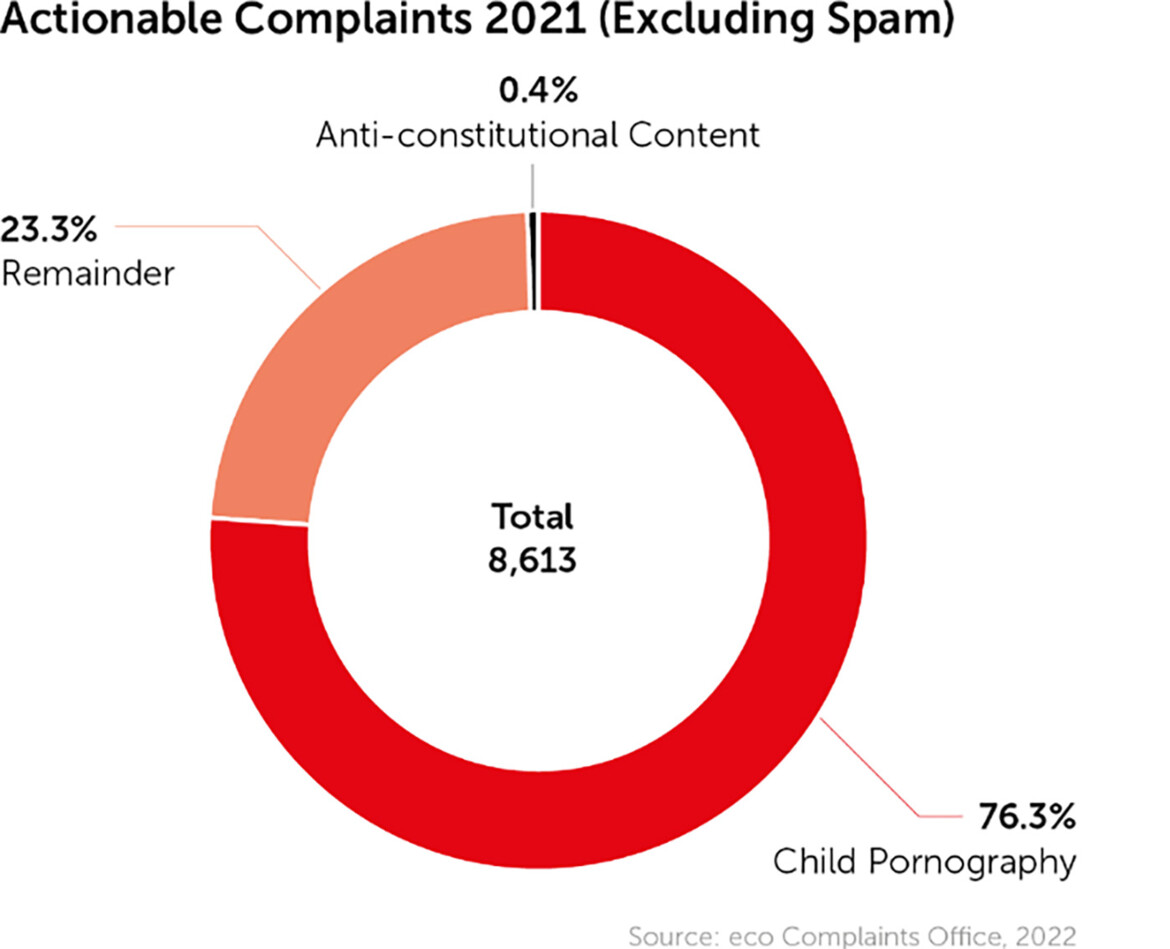 As sad and distressing as these increases are, especially concerning depictions of abuse of young people, they also show that our society is becoming more and more vigilant and is clearly acting against illegal content. The core message of our Complaints Office has resonated with people: Everyone can report illegal Internet content and thus actively contribute to its take-down as well as its prosecution.
Depictions of abuse taken down in 98 percent of cases worldwide
In close cooperation with our network partners, in 2021 our Complaints Office was able to achieve important successes: Within Germany, 100 percent of hosted websites with depictions of sexual abuse were taken down within an average of 2.65 days. Worldwide, such content was removed in less than a week and with a success rate of approximately 98 percent.
Depictions of abuse and other illegal content were taken down quickly and efficiently in 2021 – and this functioned on a worldwide basis, despite some considerable challenges brought about by different legal situations in individual countries. This shows that self-regulation also works internationally. In this respect, it is worth noting that only one fifth of the reported URLs were hosted in Germany.
How citizens can report illegal Internet content
Last year, our Complaints Office received a total of 25,775 complaints about Internet content which was potentially illegal or relevant to the protection of minors. A good third of the citizens provided contact details. Approximately 45 percent submitted the complaints anonymously, representing an increase of about 20 percentage points.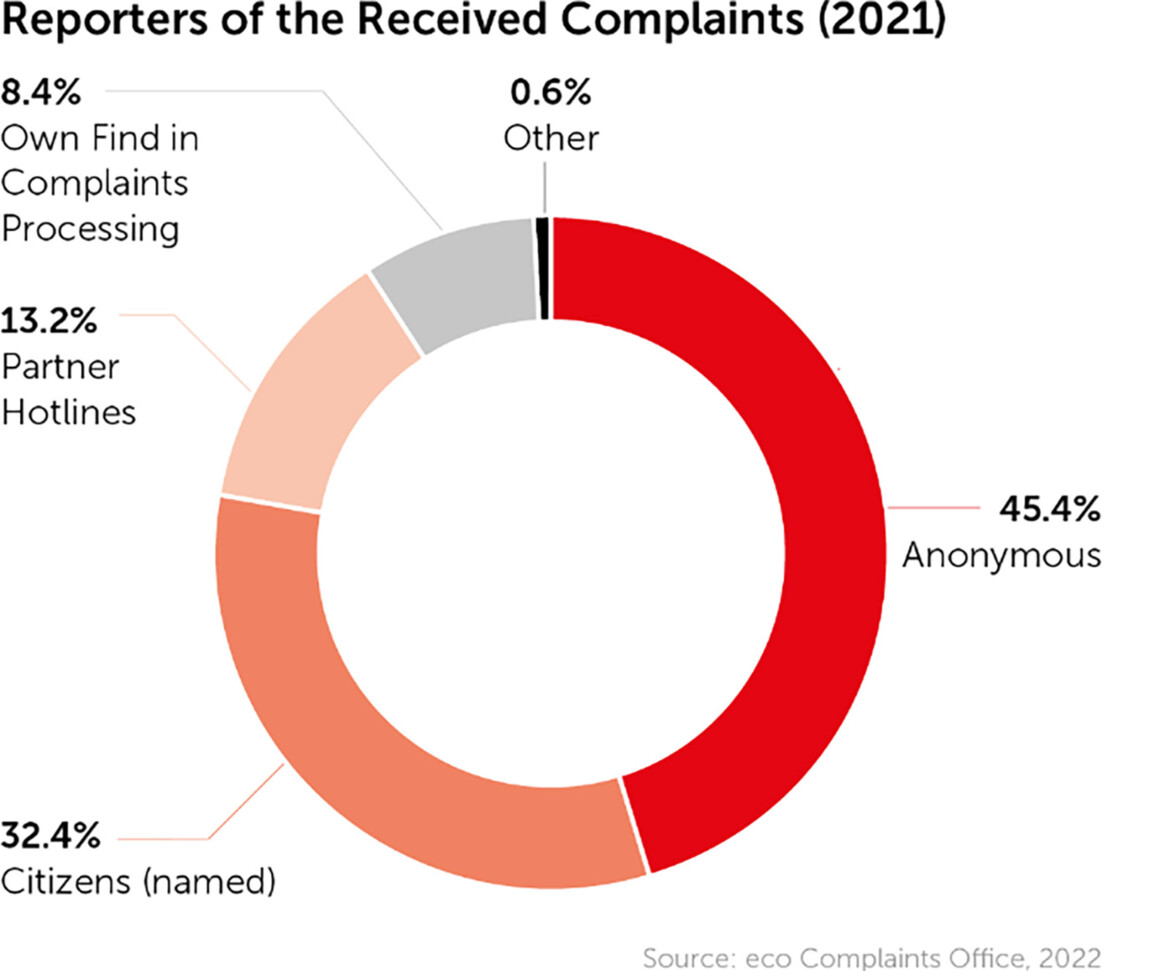 Essential exchange with multiple actors
As in previous years, in 2021, our exchange with multiple political actors generated an enormous resonance regarding our success in the fight against depictions of sexual abuse of children, as well as anti-constitutional and other prohibited content. Our continued journey along this exchange path in 2022 is essential. Children and young people can grow up safely and age-appropriately online if the Internet industry – alongside self-regulatory authorities, policy-makers, and supervisory and law enforcement agencies – work together in close cooperation. This is also the case regarding the amendment of the Protection of Minors in the Media, which, for us as a hotline, will most definitely continue to be on our radar this year.
Society increasingly sensitized to harmful and illegal material
A factor that our 2021 Annual Report unequivocally shows: Our society is increasingly sensitized to the fact that material harmful to children and young people or other illegal content must not be tolerated. Those who report such content actively contribute to its take-down and prosecution.
At the same time, the evaluation of complaints about anti-constitutional content shows that not every comment meets the criteria for criminal prosecution.
Many reports on hate and incitement on the Internet are ultimately subject to freedom of expression and are not further reported to law enforcement agencies or providers by the eco Complaints Office. As a society, we should continue to stand united for the sake of peaceful coexistence and responsible Internet use to ensure that hatred and distrust have no place on the Internet.In 2022, our anniversary motto is more relevant than ever: Together for the Good of the Internet. I look forward to further cooperation, exchange, and joint activities!
You can download the eco Complaints Office Annual Report 2021 here.
Illegal Internet content can be reported to the eco Complaints Office here.
Alexandra Koch-Skiba has been registered as an attorney since 2005. During her legal education she specialized in criminal law and the law of the protection of minors. As the Head of eco's Complaints Office, she is in charge of the hotline's management and of supporting the report handling, in particular in regard to legal issues. She represents the hotline at the European and national level, e.g. at European Networks, in liaising with law enforcement and other relevant stakeholders, and at events. Moreover, she represents eco on topics related to youth protection on the Internet.