Hybrid Work is Here to Stay – How to Get it Right
April 2023 -

New Work

|

Unified Communications
Hybrid Work is Here to Stay – How to Get it Right
Dr. Ralf Ebbinghaus, Enreach MD & CCO, maps out how to unlock the full potential of hybrid work with integrated communication tools.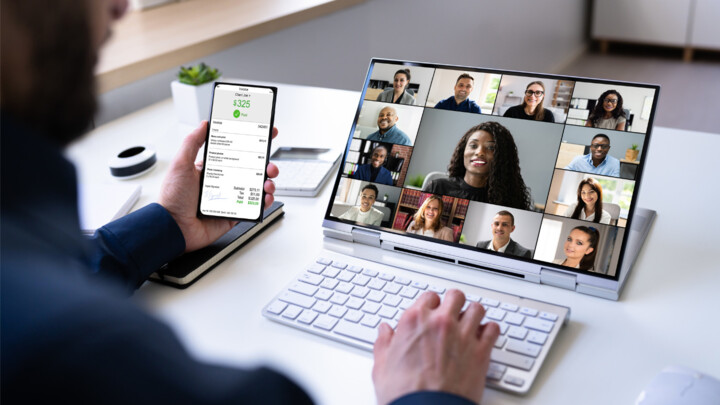 The Covid-19 pandemic has transformed the way we work, forcing many organizations to adopt remote work to maintain business continuity. More and more, it is becoming evident that remote work is here to stay, even after the pandemic subsides. As we enter a more permanent era of remote work, businesses have moved past the temporary solutions implemented during the pandemic and are now focused on developing long-term strategies to build more resilient businesses while trying to figure out the right balance of remote and office work. While many employees want to retain their flexible schedules, decreased commuting times, and better work-life balance, the lack of spontaneous human interaction and risk of disengagement associated with fully remote work are also real.
Recent research by analyst Gartner suggested that location-centric approaches with rigid on-site requirements tend to be less successful. Instead, a hybrid-flexible model performs best that incorporates key elements of human-centric work design, location flexibility plus the practices of intentional collaboration and communication. In order to make such hybrid-flexible models work, businesses need to focus on the tech side of things enabling smooth communication and collaboration from anywhere, but also the 'people' aspect of work, so the organization can evolve from command-and-control management toward more agile, self-steering and purpose-driven goal-setting-and-trust that keeps employees engaged.
Communication and collaboration tools in the spotlight
Effective communication is essential for any team to work together, so flexible unified communications and collaboration solutions are crucial for hybrid models. Next to the functional scope of such a solution, which should exactly match the organization's requirements, another key aspect is that users can access all important communication and collaboration functions regardless of their location and device.
The greatest potential for productivity gains and a better work-life-flow can be leveraged if all stand-alone, individual ways of connecting — fixed voice, mobile, video, chat, email, and more — are integrated into one unified, user-controlled and flexible environment accessible from anywhere. This way, employees have all the tools and information they need to manage contacts to colleagues, partners and customers effectively, no matter if they are working remotely, on the move or from the office. People should not have to think about jumping from one communication channel to another; something is contributing to technology overload and can impact their quality of life.
Here are some of the key aspects to consider when evaluating different solutions in order to achieve such a uniform, integrated communication and collaboration environment in your company:
1. Deployment models
Cloud solutions are ideal for mobile, changing workplaces because they can be set up from anywhere with little effort and offer a high degree of scalability and cost efficiency. However, organizations that cannot or do not want to move their communications completely to the cloud should look at the complete portfolio, ensuring that their provider of choice can also offer on-premises tools as well as options for hybrid models or a phased migration.
2. Feature flexibility
The Unified Communications and Collaboration landscape is constantly evolving, and businesses should be able to benefit from that as well as meet ever-changing needs. That's why it is important to evaluate the features and add-ons a solution offers: such as, for example, the integration of AI-based chat or voice bots enabling greater efficiency while at the same time enhancing customer service.
3. Contact center solutions
More and more, internal and external communications are closely linked. Organizations looking for a truly unified communication environment, with the tools to optimize both contacts among employees and with customers, should look for a vendor that can offer Unified Communications as well as Cloud Contact Center functionality.
4. Third-party integration
Speaking of having a unified environment for communications, the greatest improvements can be achieved with a solution that integrates with the systems the organization already uses, such as ERP or CRM systems or frequently used tools like Microsoft Teams. Here's an example: A user is in a Teams meeting, and because the system knows they are unavailable, all calls to the mobile or desk phone are automatically routed to voice mail. Alternatively, customer calls can be routed directly to a colleague, so they are not distracted during the meeting, but the customer is kept happy.
5. Security and Compliance
Ensuring security and data protection becomes more complex with remote work, so organizations need holistic concepts ranging from secured networks to employee awareness. When evaluating cloud providers, European businesses are well advised to source communications services from data centers in the EU to ensure GDPR compliance.
Human-centric approaches
While technology and, in particular, the right tools for communication and collaboration are the crucial foundation for hybrid-flexible work, these are far from being the only factors that make hybrid models succeed. Based on the above-mentioned research, Gartner suggests that "effective hybrid models require accountable employee autonomy", meaning not necessarily complete flexibility. Instead, in human-centric work design, it is central for employees and teams to be responsible and use their autonomy to achieve their objectives.
With the changes in the way we work – triggered by the increasing digitalization and flexibilization of work and dramatically accelerated by the pandemic – traditional hierarchies and structures must change as well.
In order to increase employee empowerment, agility and continuous learning, we at Enreach use Holacracy, a management framework that encourages distributed authority, shared leadership, and fluidity of work. The vision is that teams become self-organizing in pursuit of their goals. Holacracy allows us to flexibly map the changes that come with our growth path and internationalization, helping us to stay agile and promote networked and fluid teams.
Implementing Holacracy requires a long-term transformation and sustained commitment, but we are certain that the future of work will be more flexible and collaborative. By leveraging such self-steering approaches in combination with the right tools, organizations can ensure that employees stay engaged and can successfully work together, regardless of their location.
As one of the founders of Swyx (now rebranded to Enreach), Dr. Ralf Ebbinghaus has shaped the company's journey from a startup to a leading provider of IP-based Unified Communications solutions. As Managing Director of Enreach in Germany, he is responsible for strategy, sales, marketing and service in Germany, Austria and Switzerland. As Chief Commercial Officer (CCO), he is also responsible for the international sales and marketing strategy of the European group. He looks back on more than 30 years of experience in the telecommunications industry.
Please note: The opinions expressed in Industry Insights published by dotmagazine are the author's or interview partner's own and do not necessarily reflect the view of the publisher, eco – Association of the Internet Industry.