April 2023 -

Artificial Intelligence

|

Diversity
A Woman in AI
In interview, Kim Dressendörfer, Senior Account Technical Leader at IBM, emphasizes how diversity in the team constitutes a good AI mechanism.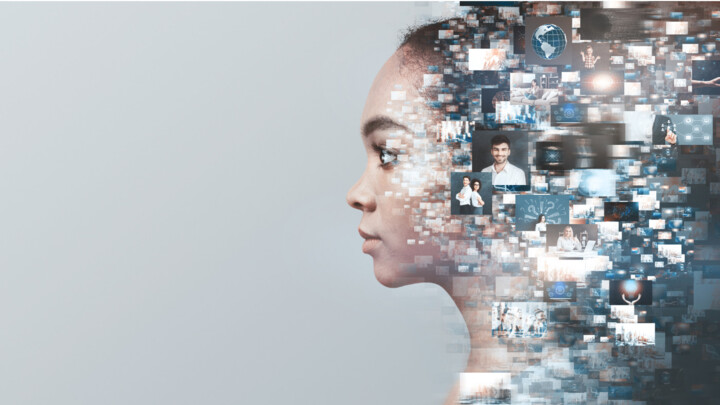 Hanna von der Au: You are Senior Account Technical Leader at IBM in New York since June 2022 and, before that, you worked for IBM Germany where you developed MVPs in the field of AI together with clients. What do you find most exciting about your job?
Kim Dressendörfer: What I find particularly cool about my job is its great flexibility and the fact that I can work with AI – and that I get to do this at a level where we're really dealing with new innovations, with solutions that have never been built before. I work with clients who are facing problems and challenges and still have no idea how to solve them. To have this flexibility and to be able to say, "Okay, we don't know if this is going to work yet, but we're going to try it out": that's something I did in my previous role, which was really innovative and also incredibly enjoyable. We worked very extensively with data that was very hard to analyze at the human level, but that in turn led to new insights at a machine-readable level. My day-to-day business was more or less figuring out what all of these relations and correlations entailed, and in how many dimensions the data was interrelated. What I'm now doing here in America is essentially the same, but on a much broader level, because one of the things I'm involved in is helping companies with their five-year strategies. I now cover nineteen accounts from the technical side, working very closely with my clients to identify problems and then solve them. These problems are not just in the AI field, but also run the gamut from security, hardware, data fabric, cloud, and much more. But this is a challenge I enjoy immensely.
Von der Au: You yourself run a blog called "A Woman in AI," in which you also interview female role models in the tech sphere. How did this come about and what is at the heart of "A Woman in AI"?
Dressendörfer: When it came to meetings with clients, I was often the only woman in the room. On the one hand, that offered me an advantage, given that it opened up a lot of opportunities which helped me to rapidly gain loads of experience. Nevertheless, this also led to a dilemma stirred up by the question that was always in my mind: Why am I the only woman? What are the reasons for this? One insight concerned the lack of female role models. Think of the film industry, where roles are also stereotypically casted. The assistant or secretary is female, the cool hacker or boss is of course a man. You often see these huge marketing campaigns about great products in IT, but you don't see the story behind it – the employees who built it. You don't see the day-to-day business and all the great women doing really great work.
What I asked myself was: Why does nobody know that we have so many great women in AI? The solution was clear: We need to make these women visible. We need to interview them and establish them as role models. That was the reason why I launched "A Woman in AI" with the plan to get to showcase all of these inspiring women working in AI and at the same time create visibility for the diverse roles in AI. Let's be honest: It's not always completely rosy. For example, we also talk in the interviews about difficult situations like depression or a new start at the age of 50, or we discuss the challenges for mothers in balancing childcare and careers. But, of course, we also talk about how these women got to create a certain AI solution. My goal is to have people listen to these interviews and say, "Wow, this career path exists, I didn't know that before, but really cool, I'm interested in that, maybe I'll do it." Because the great thing about AI is that there are so many different areas that you can work in and apply your creativity.
Von der Au: After having worked for IBM in Germany over a long period of time, since June 2022 you have been Senior Account Technical Leader at IBM in New York. Can you identify any differences between Germany and the U.S. in terms of diversity and Women in Tech?
Dressendörfer: Without a doubt. First of all, I notice that innovations are genuinely more strongly fostered in America and that the potential of technologies is more readily recognized. In terms of Women in Tech, from my personal experience, I enjoy my job in New York immensely and I haven't had a single negative experience here. When I go into a meeting, I'm introduced as an expert and I'm not judged. I am respected as the expert without having to assert myself in any way. This might be partly because the clients I work with at IBM are very much in favor of diversity. I also think that, in the U.S., there are generally stronger social movements for diversity, meaning that nobody can simply get away with certain things; in my view, this is not yet the case in Germany. Of course, after many years in Germany and now just six months in America, I may still be wearing rose-colored glasses, but it's been a very pleasant experience so far.
Von der Au: You've already touched on it yourself: not everything is always rosy. For example, women might be asked to take minutes in meetings, even though this doesn't correspond to their professional role, or they might be mistaken for assistants – this might happen to a female founder at an investor pitch or to a female tech specialist in a client meeting. Hand on heart: have you experienced something like this? And if so, what is your tip for assertively dealing with it?
Dressendörfer: Definitely. For example, there have been situations where I've walked in and been told, "Oh great, we need someone to take notes," or "What did you study? Marketing?!" or that, as a woman, I am scaled down to my appearance on professional platforms or in a professional context. It's classic stereotypical behavior, where I think: "That can't be right." What particularly bothers me about this is that, as women, we can't afford to make any mistakes. Because then it always boils down to: "Ah, of course, you're the young woman who wears lipstick. Why are you in this industry? You don't fit in here." As a woman, I always have to give 110 percent in meetings, have to be prepared on a top-notch level, always have to think about all the eventualities and objections in a presentation, and have all the topics and answers at hand. On the flip side: that's personally really helped me to get to where I am in this role because I'm simply ultra-organized and I know what things to look out for. However, if you don't have the thick skin which allows you to say: "I can cope with this and I have a good line ready and I'm a bit sassy," then it gets really difficult. You really need a thick skin to avoid taking these issues personally.
As a woman, if someone said to you, "You're the architect? But you're a woman." Then I'd say, "What did you expect? Someone square?" in order to break down this stereotype and to make it clear what a stupid thing had just been said. I was incredibly lucky that my parents always encouraged me and my sisters. We were always taught that, "Hey, the world is male dominated, you have to be strong." When you haven't had that privilege, things aren't so easy. While it might be obvious to claim you wouldn't let that get you down, overcoming it often isn't so straightforward. My tip is: you have to recognize that you're good. Your opponent: What does he know? To put it bluntly: Your opponent doesn't have a clue. Many people you meet in everyday business life are not as smart as they pretend to be. They have no idea what you do every day. Therefore, enter confidently, knowing you have the skills, the qualifications, the experience, and that you are good at what you do.
Von der Au: Whether in the leading media, on LinkedIn, or in the teachers' staffroom: ChatGPT is on everyone's lips. Some tech companies are worried about their business model. Universities, schools, and teachers are up in arms. On LinkedIn, marketers and SEO specialists are finding creative ways to use the technology for their own benefit. It remains unclear what the impact of the technology will be. As an absolute AI expert, what do you think of ChatGPT and what developments can we expect?
Dressendörfer: Let's look at this from a broader perspective: Historically, there have always been technologies that have revolutionized entire areas of life and work. Google, for example, has revolutionized the search for knowledge and information. We no longer need printed encyclopedias or Yellow Pages, or we use emails instead of faxes or letters. We've known for ages now that AI was on its way. At IBM, we developed the first chatbot back in the 70s. AI is not a new topic. What is happening right now is that AI is very real, tangible, and can be tried out by everyone. Any person can use ChatGPT. Previously, AI was often more of a business case to make processes more efficient, to save resources and money.
I'm very happy that everyone can now know that AI is here, that it's for us all, and that anyone can start to try it out and use it. I also think it's great when children learn about AI, because that's where the future lies, and the education system needs to be revolutionized one way or another. What I find much more crucial is the ethical aspect, seeking answers to the questions such as: What accompanies the use of AI? What is being replaced by the technology? What is morally acceptable?
For example, when we think of using AI, we think of automating emails, working more efficiently, and vastly simplifying many activities and routine tasks. However, what we sometimes forget to consider is how to deal with people who exploit this technology. We need a regulatory framework for the use of AI. It needs answers to the questions: How do you make AI secure? How do you regulate it? How do you make sure it doesn't get turned into a hate chatbot or used to spread bullying or racism? Those are more the matters that we have to deal with. At IBM, Trustworthy AI is a very important topic and firmly embedded in the scope of activities of all AI specialists at our company. We have our AI pillar. It's so fundamental and so important. But not all companies have that. What is, however, essential is Trustworthy AI, addressing ethical issues, and regulation.
And when it comes to this topic: I just published a report on Medium where I shared the fifteen best AI tools.
Von der Au: AI represents and processes data from the past. This can sometimes be problematic. For example, if the job engine has learned that John Smith rather than Jane Smith always gets the high-paying jobs, then AI amplifies our human prejudices from the past. What do we need to keep in mind in this regard?
Dressendörfer: This also ties in with diversity. When you're building and training a model, as a developer you need to know exactly what data you're working with and what data you're using to train your model. Data needs to be balanced and heterogeneous: it needs to be evenly distributed on an accurate level – men and women, all nationalities, and so forth. That's what constitutes a good AI mechanism. For this reason, AI development sometimes takes a long time, because you have to do a lot of training and testing to make sure that you really cover all aspects. It's only then that your AI is bullet-proofed and good.
The other decisive criterion is diversity in the team. The best examples here are the male "crash test dummy" or the Apple Watch, which had no integrated menstrual cycle tracker. These are simply examples which quickly made it clear that an all-male team was at work. Everyone is shaped by their socialization, their background. We all have our bubble and selective lenses through which we perceive things. People with other heterogeneous life paths and experiences look at things differently, so a team has to see things in the same way as looking through the streets: very diverse and many age groups.
Von der Au: What is your nicest use case showing what is good about digitalization and AI?
Dressendörfer: There are an infinite number of positive examples. AI has so much potential to offer solutions for difficult and burning societal challenges. When we look at the topic of sustainability, the topic of agricultural farming is one example which offers an incredible amount of potential: for instance, being able to use AI and IoT sensors to determine how much water and which nutrients an area of land really needs in order to achieve the best crop yields and at the same time to conserve resources.
I also see AI as having great potential for the healthcare system. In America, for example, the healthcare system is getting completely out of hand because there are fewer and fewer doctors and nursing staff to cope with more and more patients and people in need of care. IBM is involved in the health sector – for example, in the field of oncology and breast cancer detection. Similarly, IBM has AI-based technologies that work out which treatment option is best for the patient based on their history, data on medications, allergies, age, surgeries, and so on. Many solutions are already here. They now just need to find their way into the mainstream.
Anupama Ray, a colleague from IBM in India who I interviewed for "A Woman in AI," has developed a platform that helps those affected by child trafficking. In Europe, the topic may not be as prominent because our media doesn't cover it, but in India, child trafficking is a huge problem. Ray has built an algorithm-based matching system that connects traumatized children with emotionally intelligent people who help these children.
Von der Au: We'll now give you another interesting job and make you the editor-in-chief of a leading New York Times publication or the host of your favorite podcast or TV show with mega coverage: You can invite whoever you want – dead or alive. Who would you talk to and on what topic?
Dressendörfer: There are so many people I would like to talk to. I would love to have discussions with Mahatma Ghandi, Albert Einstein, or Ruth Bader Ginsburg, but unfortunately those chats would no longer be an option. As I would love to be able to do something to help others, I would definitely like to invite the human rights lawyer, Amal Clooney. There are so many people who need her help and the number of people who she gets to defend is incredible. To assist even more people, I'd love to work with her to see if it would be possible to build an algorithm or model based on her defense methods – or at least automate steps like filing of charges.
Von der Au: We'd also like to bring your thoughts and questions into the diversity debate. In this context, what question would you like to share with us for a follow-on interview partner?
Dressendörfer: In my conversations with women from the tech industry, it very often turns out that they didn't expect to end up in this industry. So, my question is: When did you realize that it was the tech industry you wanted to work in?
Thank you very much for the interview!
Kim Dressendörfer is Senior Account Technical Leader at IBM in New York since June 2022. Previously, she was at IBM Germany, with her task there involving the development of MVPs for clients. She now works with innovative AI solutions and covers nineteen accounts from the technical side, working very closely with her clients to identify problems and solve them. Kim has also launched the blog "A Woman in AI" with the goal of making women in the AI field more visible and to establish them as role models.
Hanna von der AU is Senior PR Manager at eco – Association of the Internet Industry. She is responsible for the development of communication strategies and concepts, content marketing activities, social media channels, and press releases. The topics closest to Hanna's heart are diversity, Women in Tech, and sustainability. She coordinates eco Association's #JOINTHESOLUTION campaign, leads the activities around eco's German #LiT - Ladies in Tech initiative, and loves getting in touch with more women in the industry. Her aim is to make the Internet industry more colorful and diverse. Before joining eco in 2019, Hanna worked as a digital campaign consultant with a focus on content generation at a digital consultation agency (for customers like NRW.INVEST, GS1 Germany, Peek & Cloppenburg, Coop, Lufthansa).
Please note: The opinions expressed in Industry Insights published by dotmagazine are the author's or interview partner's own and do not necessarily reflect the view of the publisher, eco – Association of the Internet Industry.