Spotlight on Employees: The Advantages of a Conscious Diversity, Inclusion, and Wellbeing Strategy
October 2022 -

Diversity

|

Digital Inclusion
Spotlight on Employees: The Advantages of a Conscious Diversity, Inclusion, and Wellbeing Strategy
Diversity & inclusion are not just buzz words, but must be a part of daily business, a fact highlighted by Dietmar Kessler from Equinix Germany.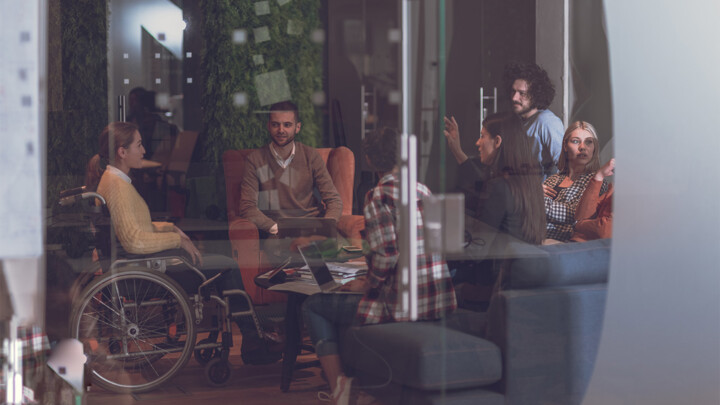 Diversity, inclusion, and wellbeing are top priorities as leaders face the "great resignation" – a term used to refer to the fact that, during the pandemic, employees in many sectors realized that they are not satisfied with their jobs, due to work environment, conditions, and opportunities. An inclusive work culture elevates overall happiness, wellbeing, and productivity, so ensuring employees feel like they are safe, they belong, and they matter, has never been more important. This holds especially true for the tech industry. The more that diversity and inclusion underpin developments and businesses, the better a company can adapt technologies to suit everyone's needs. At the same time, of all industries, the tech sector still portrays one of the biggest gender gaps: In the EU, just 19.1% of tech professionals are women.1 Companies around the world have recognized the benefits of an inclusive corporate culture on the productivity of their businesses and the advantages on the market in the search for skilled workers.
The catalysts of productivity
It's now on the minds of most leaders of companies large and small: Wellbeing of employees and a successful diversity and inclusion strategy have a tremendous effect on employee satisfaction and thus a positive impact on a company's productivity. According to Gallup's report on the state of the global workplace,2 employees who are not engaged or who are actively disengaged cost the world 7.8 trillion dollars in lost productivity. That is equal to 11% of global GDP. At the same time, according to a Boston Consulting Group survey,3 81% of employees who reported they work in an inclusive culture also said they are happy in their jobs – three times more than those who do not feel included.
In an inclusive work environment, employees are comfortable sharing their perspectives freely and believe their colleagues value their contributions. There are many innovative ways corporate organizations tackle this. One important aspect is mentoring and networking programs. Mentoring offers a great opportunity for leaders to encourage their team members to take over responsibility and build leadership skills. That is why, in 2021, more than 300 Equinix managers internationally completed training on inclusive leadership. Networks offer a transparent and open platform for mutual support and the exchange of experiences and knowledge. Equinix has established seven Employee Connection Networks that bring together communities and allies within the company – from LGBTQIA+ and People of Color to veterans and people of all religious beliefs. Additionally, Equinix launched the Equinix Women Leaders Network (EWLN) ten years ago – a platform for women to share experiences and apply new techniques for managing bias, thus amplifying the voice and visibility of women within the company. Initiatives like these empower diverse groups within a work environment and, in doing so, contribute significantly to corporate sustainability.
Sustainability is multifaceted
It is important to understand that the promotion of diversity and inclusion are central elements in the overall promotion of sustainability. The latter is not only based on purely environmental issues but must always be understood within a broad spectrum. The Sustainable Development Goals (SDGs) of the United Nations are multifaceted and clearly do not only refer to the climate, but also include economic, societal, and thus social aspects. Only if all aspects are addressed that are related to the holistic consideration of these three aspects, a company can really become "sustainable."
For that reason, Equinix has launched six new "Finding a Better Way" initiatives – that is, to find better solutions that address employees' mental health. These include simple measures like limiting the length of meetings to 25 or 50 minutes to allow for short breaks between appointments.
Corporate sustainability thus contributes to every organization's effort to reach international sustainability targets. Especially in the context of hiring culture, an inclusive policy will play a significant part in achieving the SDGs – and this in turn also benefits employers.
Diversity and inclusion as a means of combating the shortage of skilled workers
A well thought-through diversity and inclusion strategy already begins in the hiring process: reaching out to diverse communities means reaching out to a broader spectrum of skilled workers.
A great example to do so is Equinix' Pathways Program that was founded to open new pipelines for historically underrepresented communities, to improve equity, and to accelerate the hiring of diverse talent. The program is made up of six initiatives that target different communities. Each initiative is resourced with internal talent acquisition professionals who focus on recruiting and connecting candidates within that specific community to open positions at Equinix. Additionally, Equinix' initiative "I Am Remarkable" helps women without a technical background to join the data center industry after a career break. It addresses those women who have valuable, transferable skills but who may be put off from applying because they believe they do not have the required skillset. 
Addressing the next generation of organizational leaders
From attracting and retaining employees, to increasing productivity and engagement: A successful wellbeing strategy holds significant benefits and opportunities, both for businesses and personnel. We live in a world where the wellbeing of individuals is becoming increasingly important, and rightly so.
This is a major development, driven in part by young generations who expect companies to meet new values and expectations. In fact, research4 found that two years into the pandemic, levels of burnout remain remarkably high among GenZs and millennials (45% of respondents!) due to the intensity and demands of their work environments. In turn, striving for a better work-life balance and mental health rank are some of the most important factors when choosing an organization to work for. At the same time, diversity, equity, and inclusion are no longer a "nice to have" for these generations – it's an imperative that reflects their individualized self-conception.5
These new aspirations and ideals have numerous positive effects on the developments within companies and on society in general. Diversity, inclusion, and wellbeing are no longer just buzz words, but must be a part of daily business. Companies should act urgently to shape work models that meet the expectations of the young workforce – and thus fostering a new generation of empathetic and inclusive leadership.
Dietmar Kessler has been Marketing Director at Equinix Germany, based in Frankfurt, since the company entered the German market in 2007. As part of Equinix, Dietmar Kessler is familiar with the current trends in the industry and can provide insights into a wide range of IT developments across various industries from the perspective of a globally active and networked IT service provider.
-------------------------------
Please note: The opinions expressed in Industry Insights published by dotmagazine are the author's own and do not reflect the view of the publisher, eco – Association of the Internet Industry.