Sustainability & Diversity in the Tech Industry
August 2022 -

Diversity

|

Women in Tech
Sustainability & Diversity in the Tech Industry
For a sustainable tomorrow, Sabine Schaar from Equinix signals how we need to pave the way to have females enter and flourish in technical professions.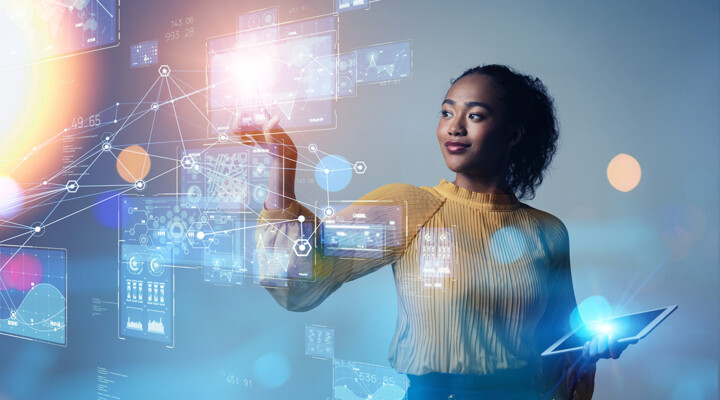 An interview with Sabine Schaar, Regional Vice President Sales Germany and
Member of the Executive Board Germany at Equinix
How did you get into the tech industry and what is the most exciting aspect of your current job?
I came to the tech industry because, in my eyes, it offers the most exciting challenges. I have the opportunity to help set important trends that leverage technology and business and connect the right technology with the right people, cultures and companies.
What is particularly exciting about my current job is the diverse environment. I really enjoy meeting with customers to work out strategies on how to support their digital growth strategy or, for example, driving innovation in the context of sustainability in the complex IT environment. Beyond strategic customer work, however, the opportunity to get involved in the company itself and to support employees and teams is also a key factor for me. I am truly passionate about educating future leaders and driving Equinix's open and international culture to ensure that Diversity, Equity and Inclusion (DEI) are at the forefront of Equinix's business. This is the only way we can guarantee that everyone has the chance to realize their potential within the company and thereby make a sustainable contribution to the company and the world.
Sustainability and climate protection are among the greatest challenges of our time. From your perspective as an expert, to what extent does digitalization help solve burning global challenges?
It is clear that digitalization, and hence the digital industry, has a vital role to play in achieving the climate targets. A study by Bitkom, for example, shows that digital technologies can contribute more than half to achieving the German climate target of 55 percent less emissions by 2030. Five times more emissions are saved than are emitted. The question facing the industry is, of course, how this digital transformation can continue to be shaped in a climate-friendly and sustainable way. The data center industry forms the backbone of the digital industry, and data centers, therefore, play a key role in sustainable digitalization. Leading operators have recognized this and set themselves ambitious climate targets. Figures from the Borderstep Institute and the eco Association show that the energy requirements per gigabit in data centers are now 12 times lower than in 2010, while the demand for computing power increased tenfold over the same period. The results are amazing.
As the first operator in the data center industry, Equinix is aiming to achieve carbon-neutral operations by 2030 based on science-based targets (SBT) and a sustainability innovation agenda. What do the measures look like in concrete terms and what milestones have already been achieved?
In our industry, we are leading the way in innovation and efficiency improvements to better protect the environment – both in new and existing data centers. But of course, there is no one big set screw to turn to reduce data center energy needs. We are the first operator in the industry to set ourselves Science Based Targets for climate neutrality by 2030.
Furthermore, together with other partners in Europe, we launched the Climate Neutral Data Center Pact in January 2021, which underlines this commitment. But we also help customers become more sustainable by enabling them to save on their own hardware, reduce operating costs, and thus increase energy efficiency. In Germany, we also purchase 100 percent renewable energy via a corresponding green power certificate from Mainova and plant greenery on the facades of our buildings. This not only looks better than gray concrete, but also promotes climate protection: The plants absorb CO2, filter the air and thus act as a natural air conditioner. All of these measures are paying off – we can already see that as a result, Equinix data centers in Germany have 20-25 percent lower energy requirements than the estimated industry average.
What is the most appealing use case for you personally that most strongly illustrates the positive effects and benefits of digitalization?
One initiative that particularly inspires me is the Smart City Institute, founded in 2014 by Prof. Etezadzadeh. The institute is dedicated to the sustainable design of urban spaces by contributing new approaches to energy efficiency and environmental protection at a wide variety of levels – all through digitalization. For example, the initiative develops concepts on how urban mobility can be designed so that our cities can provide efficient and environmentally friendly transportation systems in the future. This includes electromobility, but also the further development of car sharing and seamless public transport services.
However, for such future projects to become a reality, effective IT infrastructures are a fundamental prerequisite. After all, a smart and fully networked city also means that vast amounts of data have to be processed simultaneously. Private and direct connections – called interconnection – within advanced data centers like Equinix's, enable fast, low-latency and secure data exchange across networks, clouds and ecosystems. This means that digital infrastructures in the city of the future will be the first to guarantee the smooth running of the urban traffic system, which will include autonomous cars as well as digital applications such as intelligent traffic light control or parking guidance systems.
Nearly every company faces the challenge of a shortage of skilled workers. The IT industry offers women outstanding career prospects and is also attractive to women due to a wide range of measures to reconcile family and career. However, few women still choose to pursue careers in tech. From your perspective, what are the reasons why women should choose a career in tech?
First of all, it is regrettable that the tech industry is still so male-dominated. According to the German federal government's latest equality report, the digital industry in Germany is still predominantly male – only 16 percent of all employees in the field are female! This is despite the fact that teams in which people from diverse backgrounds work together are the most successful. Therefore, it is important to promote diverse teams, which also include cultural and societal diversity. If our digitalized future is to be one of equal opportunity, then women really must also be actively involved in the development of technology. Because this creates the opportunity to be involved in important trends, and thus to develop products in which different perspectives have been thought through. There are no boundaries to the value women can add to the tech industry. Digital technologies have the ability to improve people's lives – whether it's diagnostic capabilities in medicine or Smart Home applications that save a few minutes of time in the morning before work – all of these aspects of life, women can positively influence through their creativity and innovation.
The reasons for the absence of women in technical professions and in management positions are not only rooted in the companies, but also in the initial social situation. From an early age, girls are systematically discouraged from showing strength, claiming space, and engaging with technical topics. How do we, as companies, succeed in giving impulses to society in order to break up these patterns?
As companies, we can proactively help shape the framework conditions. The commitment of women to women is therefore of crucial importance – which means nurturing talent, creating initiatives and networks, and empowering women in general. This includes explicit measures to support families to ensure that domestic pressures do not disproportionately impact women. Ten years ago, our company launched the Equinix Women Leadership Network – a platform for women to share experiences, build leadership skills, and apply new techniques for addressing bias. In the network, we regularly talk about what framework conditions companies need to create in order to attract women as employees and bring them into leadership positions. Such networks are a MUST for companies today and should be on everyone's agenda across all industries.
What is your career tip for women?
My advice is authenticity – with all its strengths and weaknesses. You should never have to pretend for a situation or environment. Women are allowed to show themselves, be courageous, raise their voices and make their own opinions known. It's obviously also important to have women in leadership positions who inspire other women and give them a sense of "I can do that, too." In the tech industry, especially, there is still, unfortunately, often a lack of such role models. In general, I like to teach young women in my company to see hurdles as advantages as well. Challenges helped me immensely in my personal development at the beginning of my career and ultimately made me a better manager. It is particularly helpful to make use of mentoring programs and sparring partners. Networks provide a transparent and open platform for mutual support and the exchange of experience and knowledge. To this end, I also advise women not to be restricted to networking among female colleagues, otherwise, this may lead to filter bubbles. Change must also be shaped together WITH male colleagues!
Women are underrepresented in executive positions in particular. The EU recently agreed on a quota for women on boards and executive boards. Listed companies in the European Union are to implement quotas for women on their management bodies in four years at the latest. In your view, are quotas a suitable means or what measures are required to be taken to achieve more diversity at management level?
A gender quota is the first step in the right direction, especially because it raises awareness of equality in society and in companies. At the same time, it is important to understand that a quota can only be a beginning – change is needed in society, companies and politics. The right policy and structural frameworks and incentives need to be put in place to encourage more women to realize their entrepreneurial ambitions. There is a need for concrete further training offers, mainly in the digital area, as well as targeted offers for female executives and entrepreneurs.
Now we would like to give you another exciting job and make you a podcast host. In this context, who would be the Female in Tech guest invited to talk to and what would you talk about with your guests?
That would definitely be an exciting task since any woman working in the tech industry could be a fascinating guest. We all have different experiences and through that we can all learn from each other. Off the top of my head, Sheryl Sandberg comes to mind here, who is a very good example of how to make it as a woman in the tech industry. I would find it very exciting to talk to her about how she managed to break through the "glass ceiling" and what experiences are linked to that. But Tijen Onaran, the founder of Global Digital Women, is also someone I would love to talk to – she is undoubtedly an excellent role model for women in the German-speaking world when it comes to the relevance of networks.
As part of our interview series, we recently spoke to Christine Serrette, technical vice director of the Federal Information Technology Center (ITZBund). She gave us the following question for the next interview partner: I can still see men talking among themselves today, as clearly they are in the majority, and it is about technical topics. How can we break this behavior pattern together?
The gender equality problems we see in the workplace are not due to our attributes, but to societal constructs and habits. To create real change, allyship is the central bridge. This means that men must also act as allies for female talent and against bias.
Regardless of gender, in-house courses on workplace bias and inclusion are also a useful way to raise awareness of imbalances. It starts with admitting that you are unsure and don't know everything. And that requires a lot of attention and hard work every day. As a leader, you should be aware and want to communicate that equality and inclusion encompass all areas of the company, every day. That includes the entire process from recruiting to meetings and how decisions are made, to how transparent and open career opportunities are, to how individual skills and needs are addressed in the workplace. Managers should ask themselves the question every day: Do I provide everyone and anyone with the opportunity to be on their best behavior every day at work? How do I ensure that everyone has an equal voice? How do I develop my communication style so that it is truly inclusive?
We would also like to bring your aspects and questions into the diversity debate. Is there any issue that you feel is not receiving as much attention or a topic of the heart that is concerning you? In this regard, what question would you like to share with us for the next interview partner?
We talk a lot about quotas and programs that are created in terms of equality and diversity. But I would be interested in the next step: How do companies actually and concretely implement their diversity initiatives, beyond legal quotas? How truly open are companies to change in leadership style and how is diversity reflected in their leadership style? Defining DEI measures is, of course, an important first step. The much more decisive one, however, is how these plans become a lived reality.
Thank you very much for your time and the interview!
Sabine Schaar joined Equinix in 2020 as Regional Vice President Sales. As a member of the German Executive Board, Ms. Schaar is responsible for direct end customer business for large enterprises in the German market. Previously, between 2015 and 2020, she worked at the consulting and IT/technology company Capgemini as Chief Sales Officer Business Unit Germany and subsequently as Market Segment Head of Consumer Products & Retail Germany. In her former role as a member of Lufthansa Systems' board of directors, she was responsible for sales in Germany. Ms. Schaar has a major in economics.
A related interview with Sabine Schaar has been published as a core part of the eco Association white paper "Girls in Tech: A Call to Action," which was launched on the occasion of Girls' Day, 28 April 2022. The white paper is founded not just on top-notch research studies, but also on insights from 15 role models from IT & tech companies and associations in Europe, the US and Africa. The far-reaching paper not only sets out lessons and recommendations for companies, but also key guidelines for policymakers & educators.
Please note: The opinions expressed in Industry Insights published by dotmagazine are the author's own and do not reflect the view of the publisher, eco – Association of the Internet Industry.