Driving Green Innovation in the Cloud Computing Industry
January 2021 -

Green IT

|

Cloud Computing

|

Data Center

|

Sustainability
Driving Green Innovation in the Cloud Computing Industry
Bernd Brunner of LIMEBIRD explains in interview how cloud providers and data centers can reduce their carbon footprint in concert with renewable energy providers.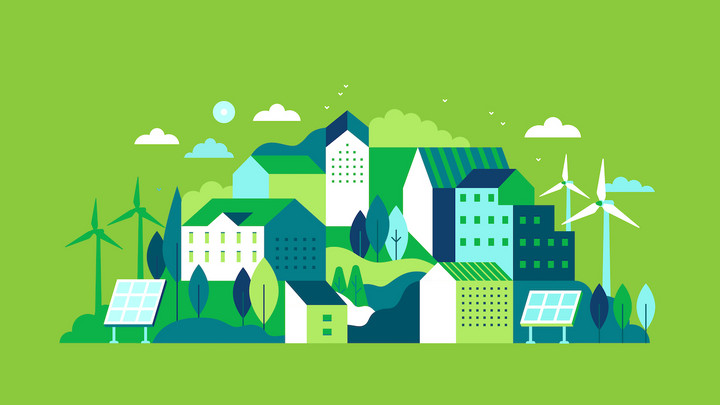 dotmagazine: What does sustainability mean when it comes to the cloud?
Bernd Brunner: The easy answer would be to buy renewable energy as a cloud provider or data center owner and the case is closed. But surely this is not enough and would, in many cases of shallow certificate trading, amount to a profound disservice to the long-term success of the green energy transition. Thinking more holistically and realizing synergies between energy and cloud computing will allow for more efficient and cross-utilized systems. But let's come back to that point in a second.
Sustainability has many aspects, but is mostly focused on reducing greenhouse gas emissions of all three scopes. To reach these goals, not only Scope 2 emissions from the generation of purchased energy is relevant, but also the carbon footprint of the digital infrastructure that is running the services.
The role of the circular economy is underestimated in the general discussion. We are using refurbished servers with great performance to break through the cycle of producing electronic waste and bad recycling practices. And there is surely an overlooked burden in the typical materials used for data
center infrastructure. To avoid the carbon burden of steel or ferroconcrete, we are working with our technology partners on wooden micro data centers. You would be surprised what magnificent qualities this renewable material offers.
Lastly, when the infrastructure and the site of the data center offer the opportunity, reuse of heat should be mandatory.
dot: How does LIMEBIRD approach making cloud computing greener?
Brunner: Our company was founded with the motivation and mission in mind of driving decarbonization and therefore integrating renewable energy into the cloud computing business. Two of our founders have a professional background in the solar and wind power industry. Thanks to a wide adoption of renewable power plants followed by the massive decline in their costs, the whole energy sector was forced into a transformation from a centralized to a decentralized paradigm. And this growing trend towards decentralization can be witnessed within the cloud computing sector – intensified by trends like edge computing and the need for local and fast computation of huge amounts of data.
Besides the renewable energy transition, the fast growing and power-hungry digital transformation is the second big challenge of our generation. LIMEBIRD combines cloud computing and the green energy transition in a decentralized approach. We utilize existing sites and infrastructure of mainly solar and wind parks to directly feed our edge data centers with cheap and renewable energy. So, coming back to where we left off in the first question: We push sustainability beyond just buying green energy. We actively support the integration of intermittent renewables by drawing the power directly from local energy sources and reducing the power fed into the strained electricity grid. But that is the simple part.
There are certain degrees of freedom regarding where, and sometimes even when, the IT workloads of our cloud computing customers are to be processed. This flexibility allows us to manage the utilization of our distributed server capacity according to the availability of cheap renewable energy, therefore optimizing the integration of renewable power into the energy system. We also are looking for industrial sites with solar rooftop systems in place. Using the surplus of solar energy instead of feeding it into the grid, we could reuse the renewable heat of our edge data centers for heating purposes in the buildings.
dot: Renewable energies have traditionally often been produced in places where they can't or will not be used, which means the power needs to be transported to where it is needed. What is your answer to the locational issue of renewable energy?
Brunner: Fairly easy: Energy must get to the consumer, or the consumer must get to the energy source. Since the power grid will never be a perfect copperplate, there are physical restraints to accept. In the last decade, wind and solar parks have been built at locations with the highest yields. But technology advances and locations with lower wind speeds and average solar irradiation are becoming feasible because of more efficient and cheaper solar and wind systems. New wind turbines have higher hub heights and better performance at lower wind speeds. State-of-the-art solar plants have more efficient modules and inverters, and an east/west orientation instead of south-facing panels to get more yield.
But we cannot ignore the fact that the political regulations were and still are placing strong restrictions on the areas where solar and wind parks can be built.
Back to your question: We are placing mobile edge data centers near solar and wind farms to draw the green energy directly, without transporting it through the grid. We are focusing on areas with potential cloud computing customers nearby. So, the question is: Is it more reliable and cheaper to transport the data or the energy? There is no simple answer, and it always depends on the specific circumstances of the site.
dot: You talk about a "swarm network" as an edge cloud solution. What does this entail?
Brunner: Today, innovation happens mostly on the software level. For example, the paradigm of "software defined x" brought a lot of technological progress to the crusted infrastructure industry. And right now, we are pushing the boundaries regarding how distributed but interlinked edge data centers can create benefits compared to an isolated data center. By using a multi-agent based approach for the communication and orchestration of the distributed edge data centers, we can achieve a collective system with high resilience, service localization, good performance, and self-organization.
Basically there are two sides to this coin. The customers get regional cloud computing services with data sovereignty in their hands. And without even noticing, they are an active part of the green energy transition.
dot: WindCORES is a technology partner of LIMEBIRD for establishing edge data centers in wind turbines. What other types of partnerships can you foresee for creating more sustainability in the edge environment?
Brunner: WindCORES is a great technology partner for us and, if you are looking for green colocation, we cannot recommend them highly enough. Our services connect in the value chain right above their offerings. As a cloud computing provider, we offer our green edge cloud services, like virtual machines or managed Kubernetes clusters, to B2B customers. Our swarm network relies on distributed edge data centers in wind and solar farms. So, there is a big opportunity between LIMEBIRD and solar/ wind farm owners to create a win-win situation. Even more, we need strong partners on the IT infrastructure level. Vendors of refurbished quality IT servers or turn-key edge data centers with a low carbon footprint and potential heat reuse. And certainly local utilities to cover the energy-related processes as well as the energy services we can offer, like ancillary services for grid stabilization. The broader your perspective, the more numerous your potential interfaces.
Bernd Brunner is co-founder and managing partner of the high-tech startup LIMEBIRD. After studying engineering and informatics he started his professional career in the renewable energy industry and, for several years, led the business development and innovation team of an international project developer. In early 2018 he founded LIMEBIRD (formerly edge | it) to drive green innovation in the cloud computing industry.

Please note: The opinions expressed in Industry Insights published by dotmagazine are the author's own and do not reflect the view of the publisher, eco – Association of the Internet Industry.