Input Management in the Cloud: The Most Important Facts for Navigating the Future
October 2019 -

Cloud Computing
Input Management in the Cloud: The Most Important Facts for Navigating the Future
When it comes to digital invoice processing, cloud computing can make things much easier without compromising security, Dolf van den Boorn from BCT shows.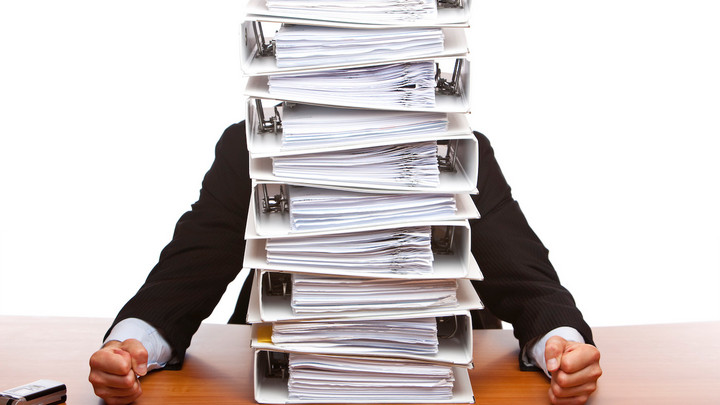 Many large and medium-sized businesses already use input management systems to record and process incoming documents. This is particularly the case when it comes to invoices.
Document capture systems ensure that the metadata from incoming invoices can be read digitally and used for further processes, regardless of format. But cloud-based solutions allow companies to make invoice processing even easier.
A global CIO survey carried out by Deloitte in 2018 showed that around 90 percent of businesses use cloud services. But use of this technology in digital office solutions, including invoice processing, is still in its infancy. The more sensitive the data, the more cautious companies are when deciding whether to use cloud computing.
1. What benefits do capture solutions offer businesses?
Cloud-based capture solutions make work processes much more efficient. Invoice processing is an excellent example of this. Mountains of paper are banished forever, as incoming invoices are captured and processed in a much shorter space of time. Validated data improves the quality of work and minimizes manual errors during processing. This makes life easier for accounts staff, allowing them to concentrate on more important tasks.
Companies that digitize invoices and provide them via the cloud also become much more attractive employers by allowing staff to access the relevant data whenever and wherever they need it. This flexibility makes cooperating with colleagues easier and enables modern workflows, in which work processes are optimized and more transparent. It also helps fight the widespread problem of "shadow IT". This term refers to the use of alternative storage locations, project management and collaboration tools, as well as file sharing and messenger services in the cloud. These are often used by staff to share sensitive data.
Companies that use cloud-based invoice processing solutions also save money on purchasing and maintaining physical IT infrastructure.
2. How do cloud-based capture solutions for invoice processing work?
The company receives invoices, credit notes and payment reminders as a PDF, via email, or in the mail. Print documents are first scanned and digitized, before the PDF files are sent to a specific email account. From here, they are transmitted in encrypted form to the capture platform in the cloud, where they go through the following steps:
1. Classification: The software first identifies the document in question and classifies it as an invoice, credit note or payment reminder.
2. Extraction: The individual elements that were previously defined as key words for the classification are detected and read. These include the invoice and customer number, as well as the account details and amount due. Importantly, the individual line items are also captured. This makes it easier to check the invoice, while preventing errors in processing and transfer.
3. Validation (optional): Here, the user can check the invoice and correct it, if necessary, via a web interface. This correction process also optimizes the software automatically, making manual corrections increasingly unnecessary.
The captured documents are then sent back to the specific email account in encrypted form. They are exported as full-text searchable PDF or PDF/A files, while the extracted data is exported in XML or CSV format. The export of e-invoices with XML structure is also a possibility. All types of invoices can be captured and the information contained can be read out. After export, they can be integrated into subsequent systems (ERP, ECM, accounting, etc.) and processed in relevant workflows.
3. How secure are cloud-based solutions?
According to surveys by the market research company Gartner, over a third of businesses list investing in cloud computing as one of their utmost priorities. But when deciding whether to use cloud technology, concerns over security are the biggest talking point. This is understandable, as companies essentially "give away" sensitive data for at least a brief period when using the cloud. Providers of capture solutions must therefore gain the trust of users. But transferring data to the cloud can actually improve security. That is because the security measures of an office-based server are usually nowhere near as good as those employed by ISO-certified data centers.
The General Data Protection Regulation, in force since 2018, sets strict requirements for the handling of data in Europe. But for individual businesses, complying with the GDPR can be a tough ask. By contrast, European data centers show high degrees of compliance with the legally mandated security standards. They also offer expert knowledge and cutting-edge technology, making them unbeatable in international competition. Companies looking to use cloud technology should therefore also choose a data center in Europe.
The cloud: The office of the future
Customers and suppliers alike require businesses to offer ever faster and more flexible service. The cloud creates the conditions for this by accelerating internal processes and making them more transparent. Automation also reduces potential errors to a minimum.
For invoice processing, cloud-based input management solutions offer individual scalability and maximum availability, while allowing users to handle varying amounts of data.
When it comes to the question of data security, Europe – and Germany in particular – are world leaders. The more businesses that use cloud-based services, the greater the lobbying power will be of those campaigning for certified systems and far-reaching legal provisions. Going forward, cloud-based work will become indispensable. It is the only way that companies can make themselves fit for the future.
Dolf van den Boorn has been working for information management specialist BCT for more than 10 years. In the function of Partner Development Manager, he focuses on finding new ways to be successful with partners and customers. He is very interested in the multifaceted interaction between technology and economics, but he is also good at collaborating with people and analyzing business issues.
Please note: The opinions expressed in Industry Insights published by dotmagazine are the author's own and do not reflect the view of the publisher, eco – Association of the Internet Industry.