Artificial Intelligence – Present and Future
October 2019 -

Artificial Intelligence

|

Digital Infrastructure
Artificial Intelligence – Present and Future
AI is a key trend in the digital age, says Dietmar Kessler from Equinix, and handling the data and connecting the players are challenges here for infrastructure.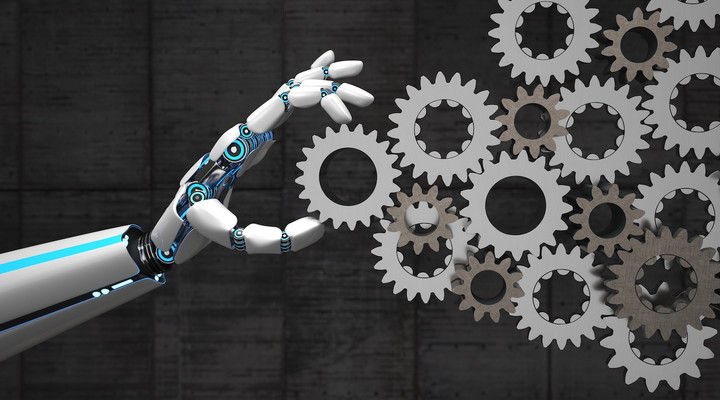 For decades, artificial intelligence – or "AI" for short – had been considered nothing more than science fiction rather than something we would encounter in real life: highly advanced robots or autonomous flying cars were regarded as futuristic, otherworldly technologies and far removed from the reality of our own lives.
Over the last few years, however, we have been rapidly approaching the era of AI. Today, we come into regular contact with artificial intelligence in our everyday lives: we use digital assistants like Siri to ask for restaurant recommendations and use automated translation services when we encounter language barriers. Streaming services such as Spotify or Netflix know what kind of music, films, and shows we enjoy – often before we know it ourselves. Artificial intelligence is becoming more and more integrated into everything we do as human beings. The rise of AI is one of the key trends in today's digital age.
In recent years, companies have significantly increased their investments in AI technology to make our daily lives easier and their business processes more efficient. AI solutions are used in almost all industries: In e-commerce, for example, AI is used to recommend products and offers to customers that match their interests. In addition, large online retailers such as Amazon are already testing how drones can carry out deliveries autonomously to their customer's front door. In the financial sector, algorithms make investment decisions every second, maximizing efficiency.
AI is also increasingly used in the manufacturing sector: Applications such as "Predictive Maintenance" utilize a large number of intelligent IoT-sensors that continuously gather production and machine data (such as noise and vibrations) and share them with external service providers and logistics partners. Manufacturers benefit from the data analytics capabilities of their external partners, who are able to evaluate data in real time and can predict when machine parts will need to be repaired or even replaced. This optimizes production processes and prevents failures and delivery bottlenecks - thanks to AI, a defect can be prevented before it even occurs.
As we can see, many industries find uses for AI, whether in trade, finance, the service sector, or in manufacturing. All these applications help companies and users to simplify daily processes and make them more efficient. However, to enable effective AI solutions, two critical challenges must be overcome: First, huge amounts of data must be transmitted and processed in (almost) real time so that AI programs can autonomously assess situations and make decisions. In online retailing, for example, there already are digital assistants that individualize and simplify the shopping experience of customers by informing them about specific purchase recommendations, offers, and alternative products. However, digital assistants require access to a wealth of data, e.g. inventory levels, delivery data, or product information, which must be evaluated as quickly as possible.
Secondly, a wide range of partners and companies must be brought together on a single platform to exchange information and offer an integrated service. A good example of this is the use of AI and big data analysis to support medical diagnoses: AI applications can help physicians diagnose diseases by matching patient data with comprehensive medical databases and the health data of larger groups. However, such an application must be able to access data from various institutions and partners such as hospitals, health insurers or medical publishers. The underlying IT infrastructure must therefore avoid high latencies, minimize the risk of failure, and protect the highly sensitive data of different partners from unauthorized access at the same time.
The digital infrastructure of AI
Even the most innovative companies, tech entrepreneurs and developers cannot meet both challenges alone. It would require a huge investment for companies to build and operate their own self-contained IT capacities. Furthermore, traditional, centralized, and silo-based IT infrastructure in which data is transmitted via the public Internet is less flexible and often more susceptible to high latency or failure. Companies should therefore invest wisely in the right IT infrastructure in order to be able to process the growing volume of data securely, quickly, and flexibly. Doing so will allow them to realize innovative AI solutions that will make our lives easier and safer.
In order to realize AI projects together, businesses need to build networks and exchange information directly with their partners, beyond the public Internet via a common neutral "platform". In fact, it is the interaction of different actors that makes complex AI solutions possible in the first place. Such a platform, with the necessary technological capabilities, will act as the launching pad for companies to achieve great things in the "era of AI". The foundations of such a "platform" are constantly growing: data centers, carriers, and cloud providers are all contributing to providing the underlying IT infrastructure. We are thus well on the way to making trend-setting AI innovations possible.
Dietmar Kessler is Equinix Marketing Director DACH & Italy based in Frankfurt. He joined Equinix when the company first entered the German market in 2007. Dietmar Keßler knows about current industry trends and can provide insights on a multitude of IT developments across different industries from the perspective of a global interconnection and data center company.

Please note: The opinions expressed in Industry Insights published by dotmagazine are the author's own and do not reflect the view of the publisher, eco – Association of the Internet Industry.