Why We Need to Invest in Data Center Education Now
April 2021 -

Data Center

|

Digital Transformation
Why We Need to Invest in Data Center Education Now 
Eline Stuivenwold from the DDA and Dr. Maaike van Kessel from Noorderpoort, on how data center talents are fundamental for growth and digital leadership.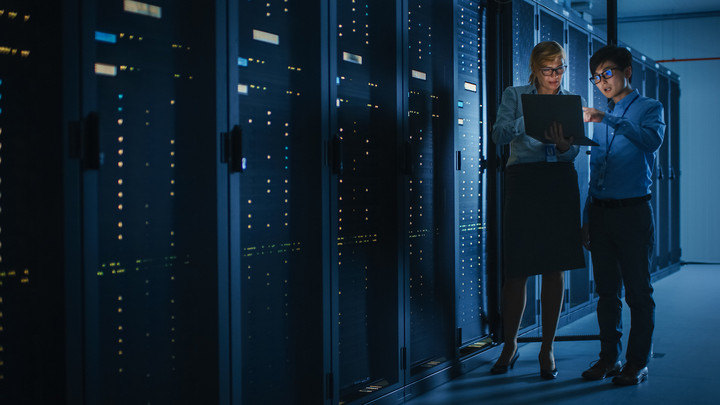 Data centers have a growing impact on the economy and employment. Especially now that we are forced to work from home, we experience how much we need digital services. As the demand for data center services increases, so too does the need for personnel. Globally, from now until 2025, we will need 325,000 extra men and women to staff data centers [1]. At the same time, we see the technical skills gap getting bigger and bigger. Skills in IT, climate control, and mechanical and electrical engineering, for example. In the Netherlands, industry and schools have joined forces to educate for the jobs of the future. The first successes have been realized, and there are only going to be more to come in the future.
Data centers are a fundamental part of our economy and society
We live in a digital world. We work from home and our kids are being home-schooled online. We stream movies and series and play videogames without suffering any delays. We can contact our loved ones at any time, and through the power of computers we find cures for diseases much faster. All these digital activities are housed, quite literally, in data centers.
Since the beginning of the Covid-19 pandemic, many companies and individuals have started to realize how much they depend on digital data centers – and thus on data center services. Indeed, research has shown that countries with excellent digital infrastructure are able to recover more quickly from the crisis than countries that are less digitally advanced [2].
The digital industry has proven to be indispensable for the Dutch economy. For example, the digital footprint in the Netherlands reached €460 billion by 2020, 60% of the Dutch GDP [3]. And this is just the beginning. Just like our economy, our workforce is also becoming more digital every day. In the Netherlands, 2.1 million people are dependent on digital services to do their jobs.
Data centers are here to stay, and the demand for their services is increasing rapidly. In the near future, leading up to 2025, Dutch colocation data center operators expect to need 46% more personnel. For hyperscale data centers such as Google and Microsoft, the expectation is even higher, with an anticipated growth in employment of 165% [4]. Naturally, this also generates a lot of indirect data center employment, for example in the installation and construction sector.
Finding technical personnel is a serious issue
Everywhere in Europe, finding technical data center staff has already been found to be an enormous challenge. Globally, from now until 2025, we will need 325,000 extra men and women to staff data centers, of which 81,500 will be needed in Europe. Most of these are jobs in operation, and also a fair amount in construction. As the data center industry is still relatively young, there is so far little education available. Luckily, we see that the times are changing. For example, schools in the Netherlands are working closely together with the industry to bridge the talent gap.
Bridging the talent gap together
Data center education in the Netherlands started in 2019, as a collaboration between the trade association, the Dutch Data Center Association (DDA), and ROC Noorderpoort, a vocational school in the north of the Netherlands. As there was no framework for data center education at that stage, the DDA and Noorderpoort took the initiative of starting a working group consisting of industry parties and teachers. The aim of the group was to explore 1) what the data center labour market looks like and 2) what was needed from schools to provide qualified talent.
Step 1: Assessing industry needs
The first step was to assess which jobs are the most in demand and which skills were required to do the job well. Even though job titles and roles vary from company to company, it was concluded that technical roles were most in demand: most data centers look for men and women that ensure the daily operation of data centers with regard to connectivity, energy supply, cooling, fire safety and physical security.
Step 2: Drafting the framework for the curriculum
The second step was to translate the skills assessed to be needed into an educational program. Interestingly, not only IT skills, but also electrical and mechanical skills were found to be essential in the curriculum. For many schools, this requires a firm collaboration between faculties.
Step 3: Making the curriculum actionable
The third step was to make the program actionable. As there was no curriculum available at the time, companies and teachers needed to work together closely to create educational content. Furthermore, companies were able to contribute by providing students with lectures and assignments, as well as by opening their data center facility for students to gain practical experience.
In 2020, the first data center program was launched at Noorderpoort under the name Data Center IT Technics, a program which focuses on the installation and maintenance of IT Hardware in data centers. The second program, Data Center Facility Engineering, which focuses on electrical and mechanical systems, followed soon after. Since the launch, many schools have shown interest in the program. Recently, this has led to the creation of a full degree that aims to educate youngsters for a job in data centers or on the hosting side; the cloud and infrastructure technicians of the future!
The collaboration between DDA, Noorderpoort, and industry parties has proven to be an excellent starting point for further innovations in data center education. Of course, there is still a long road ahead in providing sufficient tech talent for the digital future, as data center education is still in its infancy.
As an industry, we can adopt an active role in educating the workforce of the future. By reaching out to schools in the region, and supporting them structurally through lectures, company tours, and internships, we can increase the continuous flow of young talent.
Furthermore, there are many opportunities in reskilling existing talent from other industries. Both IT Technics and Facility Engineering are open for people that are considering a career change. In addition, the Data Center College started a reskilling trajectory in 2020, providing a 3-month blended learning solution to kickstart a career in data centers. As more parties join the movement, we can grow to be more effective in educating for the jobs of the future.
Dr. Maaike van Kessel is a practor (professor in a vocational center of education) for Noorderpoort. Her goal is to innovate IT education on the vocational level. She sees that better cloud & data center eduction is necessary to prepare students for a job in the growing cloud & data center industry.
Eline Stuivenwold is a policy maker for the trade association DDA. Her mission is to facilitate the development and strengthening of the Dutch data center industry. One of the DDA's focus areas is education, in which they want to foster the flow of qualified data center talent.

Please note: The opinions expressed in Industry Insights published by dotmagazine are the author's own and do not reflect the view of the publisher, eco – Association of the Internet Industry.