Reestablishing communications when disaster strikes
May 2017 -

Emergency
Reestablishing communications when disaster strikes
When natural disasters strike, crisis zones need communications to coordinate rescue activities. But exactly this infrastructure may be down in an emergency. Gerhard Betscheider from SES Techcom Services explains the life-saving work of emergency.lu around the world.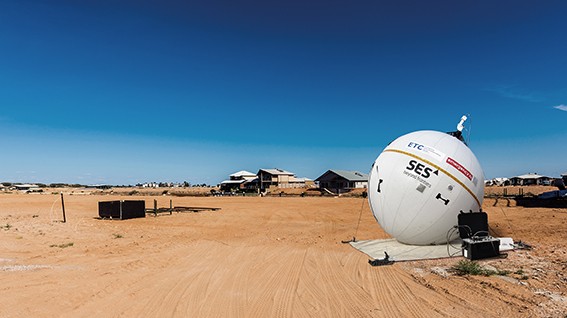 Rapid disaster response via satellite
When a natural disaster strikes, one of the most immediate concerns is establishing a reliable means of communication for disaster agencies, government organizations, and emergency services to co-ordinate the help needed to bring relief to impacted areas. Up-to-the-minute information is also vital for those seeking rescue, while many people will also be looking to establish contact with loved ones and relatives. 
Unfortunately, the terrestrial telecommunications infrastructure which would normally enable these communications is often completely wiped out, leaving people cut off from the rest of the world and without access to vital communication services. Furthermore, re-establishing the infrastructure is often a tricky and time-consuming exercise.

In situations like these, satellite is the key to getting communications services back up and running. Through the emergency.lu platform, delivered through SES satellite technology, vital broadband connectivity can be established in disaster-hit areas. 

Led by the Luxembourg government, the emergency.lu platform addresses the challenges of coordinating a worldwide response by providing a first point of contact in the immediate days and hours after a disaster. It can be deployed and operational within the first 12-20 hours of a disaster occurring and works for as long as the recovery process takes. 

The solution is a result of a public-private partnership between the Luxembourg government and three Luxembourg-based companies: SES Techcom Services, HITEC Luxembourg, and Luxembourg Air Ambulance, which designed and operates the platform. emergency.lu uses dedicated SES satellite capacity and ground infrastructure to re-establish communications networks in support of humanitarian relief operations. It is provided as a global public good by the Luxembourg government and is working in close collaboration with the UN World Food Programme (WFP) as global lead of the Emergency Telecommunications Cluster (ETC).

The dedicated SES satellite capacity and ground infrastructure are used to re-establish communications networks in support of humanitarian relief operations. Operating 24/7, the communications platform supplies crisis-hit zones with a large-scale bandwidth solution by deploying one of three available deployment kits - depending on the degree of urgency -, and using capacity on SES satellites. Crucially connectivity, such as Internet, VoIP, data sharing, maps, and tracking software are provided by the emergency.lu platform, establishing a critical communications network and forging a means of coordinating help between the United Nations, humanitarian organizations, and governments.

emergency.lu is not only able to replace destroyed telecommunication infrastructures, but also to maintain connectivity once communication has been restored. A typical service period lasts one month; yet this can always be extended should there be the need. 

emergency.lu has provided vital connectivity services following various natural disasters, the most recent ones being the devastating cyclone Enowa, which hit Madagascar on March 2017, and Hurricane Matthew in Haiti last year.

The category 4 hurricane hit southwest Haiti on 4 October 2016.  It was the strongest hurricane in Haiti since 1964 with wind velocity of over 235 km/h (146 m/ph). The hurricane left hundreds dead and thousands of homes destroyed. 

Communication services offered by emergency.lu provided connectivity to humanitarian responders in Haiti and were deployed in close collaboration with the World Food Program (WFP) as global lead of the Emergency Telecommunications Cluster (ETC). One Rapid Deployment Kit was set-up on the ground and operational within the first 20 hours, and soon after, an additional Regular Deployment Kit was deployed to provide more long-term support. The emergency.lu terminals used dedicated SES satellite capacity to re-establish vital communications links in order to improve the effectiveness of rapid response efforts. The connection was provided through Rapid and Regular Deployment Kits, and the capacity used was C-band, from SES-6. 

Months earlier, Cyclone Pam hit the island nation of Vanuatu, in the Pacific, leaving all but the capital city, Porta Vila, without power or means of communication with the rest of the world. Tanna Island was especially hard-hit. Relief efforts were started immediately to re-establish Internet and voice communications and much of the archipelago rapidly got communications restored with emergency.lu services, which were kept on the field for the first two months.

The success stories of emergency.lu are abundant. Among the 40 deployments since 2013, we have successfully deployed the platform after earthquakes in Nepal, in 2015, and after Typhoon Haiyan hit the Philippines, in 2013. It has also been active since 2012 in South Sudan and Mali, as an aid in the food and security nutrition crisis, as well as the fight against Ebola.

The value of connectivity to help humanitarian efforts during disasters such as those clearly shows the importance of satellite-based disaster recovery platforms such as emergency.lu. Through the establishment of free Internet connectivity and VoIP services, numerous organizations are able to co-ordinate their efforts to deploy humanitarian aid quickly and efficiently, while those who are most in need can access vital information and communicate with relatives. 

We are very proud of emergency.lu, and even more proud of the amount of lives it has helped improve and save in past years. Together with the Luxembourg government, we are strongly committed to continue delivering rapid disaster response; anywhere in the world it is needed.

Gerhard Bethscheider has more than 30 years experience in the domain of Satellite & Ground segment Engineering, having worked in the fields of Research & Development, System Engineering and Management. He has been the inventor/co-inventor of numerous patents in the domain of satellite systems and telecommunication, and has since 2008 held the position of Managing Director for SES Techcom Services. 


Please note: The opinions expressed in Industry Insights published by dotmagazine are the author's own and do not reflect the view of the publisher, eco – Association of the Internet Industry.