Data, Collaboration and Internet Society Pulse
June 2021 -

Internet Governance

|

Internet Industry
Data, Collaboration and Internet Society Pulse
The Internet's distributed and synergistic nature makes measuring individual aspects of the Internet on a global scale difficult, explains Susannah Gray from the Internet Society.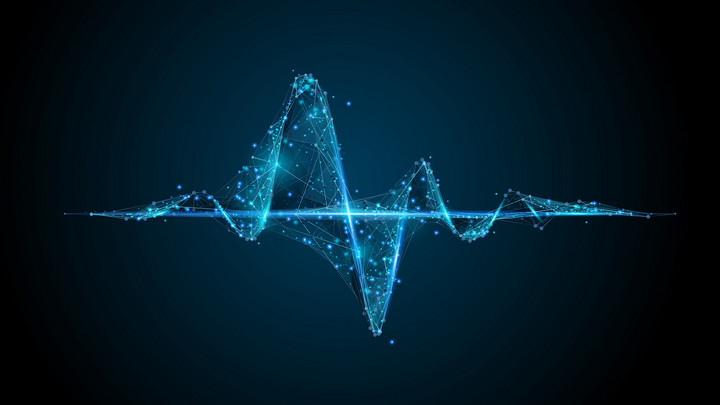 For most people, the Internet is something that is accessed on their device - a ubiquitous tool that helps them work, buy and sell, learn, and keep in touch with friends and family. But behind the scenes, there are multiple organizations and corporations engaged in ensuring that the rapidly expanding Internet functions smoothly, that the core infrastructure remains robust, resilient, and available, and that the entire network is secure.
At the Internet Society, we believe that the Internet is for everyone and our work is centered on activities that help to increase the Internet's reach, reliability and resilience. We collaborate with individuals and organizations around the world to ensure that the Internet remains open, globally connected, secure, and trustworthy.
Essentially, the Internet is a globally distributed network made up of many voluntarily interconnected autonomous networks. It functions without a central governing body and each individual network in the 'network of networks' sets and enforces its own policies. For something as complex as the Internet to work as seamlessly as it does, collaboration is key.
One of the Internet Society's key focus areas for 2021 is on Measuring the Internet. The Internet's distributed and synergistic nature makes measuring individual aspects of the Internet on a global scale difficult. As part of our work, we measure how the efforts of the many organizations that facilitate the smooth technical functioning of the Internet are working.
There are many people, projects and organizations that collect and analyze data on various facets of the Internet, including Internet connectivity and reachability, routing traffic, Internet outages, and DDoS attacks. However, we believe that there's a need for a single site that provides a curated set of insights into the overall health, availability, and evolution of the Internet. So, to help everyone gain deeper, data-driven insight into how the Internet is functioning and growing, we're building Internet Society Pulse.
Launched in 2020, Internet Society Pulse collates Internet measurement data, provided by several Data Partners, on three core focus areas - Enabling Technologies, Internet Shutdowns and Internet Resilience.
New technologies are essential to ensure that the Internet keeps growing, evolving and meeting the changing expectations of users. These 'enabling technologies' contribute to improving Internet scalability, security, trust and availability. In this focus area, the Pulse team tracks, among other things, how the latest Internet Engineering Task Force (IETF)-developed protocols are being deployed to increase security (including TLS 1.3, HTTP/3 and HTTPS), how global IPv6 deployment is progressing, and the rate of DNSSEC adoption by the registries for country-code domain names (ccTLDs).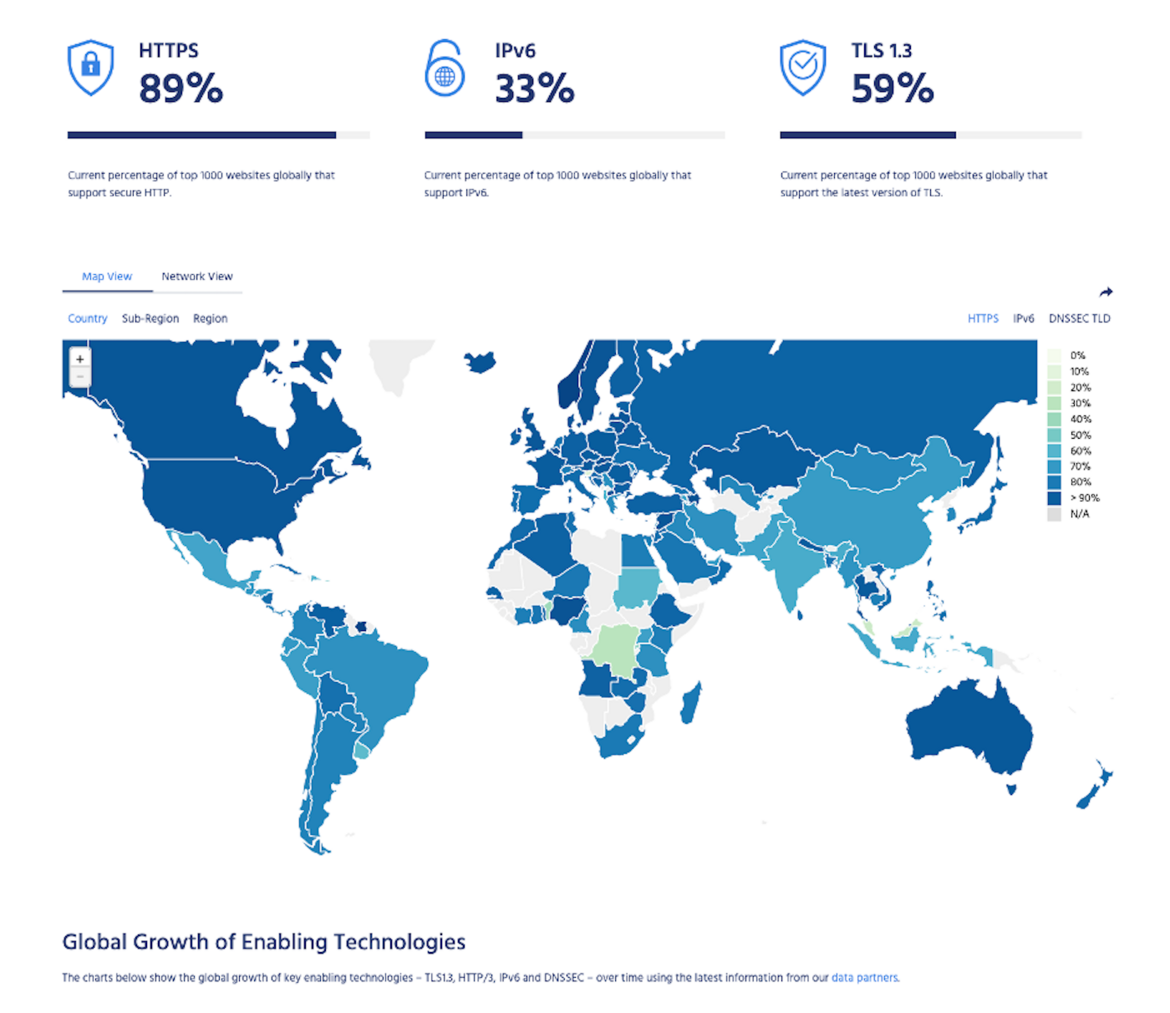 An Internet shutdown is an intentional disruption of Internet-based communication, making it unavailable in a specific location. Restrictions to Internet access are on the rise globally, with frequent news of government-mandated disruptions of Internet access. Driven largely by political and national security concerns, state-ordered Internet shutdowns have become the 'new normal' in many countries.
Here, the Pulse team curates information about Internet shutdown events occurring around the world, and looks at the economic, human and infrastructure impact of these actions. Data on regional and national scale disruptions to Internet connectivity are included, as well as data on application-level blocking and content blocking, where Internet connectivity remains available but access to certain websites or applications is limited.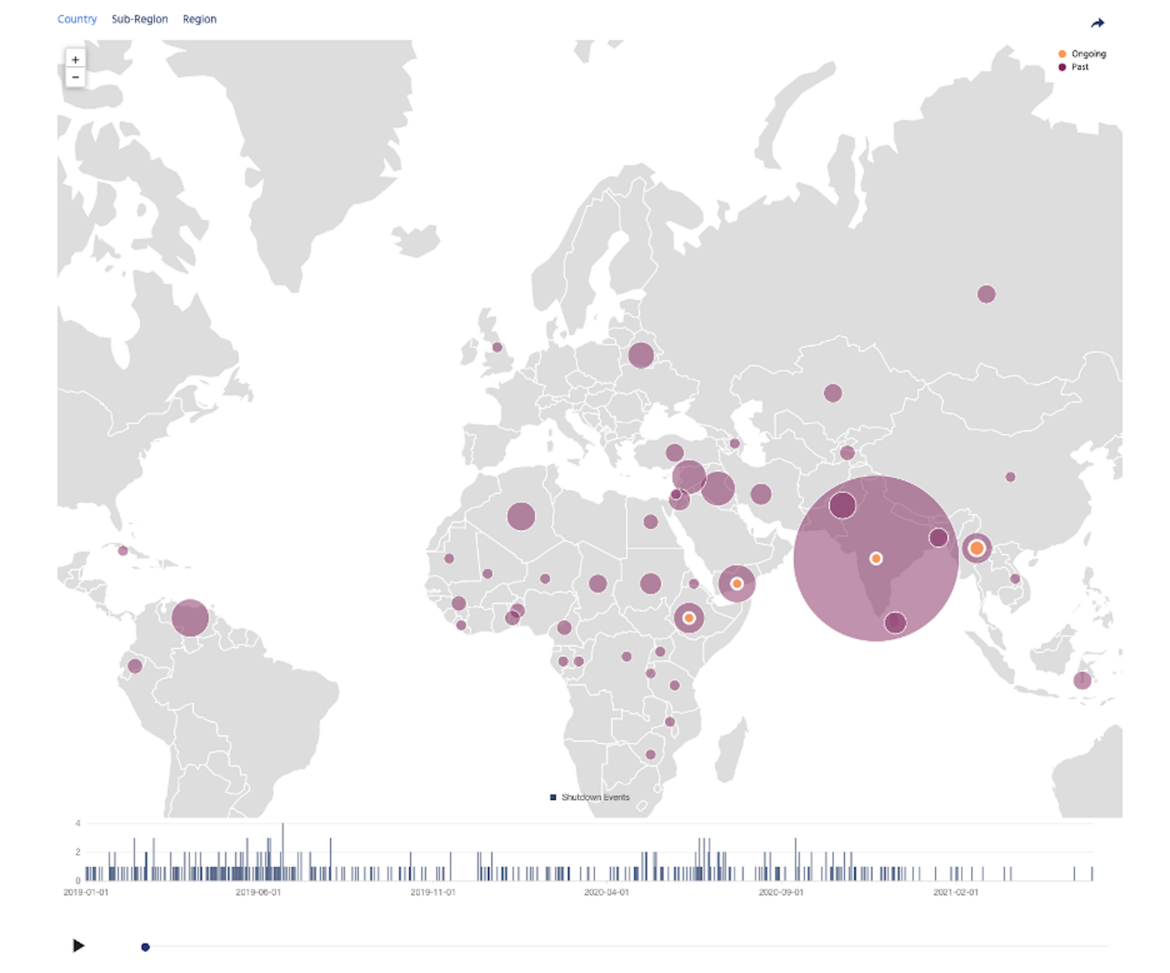 A resilient Internet connection is one that maintains an acceptable level of service in the face of faults and challenges to normal operation. In this new section, the Pulse team will track resiliency metrics to help support the development of policies and infrastructure to improve Internet resilience at the local, regional and global level. The initial focus here will be on tracking Internet resilience in Africa using a series of simple measurement probes hosted on home networks which will collect data to provide an overview of actual Internet user experience. Initial data will be available in Q3 2021.
For each of these focus areas, we provide analysis and commentary on the data presented via the Pulse blog.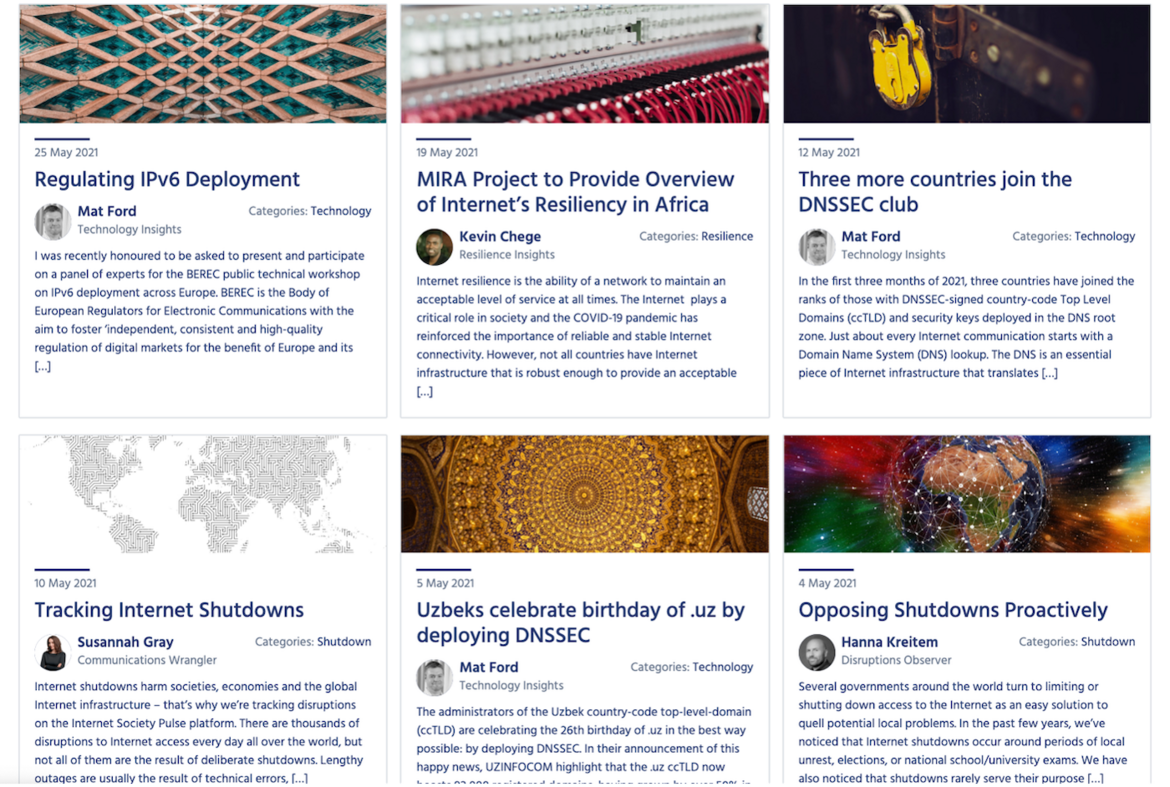 Additional focus areas dedicated to Internet Centralization and Keeping Traffic Local will be added throughout 2021.
The Internet Society is not collecting all the data presented on Pulse itself. As there's no single organization that can measure all facets of the Internet, collaboration between the Internet measurement community and other organizations collecting data is vital for getting deeper insight into how the Internet is developing. The Pulse team works with multiple Data Partners, including AccessNow, AFRINIC, APNIC, the Center for Applied Internet Data Analysis (CAIDA), Facebook, Internet Initiative Japan (IIJ), Mozilla and many others, to ensure that trusted and accurate data from multiple sources is presented. Many of the organizations we partner with are Internet Society Organization Members; others are Internet industry organizations that share similar values.
"Contribution and collaboration across multiple companies, organizations, and institutions is key for a comprehensive overview," says Romain Fontugne, Senior Researcher at Internet Initiative Japan (IIJ). IIJ's Internet Health Report's data on interconnectivity is an important component of the Pulse platform's Internet Resilience focus area, which will provide data on the diversity of network interconnections. "Most of the data sources that IIJ uses for the Internet Health Report are collaborative efforts, including the RIPE NCC's RIPE Atlas and RIS, and the University of Oregon's Routeviews. Measuring the health of the Internet depends strongly on these collaborations."
Center for Applied Internet Data Analysis (CAIDA's) Internet Outage Detection and Analysis (IODA) tool is one of the data sources used in Pulse's Internet Shutdowns focus area. "The Internet is a vast, complex, and continuously evolving combination of systems whose interaction is often opaque, even though many aspects of our lives increasingly rely on it," says Alberto Dainotti, Research Scientist and Principal Investigator at CAIDA. "The measurement community uses the term Internet measurements to cover a broad range of approaches to scientific inquiry, including inference and event detection, all of which can be used towards building a better understanding of Internet-related issues. Internet measurements contribute to a broader awareness regarding, for example, the availability of infrastructure that is critical to our daily lives and which should be accessible to everybody, all the time."
It's this broader awareness that the Internet Society believes is fundamental to help everyone – not just those collecting and analyzing data – understand more about how the Internet is functioning. Internet measurement data helps technologists better understand the rate of adoption of key new and enabling Internet technologies, helping to identify gaps and define where more efforts are needed to drive increased adoption of protocols and technologies that help to scale the Internet, such as IPv6, and keep it secure, such as TLS 1.3.
It is also key to enabling journalists to leverage the statistics, data, and graphics to support coverage of relevant Internet-related topics and events and give policymakers relevant information to support their positions and influence policy development, especially around Internet shutdowns and local infrastructure resilience. Citizens can also use this data to influence their policymakers and help provide compelling evidence that Internet shutdowns, for example, negatively impact society and economies.
We're developing Pulse in the same spirit as the Internet was developed – openly and collaboratively – and invite anyone with relevant data, analysis and data-driven stories to contribute to our efforts.
Stay in touch
Susannah Gray is a strategic communications expert with many years of experience in multi-stakeholder, community-driven communications and PR. Having been part of the Internet industry since 2005, she has a deep understanding of Internet governance, Internet policy development, Internet technologies and the issues affecting the Internet's end users. As part of her role at the Internet Society, Susannah is part of the Internet Society Pulse platform core team.

Please note: The opinions expressed in Industry Insights published by dotmagazine are the author's own and do not reflect the view of the publisher, eco – Association of the Internet Industry.