Designing 5G Networks for the Mobility Challenge
May 2019 -

Digital Infrastructure

|

Networks

|

Mobility
Designing 5G Networks for the Mobility Challenge
Gerd Simon from the Data Center Group, on how to build 5G networks that are reliable and energy-efficient and will meet the needs of the future of mobility.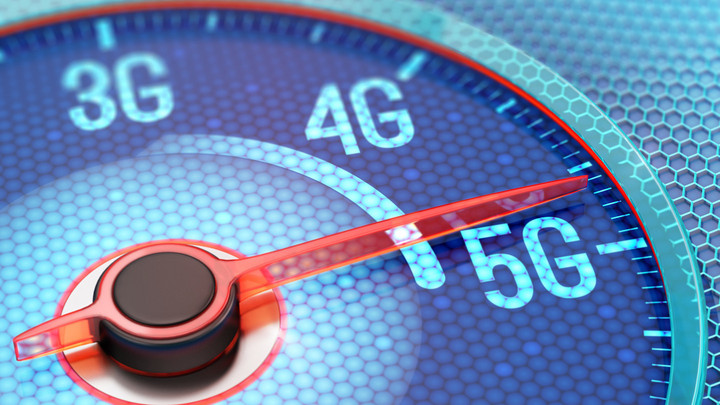 In today's world we want to know where our data is. With 5G, we flip this model, because now, the data want to know where we are. It's therefore no surprise that the mobility models which are in discussion all around the globe all share one fundamental view: That you need to have a reliable network as a kind of digital street where you can let the data – and of course all the "real" things – travel. At the end of the day, it will be essential to create a network configuration that ensures a seamless and continuous coverage and experience. The new 5G networks will need to be designed with these requirements in mind.
Essential design features of 5G networks
The challenge is that the new networks need to be designed in such a way that there is full coverage in order to support customers wherever they are. When we talk about innovations like autonomous driving technology, there can be no white fields lacking connectivity anymore.
But as well as broad, gapless coverage, the digital components need to be deployed so that there is almost no outage. And this means a threshold of maximum 90 milliseconds outage end to end.
This is a challenge, because in today's world of shared infrastructure like 4G or LTE, this is not implemented. So we have to increase the quality level even before we get to the 5G networks.
As we work with higher frequencies in the 5G context, distance also becomes a key issue. These frequencies do not allow signals to travel as far as the ones we know from our existing networks. As a result, the cells that we implement – here we're referring to towers and mobile cells – will need to be much closer in proximity to each other, creating a much denser network than we know from our current experience with the 3G, 4G, and LTE networks.
Furthermore, network capacity is important to handle the data and logistics that will be initiated by devices (be they mobile phones or sensors in vehicles) – and these devices may create a lot of traffic in diverse directions. The transmission of such data is critical, and the mapping of this traffic locally – but also in the backhaul – is important, and it is only possible to handle it if you have enough capacity.
Meeting the demands of the mobility ecosystem
The challenge is that the 5G infrastructures will be deployed based on the premise that they will increase the communication flow and the cooperation between all the different stakeholders involved. It's no longer simply about connecting a customer with a provider. New ecosystems are developing which include tech firms, users, mobility providers, operators, those who run systems like command and control systems - and the list goes on. And there will only be widespread uptake and usage to deliver mobility services if there is a robust 5G infrastructure that meets everyone's ambition.
Critical factors for achieving wide-scale rollout of 5G networks
Getting the 5G rollout with the broad coverage necessary across entire nations is a big challenge. However, this is not related to the density of the cells – rather, it's related to having a concept that enables energy-efficient usage.
Energy efficiency is the first critical element in this rollout. Why? All the devices that we will build into our networks – and also those that will be used on moving objects – will require a power supply because they are active components. Based on this, we need a 5G infrastructure platform that will be highly scalable, but also highly energy-efficient. We need to lower the energy consumption per cell, and also for the devices. And energy efficiency has a cost element because it will only be feasible if the usage is in a price range that is affordable also for the operators.
Secondly, these kind of 5G infrastructures will have to be composed of cost-efficient, almost maintenance-free devices. In such a massive rollout, it will not be possible to maintain the elements the way we are used to doing it in some big data centers, or in some of the current implementation.
This will lead to a third element, which is related to security. Having highly secure infrastructures is a critical factor because the usage and scalability will only be high if the users or connected devices can trust the infrastructures. You need to have security embedded by design because you need to have trust end to end.
Then, you also need enormous capacities, easy to scale up and scale down based on demand, and this is the fourth very critical element.
Current status of the 5G rollout
Currently, we see a very diverse picture around the world when it comes to the 5G rollout. On the one hand, we see a lot of implementations in a test environment. But also we see countries and metropolitan areas in the Asian region where you have a very clear 5G rollout and where you can watch videos and TV even in the subway. This may sound easy for some, but when you think about how many connection gaps we have in our networks today, for many areas it may also sound like a miracle.
We have the key trends: everything needs to be electrified. We have a kind of autonomy related to our mobility, and we are seeing developments in shared mobility concepts. We see a lot of tests – in particular right now in the US – with autonomous driving. This is still undergoing a test phase making use of 5G deployments and is taking place in metropolitan, but not in rural areas. In Asia there is a special test area in Singapore, which delivers mind-blowing results.
But as far as far as I'm informed, China has started to go beyond the test phase and is undertaking a 5G rollout. It's no surprise that Shanghai is one of the first metropolitan areas beyond a testing phase. Here, the rollout is happening for the support of users. In this environment, which is rich in mobile devices, you have a lot of applications and gadgets that support you wherever you are. The Chinese structure is built purely on IPv6, and the 5G rollout – this density of cells – leads to a situation where you have seamless handshakes between the cells. The effect is immediately visible – you see the crowded subway, with everybody watching TV and video, but without any break up. You also see it in terms of camera systems all around the city, where you have surveillance of the entire city environment. This would have been possible with older generation networks, but at much higher costs.
Mobility models around the globe
There are a couple of different conceptual models for mobility that are visible around the globe.
Some countries are working on the kind of mobility model already described, which involves seamless mobility. These are mainly being developed in world cities in Asia, but also in the U.S. What's in focus here is a kind of door-to-door and on-demand service, meaning that the user has a clean, cost-effective, and flexible way to get around. Mobility is a combination of different devices – it can be shared, it can be autonomous driving, it can be public transport – but all things are connected to one backbone.
There's another model which is described more as a shared model – but it's a shared model that works in highly dense metropolitan areas such as those in India. These cities are still growing very fast, and they have a very rapid increase in both citizens and devices. These cities suffer from congestion and they have some poor transportation quality today. So in these environments, the shared approach works much, much better, because you have limited transportation ownership anyway. Sharing something helps to optimize the mobility requests, and it can expand even to public transportation. But it has its limits in terms of autonomy in the traffic flow – and also in terms of safety.
There is also a third model, which is driven more by private or individual mobility. At the center of this model are mobility patterns involving a shift of different mobility technologies. We talk today about e-bikes, e-scooters, smart electric vehicles, but you still also have cars with a traditional fuel system. In this model, we see specific mobility devices that you use based on your use case.
Rolling out 5G – the challenges of different locations
And the question will be: Are you creating these kinds of systems in a new place where a new city is being developed, or are you trying to redesign an existing city? In Asia, a lot of advantages could accrue from creating new cities – which would also make the development of new digital infrastructures easier. In contrast, in Europe, we have cities and metropolitan areas with long histories and streets that won't change for decades or even centuries. This makes it difficult to justify investments in changing or charging up infrastructures.
Wherever you are based, if you want to capture the benefit of new business areas like connected mobility, then you need strong partners. Why? Because no one can manage it alone. Only a consortium of partners can manage it, but it needs to be a group of partners that know how to do it – with a strong commitment and with the ability to deliver high-quality services. Together, they can solve some of these mobility problems. It is interesting to see that neutral infrastructure platform providers are evolving in the US, but also in Europe these days.
The 5G rollouts will be supported by our company, the Data Center Group. Already today, we provide standardized data center compartments which can scale up easily, for use in both rural and metropolitan areas, but with a focus on the rural environment. They are designed for a rapid scaling-up and can be used in outdoor scenarios or in built-up areas. We also do this with an energy-efficient twist. The Data Center Group works in conjunction with parties that provide energy-efficient solutions enabling those investments to create a faster ROI. This is important when considering the rollout scenarios of 5G, where you need an automated data center user experience combined with a massive density of implementations in the field.
And finally, perhaps the greatest priority in this overall transformation is ensuring an energy-efficient transition to future mobility. In the Data Center Group, we already have experience in dealing with windmills, as well as testing with solar power installations and other forms of energy-efficient solutions. We work very closely with an energy supply company that is known as one of the most energy-efficient players in Europe, one of the forerunners for green clean power and energy efficiency.
Gerd Simon is a trusted adviser for digital infrastructure investment, an auditor, a senior analyst, and business leader. For more than 25 years, he has been creating and enabling digital infrastructures, mainly in Europe but also further afield. His focus was and is to create GTM models and also to take care of business strategy implementations, developing business conceptions from scratch through strategic and operational business development. He has been working in TMT markets since the mid-nineties and has a broad network in the Internet, cloud, and data center data area.
He has recently been appointed as Managing Director of the Data Center Group. The company has the goal of being the preferred partner for all those companies who want to realize the greatest potential from their digital infrastructure use – with a strong focus on data centers, but not only limited to that. The company unites several business units. SECUrisk covers consulting and analytics. proRZ and RZingcon are planning and constructing business units, while RZservices also supports customers in the area of operations and maintenance. This leads to a bundle of diverse expertise in order to guarantee a holistic concept of securing data center operations in the best way for the benefit of the customers.
Please note: The opinions expressed in Industry Insights published by dotmagazine are the author's own and do not reflect the view of the publisher, eco – Association of the Internet Industry.