IRMA: How Digital Wallets Contribute to Digital Sustainability
January 2023 -

Digitalization

|

Data Sovereignty

|

Innovation
IRMA: How Digital Wallets Contribute to Digital Sustainability
Peter Eikelboom, SIDN, on how digital wallets will contribute to innovation and data sovereignty, increasing the opportunities for all.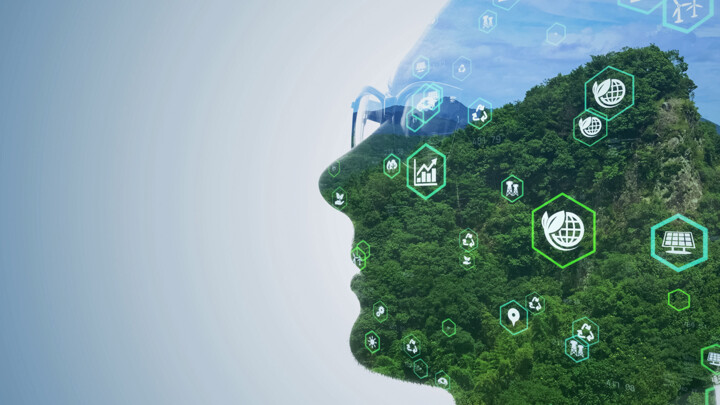 SIDN is responsible for managing the registration of .nl domain names in the Netherlands – but that's not all. Here, Peter Eikelboom, Business Developer Online Identity, explains how the non-profit organization is contributing to digital sustainability, including by promoting growth in the field of online identity in support of a better and more secure internet for society as a whole.
What does 'digital sustainability' mean to you, and why is it so important both for your organisation and more broadly?
I think 'digital sustainability' can be summed up as 'how digital solutions can add value for society as a whole'. As things currently stand, people's data has 'no fixed abode' – it's locked away in all kinds of vaults controlled by the BigTechs. Sometimes you're allowed to peek inside but then the door is closed again, and you definitely don't have control over your data.
Moreover, in the BigTech-dominated Western world, the '3 Ms' reign supreme: data is being Measured, Manipulated and Monetised. The question is whether this is a sustainable model. In other parts of the world, such as China, the M for 'Monetised' has been substituted by the M for 'Model citizen' based on the social credit score. But when this can be used to restrict people's freedom of movement and financial freedom, I think we can agree that it's not the ideal way forward. Thankfully, in the EU we are seeing the emergence of a new mindset; it is time to organise things better to safeguard values such as privacy and safety of the individual.
At SIDN, as a non-profit organization, we see it as our role to think about how we can reduce the concerns associated with the digital domain while also increasing the opportunities for all. After all, as the internet has become the medium for information exchange, social interaction, cooperation and commerce, it is now vital to all levels of development: to the economic and democratic development of nations, and to the personal development of individuals. But there are also growing risks, not least in the area of cybercrime.
Against that backdrop, it's essential that people can be confident in the quality, security and privacy of the internet. As a non-profit organization, SIDN is based on three pillars of impact: economic growth, safe and stable internet, and digital inclusion. In this context, we are keen to promote the creation of effective solutions that add value for society as a whole by making data-sharing processes safer and more efficient, so that ecosystems can work together to open up opportunities for new and beneficial services.
Which factors need to be considered in the context of digital sustainability? And how does IRMA contribute to this?
There's no question that sharing data can create extra convenience, but besides enjoying that benefit, people should also have control in their digital lives. This starts with privacy by design, which means it must be clear deep down in the technology who can access which data and where. Secondly, we need decentralized solutions to avoid risks such as concentration of power, monopolies and the possibility of surveillance associated with data being stored centrally.
To stimulate digital innovation on a global scale, data must be able to flow freely rather than businesses and organizations having to ask the BigTechs for permission to use 'their' data. Additionally, to encourage the necessary ecosystem collaboration and drive future growth, new solutions should be interoperable rather than everyone developing their own stand-alone solutions.
Lastly, to avoid the 3 Ms, transparency is very important – and this is a particularly sensitive issue when it comes to sustainable digital solutions for online identity and personal data. That's why at SIDN we have developed a digital wallet for mobile phones called IRMA, which stands for 'I Reveal My Attributes'.
Aimed at giving users confidence in their digital world, it is based on all the factors I just mentioned, and we actively offer it as an open-source solution for everyone to use and adapt for their own purposes. It enables organizations to give users easy, secure and privacy-friendly access to all their online services – not only login, but also ID calling, data verification, authorization and digital document signing – and also to choose to share their data with connected services.
There are also benefits from the perspective of avoiding cybercrime, phishing and even the recent rise of deep fakes. So as a digital identity solution, IRMA offers endless possibilities. Additionally, although the underlying technology is very complex, once it has been installed the app itself is very user-friendly, even for older people and other demographic groups that are sometimes excluded or disadvantaged. As a result, it can help to overcome some of the social inequalities that currently stand in the way of certain people benefiting from the digital transformation.
What is the current level of awareness of digital sustainability in the market and how is this changing?
Public and private-sector organizations seem increasingly aware of the issues related to data privacy and control – i.e. data sovereignty. Therefore, when we tell them about the benefits of IRMA, they understand where we are coming from, even if they are not quite ready to implement it. So I see it as not really a matter of 'if', but 'when'.
However, right now, the majority of organizations seem hesitant to ask people to install yet another app onto their phones. Don't they have enough already?
What I find striking is that most consumers seem to have come to accept that today's digital world requires them to have a huge number of online accounts, each with a different password. And they have become used to having to repeatedly submit the same information to numerous authorities, such as if they move house, apply for a mortgage or submit an insurance claim, for example.
But a digital identity solution can offer them another way; we're able to make those kinds of data-driven processes much easier for them, and much more secure too. Sometimes people need a little help to get started. For example, in response to a study showing that 20-25% of citizens needed help with digitalizing, the municipality of Amsterdam launched a kind of buddy service to support people when downloading and installing the IRMA wallet. Various pilot projects have shown that once people discover there is a different and more convenient way to do these things, they are more than willing to download and use the IRMA app. So as more people experience the benefits, I'm sure this shift will quickly gather pace.
How is this change being accelerated by new European legislation?
The introduction of the Electronic Identities And Trust Services (eIDAS) regulation last year means that – after many years of talking about adoption – things are now moving at EU level. This regulation stipulates that all EU citizens and businesses must be able to use their national electronic identification schemes to access online services in other member states.
In other words, it means that every EU citizen requires a digital identity. Each member state is responsible for implementing its own wallet system and are different stages of adoption. Belgium is one country where the adoption level is already quite high; around six million citizens have already installed a digital identity app on their smartphones.
This has been stimulated by many businesses there developing their own apps including digital-ID functionality, as an alternative to customers having to log in and access services using their Google or Facebook IDs. And now, there's a vision and a blueprint for a European Digital Wallet based on data availability, security and cross-border interoperability – the things that have so far been standing in the way of such a project, and which will also contribute to innovation and data sovereignty. We're delighted that IRMA is being seen at EU level as an example of how such a wallet solution could work. Here in the Netherlands, a number of front runners and early adopters are already involved in some very exciting pilot projects – including local governments, healthcare organizations, educational institutions and private-sector businesses such as insurance companies.
Eventually, there will be enough data sources, enough wallets and enough use cases of data services for all the pieces of the puzzle to fall into place and drive the large-scale shift towards a digitally sustainable future.
What do you personally regard as good examples of how digital sustainability has been put into practice?
In terms of the three main pieces in that 'digital sustainability puzzle' I just mentioned – data sources, data wallets and data products and services – Estonia is a front runner when it comes to the availability of data sources; digitally speaking, it's much further than many other countries. When it comes to wallets, there are lots of examples of good attempts but I'm not yet aware of a perfect solution that manages to combine open-source with decentralization and interoperability.
Even our own wallet still needs further development, because while it is open-source and decentralized, not everything has been standardized for interoperability. Besides that, there are still key questions that need to be answered, such as should a digital wallet have a profit model or just break even? At SIDN, we think a break-even model suits wallets best, because the real business value is on the use-case side.
But besides the EU-level impetus to develop an effective system within a clear framework, there are some other great initiatives such as the Open Wallet Foundation to support the development of compatible open-source digital wallets, so the situation is changing and improving all the time. Last but not least, in terms of data services, I have already mentioned various projects in all kinds of sectors, from government to education to business, aimed at simplifying complex processes and making the user's digital journey more seamless.
As a result, new ecosystems are continuing to emerge. The current challenge is to ensure that we develop an effective digital ID solution based on the right underlying agreements and the right design principles. But this is a very exciting time and I think we will eventually all be surprised by how much is actually possible.
Peter Eikelboom is the Business Developer Online Identity at SIDN. SIDN manages the registration of .nl domain names, supports initiatives that contribute to building a better internet and develops new cybersecurity and online identity services.
Please note: The opinions expressed in Industry Insights published by dotmagazine are the author's or interview partner's own and do not necessarily reflect the view of the publisher, eco – Association of the Internet Industry.