Successful Women = Successful Business Models
May 2023 -

Women in Tech

|

Diversity

|

Digital Business Models
Successful Women = Successful Business Models
An interview with Kiki Radicke from ADACOR on how business success in the tech world pivots on agility & gender equality.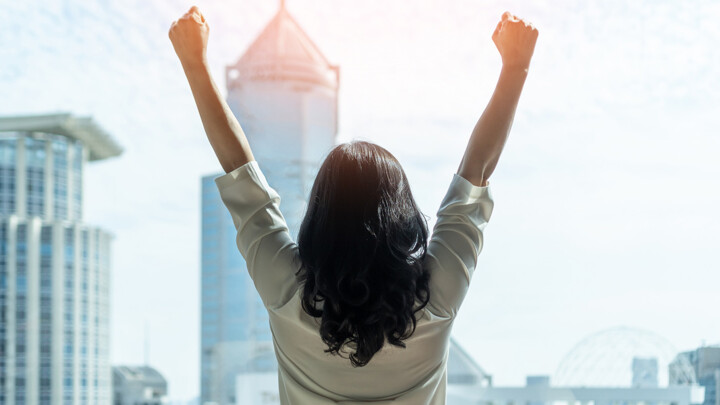 There are any number of good reasons as to why the Internet industry needs female reinforcement. Numerous fields in the branch are up against a shortage of skilled workers. What's more, homogeneous teams and uniform ways of thinking represent a clear obstacle to innovation. The digital industry is booming, new digital business models are being created each and every day, and lucrative jobs are being created – but all too often, women are still missing out. The eco Association wants to change that. As part of its topic field "Women in Tech", eco invites inspiring female specialists and executives from the Internet industry to take the floor in a series of interviews.
Hanna von der Au: As Head of People & Culture at Adacor, what is your day-to-day work like and what do you find most exciting about your job?
Kiki Radicke: I start each day with a short update with my teams. We discuss what's coming up and share important info so that we're all equipped with everything we need in order to work on the right tasks and to make the best decisions.
My scope in our business model is very broad, so every day is different for me. I work strategically in advancing the employer brand, expanding my network or working on the company's alignment; operationally, I produce concepts and generate content for presentations, articles and social media posts; from a creative angle, I plan events and employer branding; while the further advancement of employees requires a supportive approach.
There are several factors that I find particularly exciting about my job: for example, the opportunity to react quickly to changes in the company or to employees' needs, the freedom to drive forward topics that my teams and I are passionate about, and the use of technology and AI in everyday work.
Von der Au: Women are still underrepresented in the tech industry. Many IT companies would very much like to recruit more women, but the fact that very few applications are received from women is a real obstacle. How can tech companies attract more applications from women?
Radicke: As an IT company, we do indeed find it difficult to recruit women who are unfortunately still underrepresented in the industry. That's why our job ads are also specifically tailored to women. A lot of it is about the wording. For example, you can replace "assertive" with "self-confident", "negotiating skills" with "eloquent", or "analytical thinking" with "an eye for the essentials".
Studies show that women have a greater tendency than men not to apply for jobs in which they wouldn't cover 100% of the required skills. As such, rather than placing a list of requirements in the ads, we instead describe what the job looks like, what we offer, and the good conditions for collaboration.
With compatibility in mind, it can also be helpful to use job portals that deal with value matching, as this can assure candidates that the employer is a good match for them. Empion, for example, is doing a great job in this context.
On our careers site, social media channels, and in blog posts, we specifically highlight topics that focus on compatibility. Our learning here is that we are not only addressing the target group of women and mothers, but also (future) fathers. According to the Hays 2021 German trend study "Zukunft Vereinbarkeit" (Future Compatibility), 59 percent of the prospective parents surveyed would change their jobs if there were no company measures offered for promoting compatibility.
We also engage our corporate influencers in employer branding; they have a particularly positive influence because they share an authentic view behind the scenes. As an employer, we benefit from their network, influence and reputation.
Involvement in networks such as eco's Ladies in Tech (#LiT) also helps to raise awareness of the employer brand among the target group of women and to get in touch with them. From my end, I give a lot of talks on the topics of compatibility and New Work in order to raise awareness of the commitment and benefits that Adacor offers.
The accolades we receive – for example, BRIGITTE magazine has highlighted us as one of the best companies for women, while ELTERN magazine has assessed us as one of the best companies for parents – mean that there is a regular review of our activities and our employer brand. This means that a broad cross-section of candidates have the opportunity to learn about us.
We want to be as flexible in our work organization as we are in our recruiting. If the daycare center is only open from 8 a.m. to 5 p.m., it's difficult to have an interview appointment outside of that time. So the children can then also come along to the interview – no problem! The interview is then conducted in the parent-child office and we get to know the candidates from a different perspective.
One thing that I would personally like to see more actively pursued is to have parental or caregiver leave recognized as work experience in CVs. If we start to see this as an element of personal development with acquisition of new skills, then parental leave will also no longer be a "career killer".
A structured recruiting process with prompt, personal, transparent communication and clear management of expectations helps both sides to assess the new partnership correctly. This means that nothing can really go wrong. Anyone involved in childcare or other forms of family care are disinclined to take the risk of simply changing their jobs. In this process, we lay the foundation for the psychological agreement that we as employers enter into with future employees. We want to create trust so that problems, needs, fears and expectations can be addressed openly in the course of the working relationship.
Von der Au: These are great ideas and suggestions for companies to strengthen diversity from the gender perspective. Recruiting, however, is naturally only the first step. What type of measures are needed to retain women in the long term and get them into management positions or specialist careers?
Radicke: The core issues here are compatibility, work organization, equality and promotion. In my view, very flexible working models are a key compatibility aspect: ranging from individual part-time models, a 4-day week, or flexibly reducing weekly working hours to job sharing, even in management positions.
Outdated rigid part-time models are no longer in keeping with the times and also do not reflect the reality of life for women, and especially for mothers. It is therefore important for employers to position themselves as partners for the various phases of life. Companies whose family planning and career planning do not rule each other out will be more and more interesting for women.
When it comes to the benefits that companies offer: it's no longer just about the kicker table and the fruit basket; it's more about supportive or facilitatory measures. What these include, for instance, are subsidizing or offering childcare or household-related services, topping up child benefits, special vacations, health programs, continuing education opportunities, private coaching and family events.
When it comes to work organization, agility is what is particularly valuable for women. Companies that are agile and flexible often offer flat hierarchies, a lot of teamwork, and more autonomy for employees. Goals are set by a team, tasks are planned together, and the workload is spread over many shoulders. This offers the scope for flexible working hours, remote work and part-time models, without this being to the detriment of careers. A culture of trust and communication goes hand in hand with this, which means that colleagues can feel secure when they have to take care of family matters.
On the subject of equality: this involves ensuring that women have the same opportunities as their colleagues in all areas of the company. This can only be achieved through a transparent and objective recruitment and promotion process. Based on the Spotify model, we have developed our own framework which allows for very different career paths.
Regardless of the number of hours per week that someone works for us, their career progress is also eligible without disciplinary responsibility or when they work on a part-time basis. To this end, we have binding guidelines for the assessment of employees and templates for feedback discussions. The aim is to establish clear standards for managing expectations and to set comparable benchmarks.
Creating awareness of this within the company and getting managers to eliminate stereotypes and prejudices should be an integral part of the people strategy.
Fixed salary structures for all roles in the company help to avoid having people in the same roles being paid differently. It also helps to take the time to identify the pay gap in the company in order to gradually eliminate inequities.
If what can be achieved in the company is then openly and proactively demonstrated, it is likely that careers will not only be developed by the people who work the longest and are in the office the most often.
The further advancement of employees should additionally be an important part of the managers' remit. In combination with mentoring and coaching programs, women can be purposefully promoted in this way. In this context, the support of external service providers is just as useful as having experienced female colleagues who support junior talents and provide them with advice. Companies should actively work to have women promoted to management positions and to give them the opportunity to take on responsibility and to pursue a career.
Von der Au: Adacor has received several awards as a top employer and offers numerous benefits for employees, which goes well beyond just fruit baskets and kicker tables! Particular importance is attached to family-friendliness and cooperation within the company. How do you at Adacor specifically support employees in these areas?
Radicke: Our aim is to work together in a spirit of partnership. This also includes taking into account the needs of our colleagues in their individual phases of life. That's why the issue of compatibility has a high priority, especially with regard to the combination of job, care and family.
In addition to financial benefits, such as childcare subsidies of up to €300 per month or insurance policies that are handled by the company, we pay special attention to the work organization. We have core hours during which everyone works. Outside of these, there are no meetings, so working hours don't clash with private life.
The teams work in an agile mode with weekly schedules, which allows for task planning that is in line with employees' capacities. This means that work overloads can be avoided while we simultaneously encourage high performance.
On top of that, the teams control their tasks via OKRs (Objectives and Key Results, a project management method from Silicon Valley). This gives each individual in the company the opportunity to use their expertise in the most sensible way and with the greatest effectiveness. To achieve this, we need a lot of transparent communication and internal coordination. This results in minimal stress or resentment, since decisions are shared and upfront. Issues are discussed in a friendly and open manner in order to jointly come up with solutions.
With coaching offers, we actively support our colleagues in their personal development. Employees have ten coaching hours per year at their own disposal. What's very important to us is that this offer can also be used to cover private issues. Our parenting and care coaches provide support for special topics.
Von der Au: Work-life balance is not just an issue for mothers. Many men would also like to spend more time with their family. What do you think is needed on the part of fathers and employers so that more men can take parental leave in the future and participate more in caring responsibilities?
Radicke: Many companies still do not accept or respect fathers who take any degree of parental leave, or who take it for longer than two months. As long as this state of affairs doesn't change, things will still not really move forward. Taking parental leave must be just as acceptable for fathers as it is for mothers. What would be desirable is to give all employees the opportunity to take longer leaves of absence – be it parental leave, a sabbatical, a course of treatment etc. – without this lowering their career opportunities.
With more and more fathers wanting to have equally allocated parental leave, the issue of work-life balance is becoming increasingly important and this is something that companies can no longer ignore. Let's look at this positively: the "risk" of hiring a woman between the ages of 25 and 35 is just as high as that of hiring a man! Both are likely to take 6-12 months of parental leave. In the future, this will oblige companies to adapt their work organization in order to cushion longer absences. Until then, however, we still have a fair bit of work ahead of us. This calls for action on the part of education, society and politics.
Von der Au: Imagine that we've assigned you to another interesting job as a podcast host. Who would you invite to talk to you in our "Ladies in Tech" context, and what would you talk about with your guests?
Radicke: I think there are still too few female colleagues from SMEs who get to be heard. I could envision a conversation with Miriam Reichelt from Comspace, where we'd chat about just how cool compliance can be. Other exciting discussion partners would be Kenza Ait Si Abbou from IBM or Gabriele Pulvermüller, previously from Dogado and now from group.one; they are great role models on the topic of how to bring your children, family and career together under one roof.
Von der Au: In our recent interview with Kim Dressendörfer, Senior Account Technical Leader at IBM, she shared the following question with us for our follow-on interview partner: "In my conversations with women from the tech industry, it very often turns out that they didn't expect to end up in this industry. So, my question is: When did you realize that it was the tech industry you wanted to work in?"
Radicke: That's exactly how things were with me. I didn't plan to enter the IT sector and only learnt that I'd like to work in the industry after joining Adacor. Now this wasn't something that I got to realize straight away; it only took off after about five years when there was a change of management which converted the company to adopt agile working methods. I like well-functioning processes and love being able to automate them. In addition, there is the speed with which we can have things implemented and introduce new features. I would never have expected so much creativity in IT and I wouldn't want to miss out on this combination of factors.
Von der Au: What question would you like to share with us for a follow-on interview partner?
Radicke: As a HR manager, much of my work revolves around bringing the right talents on board and nurturing these talents. What should a company offer to convince you that it's the best employer for your career?
Thank you very much for the interview!
Kiki Radicke is Head of People Operations at ADACOR Hosting GmbH. Her role includes responsibility for employer branding and recruiting, as well as the development of measures in the fields of feel-good management and corporate social responsibility. She also serves on the board of the non-profit association MedienMonster.
Please note: The opinions expressed in Industry Insights published by dotmagazine are the author's or interview partner's own and do not necessarily reflect the view of the publisher, eco – Association of the Internet Industry.