SMEs and the Public Cloud: Business Opportunities for Providers and Customers
May 2023 -

Cloud Computing

|

Cloud Native

|

Digital Business Models
SMEs and the Public Cloud: Business Opportunities for Providers and Customers
With cloud native technologies offering increasing advantages for SME business models, Nils Klute from eco highlights how growth opportunities can be achieved via a middle ground with the public cloud.
More and more companies are recognizing the advantages of cloud native technologies. "Those who modernize their IT landscapes via the cloud no longer bind resources in hardware," says Julian Sayer of Continum. "Which public cloud makes sense and to what extent is only determined by considering the individual application," says Mario-Leander Reimer of QAware. How EuroCloud Native supports SMEs.
The step-by-step transition to cloud native technologies is continuing in Germany – this is one of the key findings of the ISG Pulse Check 2022. 27 percent of IT decision-makers state that they have already created applications in public cloud environments and have them operated there. But the new edition of the joint survey commissioned by EuroCloud Native also confirms that companies rarely avail of the full potential of cloud native concepts. A policy of small steps remains the method of choice for the majority of the 200 IT managers surveyed – these managers are from companies with 50 or more employees in Germany, companies which use cloud and cloud native technologies, or which are planning to use them.
DATEV: Cloud native infrastructure for modular applications
No matter whether it's a small step or a big leap – DATEV is one company which gets to show how the path can look. In order to react more quickly to market and customer requirements, the company has set up its IT landscape in a cloud native manner. "In order to be able to implement the desired modularization of cloud applications, the appropriate IT infrastructure is needed," writes Birgit Schnee, the editor of the German DATEV magazine. As she goes on to say: "It is easier to build this from scratch than to retrofit the classic data center accordingly." While the cooperative of the tax consulting profession combines classic and cloud native landscape in a private cloud environment, the following is noted in the www.datev-magazin.de article: "Public cloud deployment can also be used in well-founded individual cases."
QAware and Continum: Cloud native service providers for SMEs
Mario-Leander Reimer
Managing Director and CTO at QAware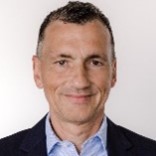 Julian Sayer
Board Member at Continum
Rebuilding IT infrastructures and increasingly making the individual case the norm? Mario-Leander Reimer, Managing Director and CTO at QAware has the following to say: "Which public cloud makes sense and to what extent is only determined by considering the individual application." And whether it's their own or a managed data center: Julian Sayer, Board Member at Continum observes that, "those who modernize their IT landscapes via the cloud no longer bind resources in hardware, but invest in services that can be used directly." Both cloud native service providers support SMEs in switching to the technology. And both providers are involved in EuroCloud Native. For three years now, the cloud native initiative of EuroCloud Deutschland has brought the German provider landscape together under one roof.
Cloud and trade secrets: On the wrong track with grown IT landscapes
"The system landscapes in SMEs have grown," says Sayer. "The companies, which are often family-run, are highly specialized and see IT as a tool for operations rather than a driver for future revenue." In addition, companies fear the loss of intellectual property when moving to the cloud. As Sayer goes on to say: "While the managers have few concerns about the cloud and data protection, they are worried about their core know-how falling into the wrong hands; but anyone who believes that their own server room is better suited for trade secrets is on the wrong track."
Whether it's to do with updates, patches, or artificial intelligence protection mechanisms, "public cloud applications are always up to date, offer sophisticated defense systems, and remain available at all times," says Reimer. Whether redundantly designed, mirrored in twin data centers, or distributed across different locations, Reimer notes that, "providers guarantee that services are delivered securely and that data such as company secrets remain protected." Continum sees things the same way: "We process around 5,000 payment transactions per minute," says Sayer. For eight years, the provider has been serving customers in the credit card industry with clouds certified specifically for this purpose.
The key to cloud native value creation: "Anyone who simply rents resources from a hyperscaler and moves their legacy application onto virtual machines is not yet reaping any benefits," says Reimer. Because regardless of whether it's processors, storage, networks, or operating systems, as Reimer points out: "If you move to the cloud, you have to tackle grown IT landscapes, which is the only way to unlock cost benefits." And only in this way do business models gain some breathing space. "Cloud native applications can be intelligently automated," says Reimer, "which is precisely what unleashes cost levers and revenue opportunities for users."
Standardized and open software components scale independently
"Cloud native applications are developed and operated in an agile manner," says Sayer, noting that, "those working in this realm need a change of mindset." While companies were previously programmed in a rigid and linear manner based on the waterfall principle, software in the public cloud is now created in iterative steps. "The applications consist of loosely coupled building blocks such as microservices that can be flexibly connected via programming interfaces," Sayer goes on to say. In this way, dynamic meshes are created that are independently scalable. BMW, for example, shows the advantages this offers: within the production environment, QAware has developed a cloud native software solution, as reported by the German trade magazine Automotive IT. "Using standardized and open public cloud components, we have built an application that can calculate the custom-made parts of all works in a matter of seconds," says Reimer – a process that takes significantly longer on fixed dimensioned on-premise systems.
Kaufmann: "People want to take small steps when there's an absence of trust"
While it comes down to accelerating processes and making applications highly available, Dr. Nils Kaufmann – who initiated EuroCloud Native and has headed it right from the outset – notes that: "Those who move their IT to the cloud don't save costs right away." However, as he reassures: "Cloud native investments pay off in the long term." What Kaufmann recommends to SMEs: "Cloud must be a top priority!" From his end, Reimer is also of the opinion that "the same applies to the choices made by providers." Technology only becomes anchored in the center of the business when it's driven by management. "It doesn't require a roundabout approach," says Sayer, "so SMEs should be less hesitant." As Kaufmann adds: "People want to take small steps when there's an absence of trust."
Middle ground with public cloud: growth opportunities for customers and providers
What is needed for trust? "Not always directly the stack of a hyperscaler," says Reimer. From basic infrastructure to platform services to managed databases, German providers deliver everything that small, mid-range, and larger mid-sized companies need for their IT. "If it's a matter of higher-level services, however, there's currently no way around the major public cloud providers," says Reimer. "A middle ground is also often recommended," says Sayer. For example, Continum offers a managed Kubernetes platform whose components can be deployed exactly where they are of interest to the users – whether in their own data center or in the cloud of a hyperscaler. "This is the business opportunity of the future," says Sayer, "not just for providers, but for customers." Take DATEV, for example: potential arising from data and digital services should be much easier to tap into via the software products that the IT service provider is now making available to law firms via cloud native.
Nils Klute is Project and Communication Manager at EuroCloud Germany. He is responsible for content marketing activities on topics such as Gaia-X and AI, supports initiatives such as Service-Meister, EuroCloud Native or systems integrators on their cloud journey. Prior to his start at eco in 2019, Nils worked as a corporate journalist for IT corporations (like SAP, T-Systems, and QSC at Cologne-based communication agency Palmer Hargreaves) and previously held public relations positions at market and economic research institutions.