When Efforts Bear Fruit: Equality as a Core Value for Trust
December 2021 -

Diversity

|

New Work
When Efforts Bear Fruit: Equality as a Core Value for Trust
Nina Bischoff-Everding, Government Affairs & Public Policy at Salesforce, on a workplace that has equality as an integral part of the company's culture.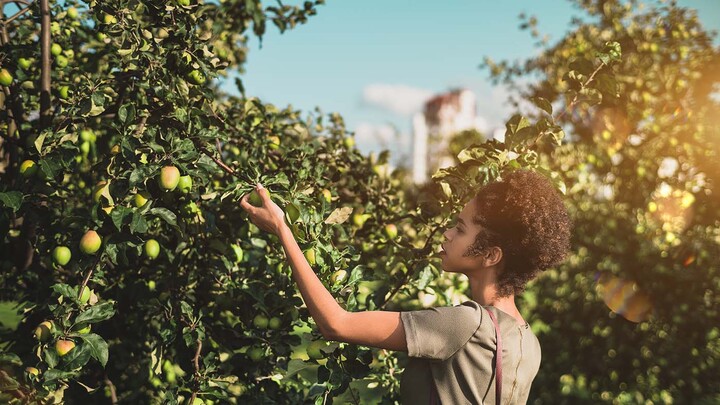 Photo Nina Bischoff-Everding: © Benjamin Olszewski
"At Salesforce, we believe that successful companies must harness the power, skills, and intellect of the entire talent pool."
Along with trust, customer success, and innovation, equality is one of Salesforce's core values since at the time the company was founded more than 20 years ago, and that Salesforce lives by every day.
Diversity and equality are central to business success and not just a "nice to have". Companies with a diverse talent pool are more successful, their employees perform better, and stay with the company longer. Furthermore, their customers are targeted more effectively and their net profits increase. In fact, over half of the world's graduates (60%) are women, which naturally has an impact on talent pools. Equal opportunity, therefore, is not only the right thing to do from a moral perspective but an important step on the road to business success as well!
Equality refers to all areas and diversity characteristics – and thus, of course, also to equal opportunities for women. At Salesforce, we are proud of the fact that we employ a relatively high percentage of women for a technology company. In fact, women now make up 34 percent of our global workforce – but, of course, we want to continue to increase the proportion of female employees. To achieve this, we are actively addressing the issue!
Success from anywhere – giving everyone the chance to succeed
The new ways of working present us with challenges, but they also offer many opportunities! Digitization offers the opportunity to shape work in a way that can make it more family-friendly through increased flexibility and also in the way people can pursue their career. For instance, many activities can easily be carried out outside of the office. At Salesforce, we want to make it possible for a job not to be tied to a certain location or to the typical '9 to 5' hours – we call this 'Success from Anywhere'. During the 2020 lockdown, for example, Salesforce encouraged parents to block time that could be used for childcare or homeschooling. It is important to emphasize here that this is not only about enabling flexible working hours and locations but also about adapting to people's needs, reducing barriers to entry, and ultimately empowering our employees to be successful through a strong company culture.
Salesforce Women's Network
The Salesforce Women's Network was created to support women within the company, to provide networking opportunities, and to represent women's interests. It promotes women at every step of their professional and personal development journey, supports collaboration, and the adoption and implementation of gender equality policies. As currently the largest employee resource group at Salesforce, it runs numerous programs and activities. In Germany, these include, for example, equality-oriented VTO (Volunteering Time Off) opportunities, such as mentoring youth or organizing the Girls' Day activities and creating networking opportunities.
Is there really gender equality on the job front?
When it comes to equal opportunities in the workplace, it is, above all, important that companies anchor gender equality in their recruitment and human resources policies and practices. For this to be successful, everyone involved must live up to these values and beliefs and be able to drive sustainable cultural change. At Salesforce, people at all levels – including top management – are tasked with ensuring and promoting equality and diversity within the company. For example, we introduced a policy that women should make up at least 30 percent of participants in leadership, product strategy, and investment interviews. For job interview panels in Germany, we ensure that there are a mix of genders – on both sides of the table…
Equality is one of the company's core values and it is firmly anchored in our corporate culture. Therefore, it is clear that at Salesforce the principle of "equal pay for equal work" must apply. In 2015, we committed to investigating and eliminating any gender pay gaps among our workforce.
Our assessment analyzes our employee population based on objective factors that determine pay such as job function, level, and location. The assessment groups employees in comparable roles and analyzes the compensation of a given group to determine where there are statistical differences across gender globally. Employees in the U.S. are additionally assessed based on race. We conduct our analysis and make adjustments as necessary after we complete planning for our annual merit program.
In 2021, we expanded our assessment to include equity grants in our annual stock refresh program. As our first step in including equity, we looked at the distribution of stock awards to our eligible employees.
To date, we've spent $16.2 million to ensure our global workforce is paid fairly. This year, our analysis found that 3.5% of our global employees required adjustments. Of those, 81% were based on gender, and 19% were based on race or ethnicity. We are pleased that, despite our rapid growth, the numbers continue to decline year by year.
Lifelong learning – not just a buzzword
With events on International Women's Day or Girls' Day, we want to make women, young and old, aware of their career opportunities in the tech world. And whether they already have extensive knowledge or are just starting out, one tool is crucial for equal opportunities at entry level and throughout their career: continuous professional education!
At Salesforce, we believe that it is important for everyone to keep a beginner's mind and to be able to grow. Platforms such as the free learning platform Trailhead are open to anyone who wants to benefit from the opportunities of digitization. It not only offers modular courses in which people can continue their education flexibly and according to their schedule; virtual boot camps and sessions with a trainer once a week can be easily implemented. This makes it possible to learn according to an individual schedule.
Since 2010, the proportion of women in leadership positions at Salesforce has increased by 7.6 percent. There are also 11,000 more women working at the company than five years ago. But we also know that there is still a lot of work to be done.
This interview is part of the 2021 eco Association white paper "Women in Tech in Germany: Status Quo, Strategies, Best Practices & Success Factors", which can be downloaded free of charge here.
As a manager in Salesforce's Government Affairs & Public Policy team, Nina Bischoff-Everding is engaged in representing the company, its interests, culture, and values vis-à-vis government stakeholders. Since 2020, she has also been leading the Salesforce Women's Network in Germany. In addition to digital policy, she is passionate about equality and sustainability topics.
Please note: The opinions expressed in Industry Insights published by dotmagazine are the author's own and do not reflect the view of the publisher, eco – Association of the Internet Industry.